9+ miles @ ~13 min/mi
I'm crusing the freeway at 5:40am, the radio is blaring "Touch of Gray", and I'm singing "I will survive" with the Grateful Dead. Caren Jew and I are meeting at dawn to jog part of the Cabin John Stream Valley Trail for an hour or two before today's MCRRC 5k cross-country race. I hear the cellphone ring over Jerry Garcia, but it stops before I can fish it out of my fanny pack. When I get off the highway and pause at a red light I check voicemail and discover that the call is from Mary Ewell, who missed the turnoff and needs directions to the park. Caren and I talk her in, and a bit after 6am we set off.
The CJT is ill-marked north of Tuckerman Lane and the three of us get lost repeatedly, but eventually we wend our way to the end of the trail (cf. LateOctober2005JogLog, 30 Oct 2005, the last time I was here). Ken Swabarrives at the parking lot, phones, and heads upstream to rendezvous as the trio turns south and misses the creek crossing. We pause to take pictures of each other crossing a slightly-scary and definitely-rickety bridge over the Cabin John Stream.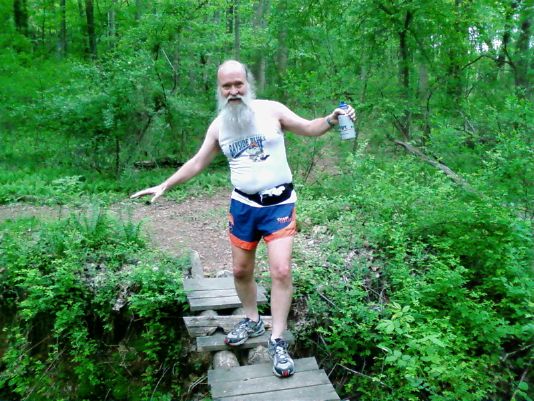 (photo by Caren Jew)

As we backtrack to the last set of blue blazes Caren spies Ken on the opposite side. We shout to get his attention and soon join up. Mary and Ken set a brisk pace, so Caren and I hang back, talking and walking. We loop around, chat with the volunteers setting up the race's aid station and when we arrive back at the start/finish area convey their message to Race Director Tom Temin that they need more water. Then it's time to register and shake the dirt out of my shoes. I join Christina and take photos of the little kids at their fun run, and then we line up for the 5k "Hills of Cabin John" XC. Christina leads at a stiff pace, by my standards, on the lovely but challenging course. Our splits are ~11:50 and ~12:35 for the first two miles, that latter including a pause to clamber over a big fallen tree that blocks our way. We finish together in just under 38 minutes, then eat, walk, and talk for a while. I take a short nap after I get home, and waken to find my legs sore and stiff. I will survive!