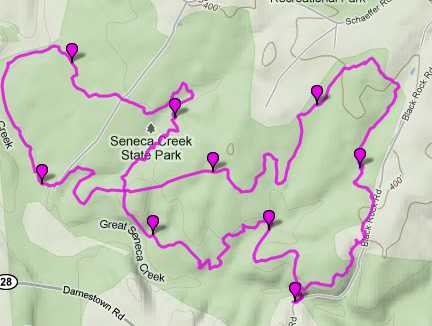 "Whatever you're doing today, you've gotta bottle it for your next race!" I tell Caren Jew. Today is clearly Her Day—she runs super-strong and leads Gayatri Datta and me along the off-road bike paths at Schaeffer Farms in a reprise of our 2009-05-31 - Schaeffer Farms run.

When Gayatri and I arrive at Black Rock Mill, 10 minutes before the assigned 0600 rendezvous time, Caren is already there as I anticipated. It's a cool dry morning, but multiple water crossings get our socks damp. We see a bleached skull (raccoon?) and a broken robin's egg (hatched) on the trail. The maze of twisty little passages reminds me of the computer game ADVENTURE which I describe to Gayatri and Caren. When I offer to explain how DSL modems work, however, Gayatri attempts to run away from me.

Caren and I reminisce about how different scenes bring different memories to different minds. Caren spies three airplanes flying in high formation and we speculate that President Obama is returning to DC. At trail intersections we stop to puzzle over the maps; my GPS helps us figure out the right branches to take. The car thermometer registers a delightful 50°F when we finish.