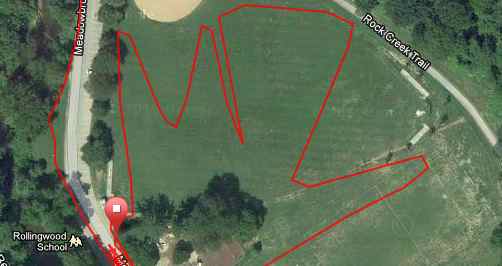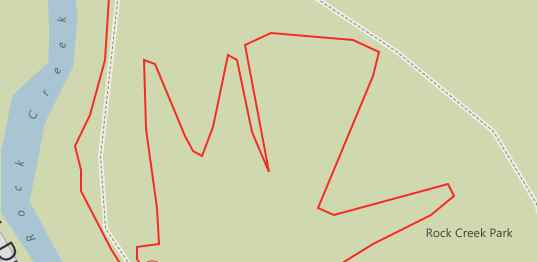 After a wet day and an overnight freeze, wisdom dictates a late Sunday morning start. Cara Marie Manlandro has early afternoon work to do, so she stays indoors and attacks the treadmill. At 9:30am I trot cautiously from home on icy roads and paths to Candy Cane City. I arrive on time for the 10am rendezvous but nobody else is around, so I experiment in GPS graffiti by making a scraggly "MZ" on the baseball field, as the illustration shows (against a summer grassy background).

Rebecca Rosenberg, Ken Swab, Gayatri Datta, and Jennifer Weiland soon join me. In parking Gayatri almost backs her car into Ken's and Jennifer's but stops in time. Down Beach Drive we all proceed, and thankfully nobody slips or falls on the nicely cleared pavement. Betty Smith and a variety of other runners are out doing their weekend long runs here too. Rebecca's fleece jacket provokes my usual color-question: is it hot-pink, fuchsia, or some other shade? We pause at the restrooms near Military Rd and turn around at the car barrier-gate at Broad Branch Rd NW. I share a frozen stroopwafel with everybody. During the return trip Jennifer tells us about varieties of woodpeckers and spots one high in a tree. Gayatri and I get dizzy trying to see it.

At the cars Rebecca, Gayatri, and Ken jog a bit extra to make 10 miles for them. Jennifer and I prepare for another excursion: we eat miniature Snickers candy bars that I've brought in my cache, and I take a couple of Succeed! e-caps. Even at near-freezing temperatures I'm sweating out lots of salt. (I lose ~2 pounds during the run, as usual for me, in spite of refilling my water bottle twice.) Jennifer's feet are hurting after all that distance on the asphalt, so when we get back to the DC line we take the Western Ridge Trail down to Military Rd, turn east and pause to view the ruins of Fort DeRussy, and proceed along the horse trail back to Beach Dr. There we join the Valley Trail and run along it back to Maryland, with walk breaks as appropriate on hills and when side stitches trouble Jennifer. (Was it the Snickers I gave her?) Total distance for Jennifer is ~17 miles. She gives me a ride home.