2 miles @ ~7.25 min/mi
A dinner of potato chips and cheetos and instant Arnold Palmer (tea-lemonade blend) is my preparation for tonight's track meet. Alas, the weight of the old carcass has drifted up to almost 149 lbs, a penalty factor that counteracts the pleasant weather. The pre-race schedule says the 13-15 minute heat will be at 8:20pm, but when I arrive at 8pm that group is at the starting line already. So I warm up and join the slowest heat, 15+ min. In accord with the "green" theme of the event I donate two pairs of used but still-nice running shoes to the collection bin.
Comrades Christina Caravoulias and Ken Swab tease me at the starting line. I begin near the front of the pack and run in third place for the first lap, then pass and take over the lead. Lapping of slower runners ensues. A cute seven-year-old girl is weaving between lanes and I have to swing wide to get by.
Running hard but trying to consciously relax, lap splits are approximately 1:43 + 1:47 + 1:51 + 1:54 + 1:45 + 1:50 + 1:50 + 1:50 and add up to match the official result of 14:30 — overall 73rd of 122 finishers, 65th of 84 males, 5th of 7 in the age 55-59 year male bin. I chat with Cynthia Cohen and cheer the rest of the gang as they finish, then decide to skip the one-mile race and the 4x400m relay in order to get home early and rest for tomorrow's longer run.
Past years of this event show that I'm a hair faster than in 2011 but far behind 2009 and 2010:
16:02 = 2007-08-03 - Two Minute Man
13:42 = 2009-08-07 - MCRRC Going Green Track Meet
13:53 = 2010-08-13 - Going Green Track Meet
14:31 = 2011-08-12 - MCRRC Going Green Track Meet
... but at least the deceleration trend is (barely!) reversed.





(photo by Ken Trombatore) |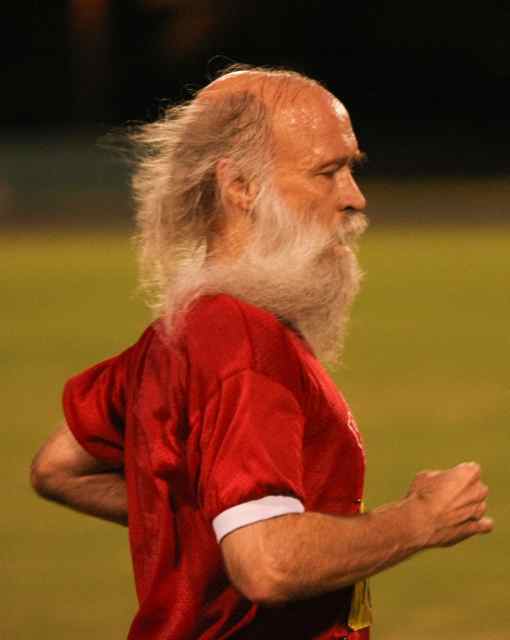 |
^z - 2012-08-24