5 miles @ 7.5 min/mi
New Personal Best by 4+ minutes! — but not totally unexpected, given the anomalously slow 5 mile time on the Road Running Records graph and chart earlier this year. The old legs feel solid, even though the 2012-11-17 - Stone Mill 75k was only last weekend. Perhaps brisk winter weather helps.
A small buck dashes across the road at mile ~2.9; another one strolls through the woods behind him but hesitates to cut through the straggling line of runners. We're on the "Deer Loop", a back-woods picnic area in Seneca Creek State Park. It's part of the MCRRC "Turkey Burnoff" course, a race held on the Saturday after Thanksgiving. Competition in the 5 mile event is somewhat light, since the 10 miler is what counts for the club award series.
The Runkeeper app and Garmin GPS roughly agree on splits: 7:12 + 7:27 + 7:31 + 7:18 + 7:35. Official results have me 33rd overall out of 332 total finishers. I'm beaten by two young girls aged 12 and 13, and overall finish behind 24 of the 148 men and 6 of the 166 women.
But I do come in first of 12 in the 55-59 year male bracket. Even though I turned 60 a couple of months ago one doesn't change groups until the new calendar year. The oldest folks finishing ahead of me are two 51 year old men and two 40 year old ladies; the next higher age group is won by a 61 year old male in 37:51. My total gun time is 37:32 and chip time is 37:19, for an average pace of about 7:28 min/mi and a 50-second lead over the second place group finisher.
Eric Johnston chats with me after the race and reports he had me in his sights but couldn't quite catch up to pass me at the 5 mile finish line. John Way does the 10 mile race at a pace faster than my 5 miler. Barry Smith kindly drives me to and from Seneca Creek State Park. I treat him to a bagel and coffee afterwards.




(photo by Connie Corbett) |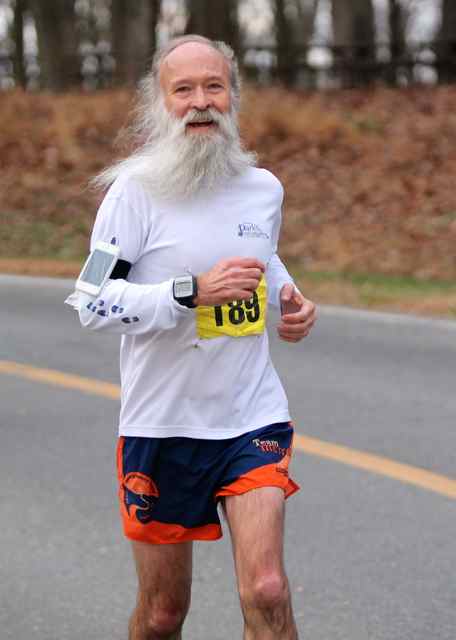 |
^z - 2012-12-16