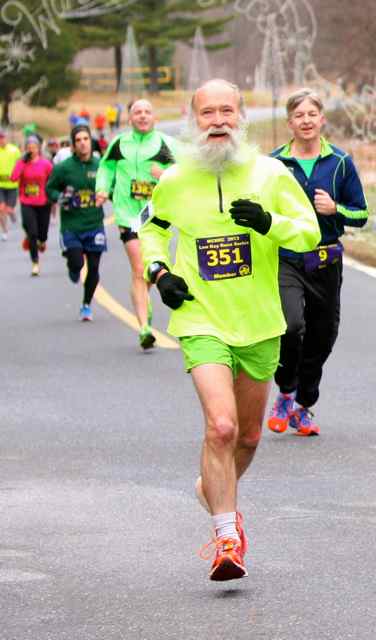 The race begins and I give chase to friendly arch-rival young Tom Young for the first mile, then lose sight of him. The morning is chill, and excuses join me as I progress: perhaps longish runs on Saturday and Sunday are not the best taper for a fast Tuesday race; perhaps a breakfast of coffee, banana, and Snickers candy bar is suboptimal; perhaps a sore right-hip ITB and achy right foot hold me back; perhaps the slightly hilly course adds to the challenge, as do crowds for the first tenth of a mile; perhaps weighing ~145 lbs. is too high for me right now.

But whatever the reasons, today's 5k at 22:48 is slower than hoped but faster than feared. Rough mile splits of 7:03 and 7:08 are close to target, but then a third mile at ~7:32 drops the baton. The final result: 2nd of 22 in my new 60-64 year male age group, 55th overall of 381, behind 49 of 204 men and 5 of 177 women. Keane comes in more than 2 minutes ahead of me. Booooo!

Garmin GPS and Runkeeper app record the course. Both overestimate the distance by a few percent.