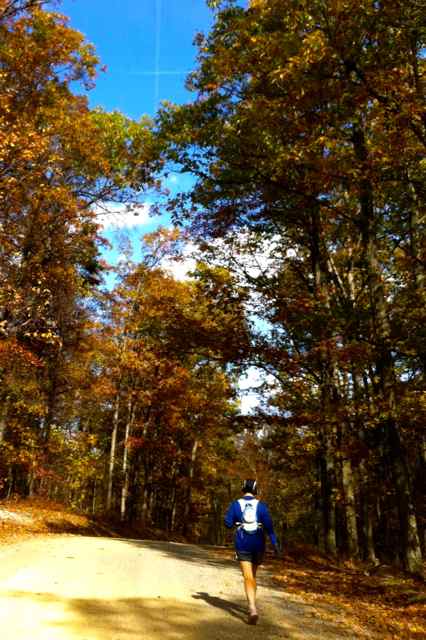 At one point contrails from two high-flying jets cross at a 90° angle above the course. We cruise at sub-12 min/mi for three miles in the middle part of the trek, but slow down to enjoy the final stretch once it's clear that we are safely within all time limits. Cheery runners pass us, including a memorable one in über-fluorescent pink jersey and black tights. We offer encouragement to the walking wounded whom we overtake.

Approaching the race's end, a quarter-mile loop around the field where we parked before sunrise, we're handed split-wood sticks to toss onto the fire at the finish line. We smile for the cameras, snag medals and munchies, and enjoy complimentary coffee and strawberry smoothies from event sponsor Sheetz's van. I pose for photos with another bearded gentleman whose friends think we look alike. Stephanie changes into comfy clothes for the return trip; I sit on a thick towel. We pause at a McDonalds near Hagerstown that I remember from Boy Scout camping trip journeys. Diet Coke hits the spot today.

Runkeeper data documents our route and pace. Official results put us in 93rd and 94th place of 103 finishers, at about 8:14, safely under the final 9 hour cutoff. Comrade Mike Edwards waits patiently, having arrived an hour earlier. It's a lovely day!