10 miles @ ~8.2 min/mi
| | |
| --- | --- |
| | "Beware the One-Armed Man!" I tell John Way at mile 8, when I briefly catch up with him. John is running with a broken right humerus, arm in sling, but even a Personal Worst for him beats me handily. As John leaves me in his dust I admire the psychedelic shirt he's wearing, which reminds me of the 1960's. "Don't have a flashback and go off course!" he cautions. I remove a glove to display five stitches on my right hand from Monday's tumble. We both have promised our doctors that we won't fall down again. |
Today's race is the hilly MCRRC "Turkey Burnoff" in Seneca Creek State Park on a frigid-brisk Saturday morning. Chip time is about 1:21:15, sadly slower than last year's 1:18:52 and 2011's 1:20:39. Kind comrade Barry Smith gives Gayatri Datta and me a ride there. We debate how many layers to wear; I settle on loose thin windpants over shorts, a windbreaker over a singlet, plus mittens. At the 5 mile point it's warm enough to ditch jacket and remember the famous speech in HENRY V: "Then will he strip his sleeve and show his scars. / And say 'These wounds I had on Crispin's Day.'" — though since my fall was on 11-24 it should be Saint Chrysogonus's Day.



(photos by Dan and Alex Reichmann) |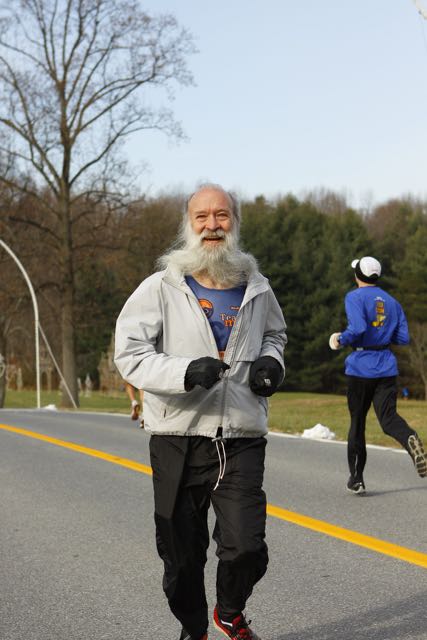 |
| | |
| --- | --- |
| | The multi-loop course offers lots of opportunities to salute friends and shout encouragement at fast runners. After the race I walk back along the road to cheer those on the final stretch. My 8-year-old arch-nemesis-rival Jason Parks is there with his mom, and to his embarrassment I thank him for being a constant inspiration to me. Today he finishes several minutes faster. Bravo, Master Parks! |
Runkeeper records route and pace data. Splits by my wristwatch and mile markers are 7:14 - 8:08 - 8:15 - 8:01 - 8:40 - 7:47 - 8:18 - 8:24 - 7:59 - 8:28.
Official results at http://www.mcrrc.org/turkey-burnoff-10-mile-0 show me in 88th place overall (of 277 finishers, behind 66 males and 21 females), and 4th of 12 in the 60-64 year old male cohort, gun time 1:21:55 and chip time 1:21:13.



(photos by Dan Reichmann) |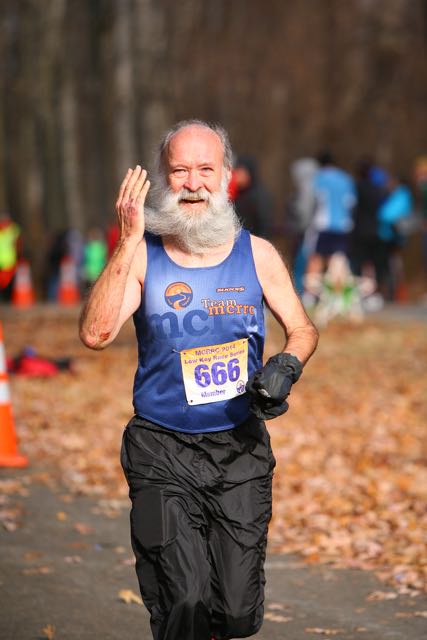 |
(cf. TurkeyBurnoff2003, 2005-11-26 - Turkey Burn-Off, 2006-11-25 - Turkey Burnoff, 2007-11-24 - Seneca Creek Odyssey and MCRRC Turkey Burnoff, 2008-11-29 - MCRRC Turkey Burn-Off, 2011-11-26 - MCRRC Turkey Burn-Off 10 Miler, 2012-11-24 - MCRRC Turkey Burnoff 5 Mile Race, 2013-11-30 - MCRRC Turkey Burn-Off 10 Miler, ...) - ^z - 2014-12-24