~31 miles @ ~15 min/mi
| | |
| --- | --- |
| | "Awesome beard!"a young lady says at mile 18. I wait for her to add the honorific "Sir" — but she refrains, and I feel doubly complimented. Yay! |
The "Red Eye" 50k consists of three ~9.8 mile circuits in Prince William Forest Park with a 2+ mile prelude to spread out ~130 participants. It's the 19th year of this free New Year's Day "Fat Ass" race, put on by the Virginia Happy Trails Running Club. Rolling hills are cloaked with yellow-brown leaves and dissected by noisy brooks. Sunlight's sheen on spandex catches the eye as I follow a fellow trekker. Puddles are icy and shoes crunch when crossing frozen muddy patches.
Official results — from the honor-system pages where runners write down their times and distances — put me in 34th place or so of ~45 who finish the whole 31+ miles, with a total time of ~7:44. |
New friends and old greet one another as they go in opposite directions on alternate loops: Neisa Condemaita ... Caroline Williams ... Adeline Ntam ... Pete Pontzer ... Paul Crickard ... Don Libes ... Gretchen Bolton ...and the merry trio of Bill Gentry, Bob Gaylord, and Quattro Hubbard, who trek with me for the final miles.
Posting too many selfies makes the phone battery die: the GPS misses the last 2-3 miles of the course. Near the end most of the blue marker ribbons are already taken down, but by luck and careful observation of footprints I manage to stay on track. Pound cake, grilled cheese sandwiches, and donuts at the aid station fuel the journey, supplemented by a couple of Snickers bars and 4 "Succeed!" electrolyte capsules.
Runkeeper records most of the route. See 2008-01-01 - Red Eye 50k and 2011-01-01 - VHTRC RedEye for past experiences on this course. |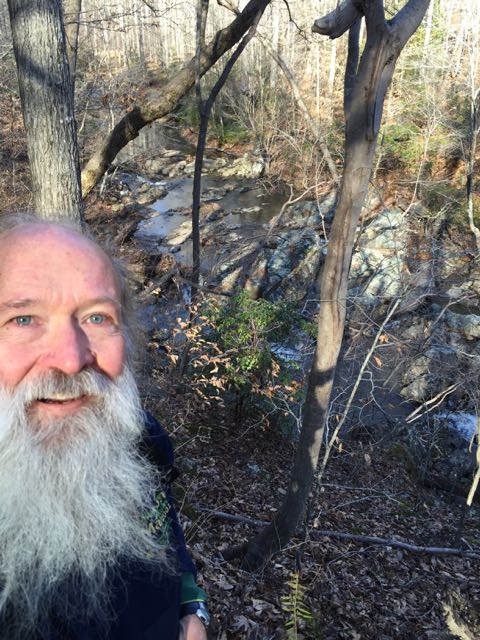 |
^z - 2015-01-23