~20 miles @ ~12.2 min/mi
| | |
| --- | --- |
| | "Is Ash Wednesday on Wednesday?" |
"Yes, it usually is."
"I mean, is it this Wednesday!?"
"The other interpretation was funnier."
"I know."
Banter continues apace on a cold winter morning, as Gayatri Datta, Sara Crum, Barry Smith, and Rebecca Rosenberg join me to trot along Rock Creek. |
Temps are in the upper teens when we start, and I'm wearing two hats, one on my head, the other tucked into my shorts. I pause on the way from home to our 0730 Candy Cane City rendezvous to take photos of the pulchritudinous "mermaid fountain" in the National Park Seminary, with dawn's baby-blanket pink and blue clouds behind it.
After out-and-back warm-ups as the gang gathers we commence the trek to Ken-Gar. A friendly fellow who calls himself "Dan" joins us near there, finishing up his 3 mile day. Rebecca and Sara stop when we're back to their cars; Gayatri and Barry and I continue to the DC line and back. Then to finish up her goal distance Gayatri and I run back past Meadowbrook Stables, where Barry picks me up and kindly gives me a ride home. |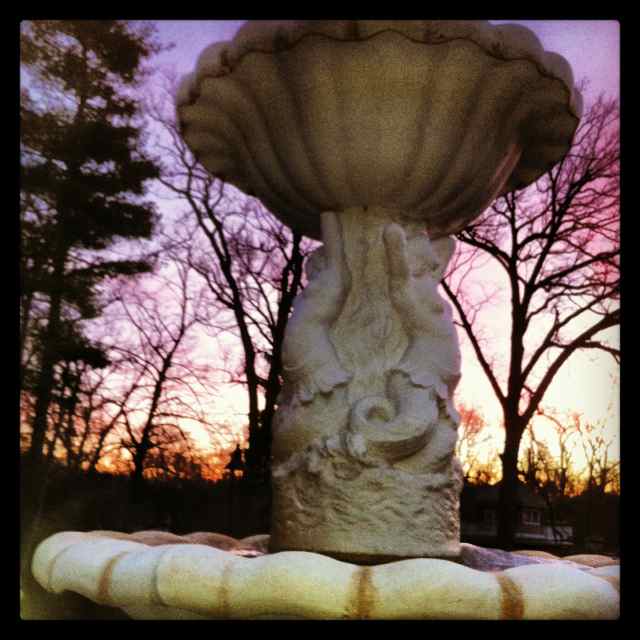 |
(Garmin GPS and Runkeeper app concur to within 1%; cf. 2012-06-06 - National Park Seminary Statues) - ^z - 2013-02-14