~32 miles @ ~15 min/mi
| | |
| --- | --- |
| | Stephanie Fonda spots a brilliant orange Araneus marmoreus, aka marbled orb-weaver spider, as it crawls along a rocky road in the Green Ridge State Forest. At this point — mile ~22 of the "Fire on the Mountain" 50k race — Stephanie and I have been crawling likewise for half a dozen hours. We pause to empathize with the arachnid. |
Today is a day of beautiful scenery, steep slopes, slippery mud, rocks and roots, helpful volunteers, perfect weather, and splendid conversation in the woods of western Maryland. What's not to love? |
Our morning begins about 0300 — rise and shine! — as we gather gear and rendezvous for the two-hour drive to the race. Mike Edwards gives me a lift to Stephanie's home, where we pile gear into the trunk of her car and head out at 4am. It's an uneventful journey, past multiple deer resting in peace by the side of the highway, victims of unfortunate mating season encounters. Once off the major roads we meander through the forest on gravel-and-dirt byways, park at the finish area, pick up our numbers and race packets, and gird our loins for the day ahead.
Then it's time to pile into big yellow school buses and bounce along another 45 minutes to the starting line. Stephanie naps while I try to peer through foggy windows. We arrive at the scenic overlook and marvel at the meandering Potomac River below. Good friends from past ultramarathons greet us. |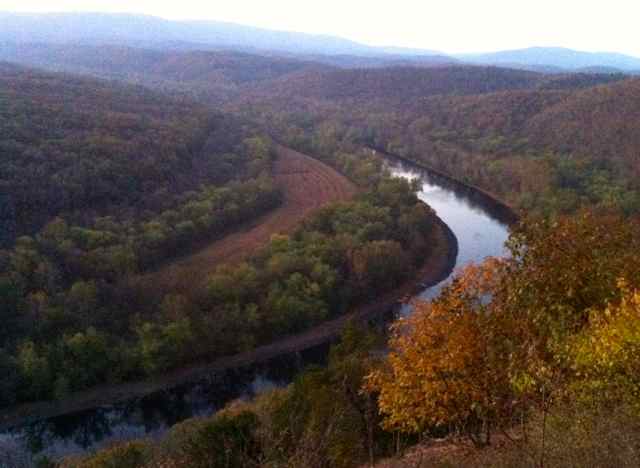 |
| | | |
| --- | --- | --- |
| | Stephanie and I capture my favorite location — DFL! — during the initial mile. The course takes us down treacherous declines to stream valleys, across creeks several dozen times, and back up the steep sides of ridges via leaf-strewn pathways. Some of the trails are so narrow and sloping that we fear slipping into the valleys below. At one point there's a muddy chute that some runners are sitting down to navigate. We cling to saplings and hug trees to make our way. | |
At mile 16 we climb a steep hill to the mid-course aid station, with dramatic views of the valleys below. Kind people refill our hydration packs and offer us a huge variety of goodies. I fill my pockets with M&M candies and creme sandwich cookies. Stephanie snags a handful of peanut butter and jelly sandwiches.
Then off we go for half a dozen miles along one-lane dirt-and-gravel country roads, stepping aside for occasional cars to pass by. During the first few miles of FotM today I feared that we would miss the cutoffs, but now it's clear that we're doing fine. Sporadically I recompute our required pace, e.g., "We could walk the rest of the way at 20 minutes/mile!" and a bit later, "Now we only need to average 25 min/mi", etc. We catch up with buddy Anton Struntz, whose yellow-and-orange outfit today makes him look a bit like a giant piece of candy corn. Anton is cheerful as always, pressing onward through injury and aiming to finish comfortably. (He does.) |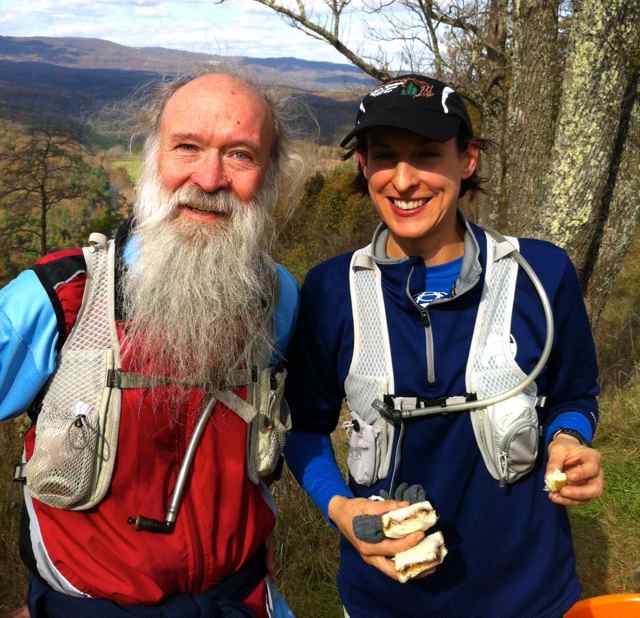 |
| | |
| --- | --- |
| | At one point contrails from two high-flying jets cross at a 90° angle above the course. We cruise at sub-12 min/mi for three miles in the middle part of the trek, but slow down to enjoy the final stretch once it's clear that we are safely within all time limits. Cheery runners pass us, including a memorable one in über-fluorescent pink jersey and black tights. We offer encouragement to the walking wounded whom we overtake. |
Approaching the race's end, a quarter-mile loop around the field where we parked before sunrise, we're handed split-wood sticks to toss onto the fire at the finish line. We smile for the cameras, snag medals and munchies, and enjoy complimentary coffee and strawberry smoothies from event sponsor Sheetz's van. I pose for photos with another bearded gentleman whose friends think we look alike. Stephanie changes into comfy clothes for the return trip; I sit on a thick towel. We pause at a McDonalds near Hagerstown that I remember from Boy Scout camping trip journeys. Diet Coke hits the spot today.
Runkeeper data documents our route and pace. Official results put us in 93rd and 94th place of 103 finishers, at about 8:14, safely under the final 9 hour cutoff. Comrade Mike Edwards waits patiently, having arrived an hour earlier. It's a lovely day! |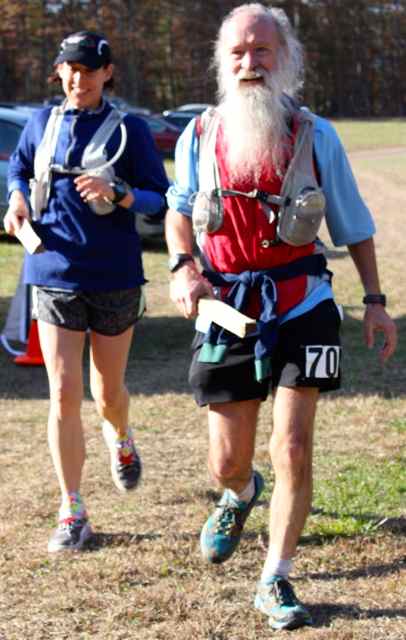 |
^z - 2013-11-08