~3.6 miles @ ~7.6 min/mi
Huddled masses under the front porch of Sligo Middle School are yearning to run free, before the Montgomery County Road Runners "Shooting Starr" 6k race this cold and damp morning. My shutter clicks at just the right moment to snag Jeanne Larrison Zemarel's camera flash. "I caught the Shooting Star(r)!" she says!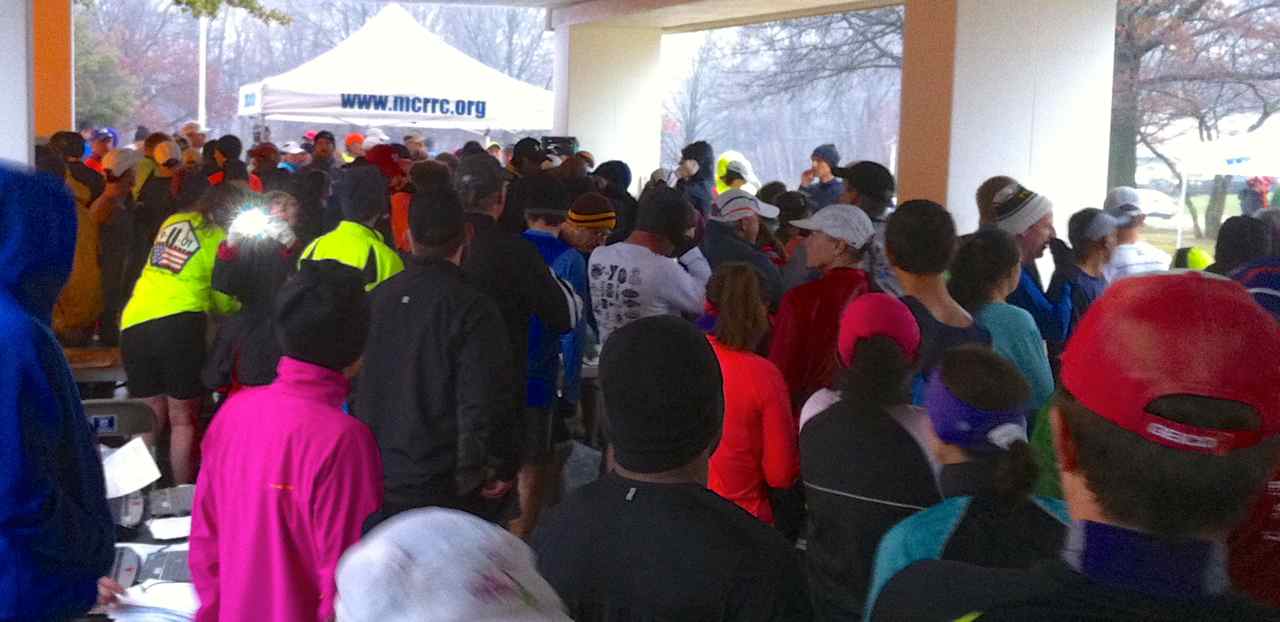 This morning I start from home at ~7:15am in light drizzle and jog the two miles to the school (see track files from Runtastic and Garmin) at ~9.9 min/mi pace, including a pause to tie a wayward shoelace.
The race's start is delayed about 10 minutes to hand the crush of runners and get all the timing equipment ready. Beth Starr, widow of Jim Starr in whose honor the event is held, gives a happy speech of remembrance and gratitude. I strip off my long pants and windbreaker, but mistakenly remove my gloves instead of cap (oops!). The crowded field gradually spreads out, as we leap over icy patches and big puddles along Sligo Creek Trail. Soon my socks are soaking wet. Friend Christina Caravoulias asks for company as I pass during my second lap, her first. So after finishing I put on layers, grab a banana and a cup of orange juice, break my temporary crown on a bagel (ouch!) and head back up the course half a mile to meet Christina and accompany her in to finish.
Official results put me in 82nd place overall, 72nd of 144 men, 4th of 18 in the male 60-64 age group, with a time of 27:25. I'm less than a minute behind my arch-nemesis 7-year-old Jason Parks, and less than a minute ahead of new rival Ian Parsons, age 8. Speedy 15-year-old girl Griffin Myers zips past me in the final fifty feet and I can't quite catch her. My time is 1 second slower than the last time I ran this race, 2011-01-15 - Shooting Starr 6k, three years ago. The GPS records are from Runtastic and Garmin.
Then it's snack a bit more, text friends, and trot home. The ~2 miles return trek goes at ~10.6 min/mi; see Runtastic and Garmin respectively.
^z - 2014-02-10