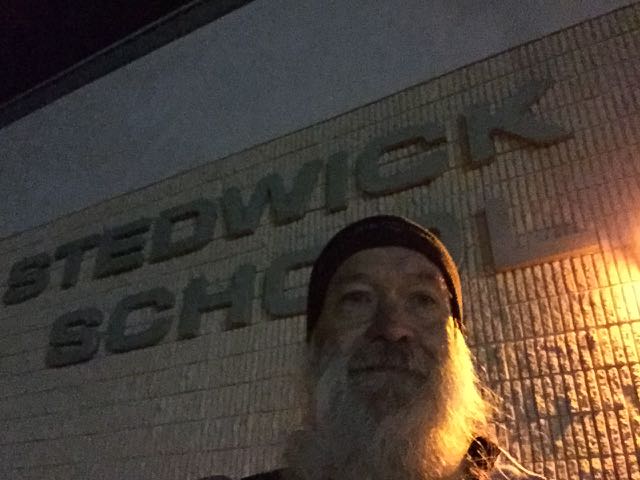 Sorry, Mr. Brahms! During the later half of my daughter's Friday evening concert I'm dozing, curled up in the back seat of the MINI Cooper. Then drive home, nap a couple of hours, and get up at 1:30am on Saturday morning to prepare. Arrive 0310 at the start-finish zone, take a selfie for evidence, tag the front door of Stedwick Elementary School, activate GPS, and set off.

The 2014-11-16 Stone Mill 50 miler is a blast. I don't have a goal (other than not to have goals, which I fail to achieve) and it's excellent practice for running alone through the woods in the dark. Who knows when that might come in handy?!

My calendars all show the race as taking place on 22 Nov. During a holiday 11/11 Tuesday morning trail run with friends, however, I learn that it's actually this Saturday, the 15th. Oops! DD has concerts to play in on both Friday and Saturday evenings, and as the only night driver in the household my services are required to schlep her to a 7:30pm call time in Bowie Maryland, 30+ minutes from home. Logistics don't compute, given an official 6am start and the need to allow ~13 hours to go the distance, especially on this year's new mile-longer course.

But hmmmmm — if somehow I can only finish by about 4pm, this just might barely be feasible. A quick note to Race Director Barry Hauptman, explaining the situation and promising to take all responsibility for whatever happens, elicits a friendly response: "Free country. Public lands so start when you want." The game's afoot after all — yay!

At 3:15am a fox crosses Watkins Mill Rd. Temperatures are in the mid-20's.Two pairs of glowing eyes stare and then retreat, big deer lurking in the brush by Seneca Creek Trail at the entrance to the initial out-and-back segment of the course. Frozen dewdrops on dry grass glitter in the headlamp beam like tiny gems. "Ten trillion diamonds" would be an alliterative number to use in a poem, I think to myself — but if there are hundreds of glints every second, and only a few hours until dawn, that multiplies up to only tens of millions, six orders of magnitude short. Oh, well ...