Intense --- a good word for a 31 mile scramble through the woods, over hills, across streams, and in the mud. Other terms: incomprehensible, or less politely, insane. Two years ago I would have called it inconceivable. A seasoned trail runner might categorize it as merely invigorating.
It's my first ultramarathon: the 16th annual 50k HAT Run [1], held on Saturday 27 March 2004 in Susquehanna State Park, a lovely forested area of northeastern Maryland. HAT stands for "Hinte-Anderson Trail", named for organizers Jeff Hinte and Phil Anderson, and spiffy hats are among the items awarded to participants. I almost miss the race: first when I sign up at the last moment, #398 out of the 400 total allowed; and the day before, when I have the idea stuck in my head that it's held on Sunday, not Saturday. (Fortunately friend KS writes to remind me that he can give me a ride home if I'm too tired to drive myself, and his note corrects my mistake.)
As soon as I arrive at the starting area, almost two hours before the event is scheduled to get underway, I can feel the HAT Run's spirit of adventure and sheer fun. It's notably looser than the tension one senses at a typical non-trail race. Maybe this is related to the irregularity of the course, the lack of mile markers, and the relative unimportance of time. Possibly it's connected to the weather: overnight rains have left the grounds sloppy, and more showers are clearly coming soon, so everybody anticipates a mess. For sure the relaxed atmosphere goes along with the trail runners who lounge around the pavillion, joking with each other and looking over their equipment.
When I confess that I've never gone farther than 26.2 miles before (and that on mostly paved surfaces) the experienced hands surprise me by their friendliness and encouragement. There's no teasing; they unanimously promise me that I'll have a wonderful time. One fellow reminisces about good and less-good ultras ... how the middle segment of one particular race was incredibly flat and boring ... how angry he got at an aid station once when they didn't have handfuls of salt for him to swallow ... and how he plans to run a 50-miler in a few more weeks. He shows me some of the gear he carries: packets of energy gel, a bag of mysterious pills, a tube of grease, a water bottle, a bundle of bandages, and a small spool of duct-tape. When I ask whether he carries the sticky gray tape to repair broken shoes he tells me, "Oh, no, it's for my blisters!"
0
Time to get ready. The HAT Run commences with a back-and-forth mile along park roads to spread out the masses of humanity. Then the route cuts across a meadow and enters the woods, where it's a single-lane dirt trail, zig-zag-slanting steeply down to a rocky stream. Faster folks run straight through --- the water is less than a foot deep --- but more timid ones like me prefer to tip-toe across on irregularly spaced rocks, at the cost of an extra minute in exchange for dry (or at least drier) shoes and socks.
After the creek crossing it's upslope again, across a small street, and up still more between the trees. I start near the back of the pack and slow down quickly to a brisk but comfortable walk on the hills. Fellow travelers who keep a similar pace introduce themselves to me and we begin to get to know one another. One woman has done the HAT Run for the past five years; another is a newbie like me. A man who shares my given name --- his shirt says "Mighty Mark" on the back --- gives me the URL for an ultrarunning column that he writes: http://www.runnersguide.co.za/Columns/. He did a long run on Malta recently and plans to visit South Africa soon for his second 89 km Comrade's Run. He looks young, but turns out to be a few years older than me.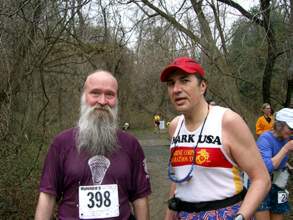 After the initial paved out-and-back mile the HAT Run course follows a 15 mile loop, something like a bizarrely distorted figure-eight, beginning at the bottom center of the "8". At its midpoint there's an aid station where the trail self-intersects. By mile 16 the route has made it back to the starting pavillion --- and that's when a second 15-mile circuit begins.
But all that topology is beyond my mental power to comprehend during the race itself. Thick clouds hide the sun so there are few directional cues, and tortuously winding paths quickly disorient me. Fortunately the trail is well-marked by thousands of yellow paper/plastic plates stapled to trees, with big arrows indicating turns. Red plates featuring a giant "X" indicate that one is going off course.
After a few more down-and-ups we emerge onto another broad meadow of dry grass. I jog cautiously alongside a muddy rut left by my predecessors and squirt some water into my mouth from the squeeze bottle that I'm holding. At this stage, 45 minutes or so into the experience, I'm starting to feel good. My watch beeps every three minutes to remind me to take a "walk break" --- but, given all the hills and creeks to slow me, no scheduled walks have been needed. So I turn off the annoying timer and let the terrain and my legs set the pace. I nibble on my traditional marathon food, a crunchy peanut butter flavored Clif Bar.
A couple of women are walking along in front of me. I catch up and we talk a bit about our families and our preparation, or lack therof, for today's event. Then I jog ahead, down a long forest path, and begin to get nervous. No other runners are visible in front; the two ladies shout from behind me to ask whether maybe we've gotten lost. But I see enough shoe prints in the mud to feel fairly confident that we're on the right track, so after a pause we proceed onward.
5
I round a corner and suddenly spy civilization: Aid Station #1, at about the 5.5 mile point. Under the canopy is an eye-popping caloric spread including gummy bears, bright red twizzlers, potato chips, cookies, peanut-butter-and-jelly sandwiches cut up small, banana chunks, pretzels, and sliced oranges. Arrayed beside these are cups of Coca-Cola and Mountain Dew, ready to grab and go. Nearby are vats of water and Gatorade from which helpful volunteers refill water bottles. Next to the tubs of M&M candies are big bowls of ibuprofen pills.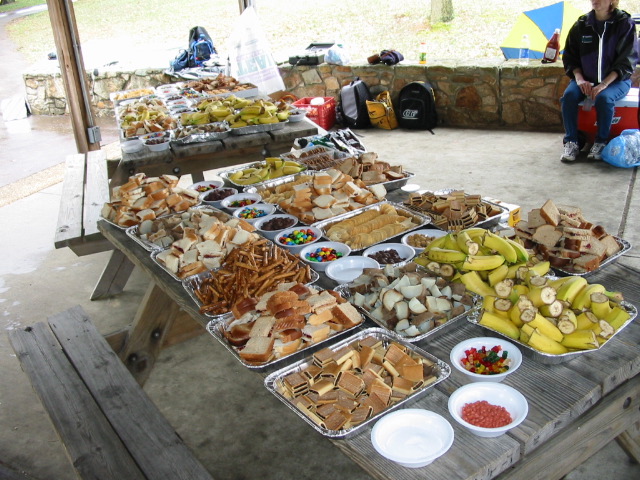 Here is where I break Running Rule #1 --- "Never try anything new during a race" --- and at the advice of a passerby sample an exotic delicacy: big, cold chunks of boiled potato. I take one and, following instructions, dip it into a bowl of fine-grained salt before swallowing it. Wow! --- the perfect combo of carbohydrate and sodium.
After drinking and noshing for a few minutes I note that some runners who came in behind me have already left. So I snag a final handful of munchies and proceed. As I exit I punch my stopwatch: 1 hour 11 minutes, meaning that my average speed thus far is ~13 minutes/mile. Move on!
The next segment of the HAT course includes --- you guessed it --- more hills. While power-walking up one I hear a crashing sound behind me and turn to see a small herd of deer. They sprint across the trail between me and another group of runners. In the distance we hear a chain saw's vroom as someone, perhaps a park service employee, hacks into a fallen tree. I joke feebly with a neighbor, "Next thing you know, we'll see deer carrying chain saws!"
10
Further hills are followed by a pleasant surprise: a long smooth downhill grade along a gently winding crushed stone road. I make good time, alternating minutes of jogging and walking, as the route parallels a large tributary stream. Then the road turns again, meets a larger paved street, and branches into a parking lot that leads us back to the same Aid Station, only from almost the opposite direction that we met it before.
This time I head straight for the potatoes and snarf down a couple of lumps thickly coated with salt; they again taste ambrosial. My watch says 2:14 now, at about the 10 mile point. I've managed ~14 minutes/mile for this leg. After a quick drink and water bottle refill it's time to progress.
A few miles farther and we're cruising alongside the Susquehanna itself. The river is fog-shrouded but I can make out some wooded islands, and maybe some fishermen, small boats and birds. Then down, across a wide creek and, climbing up, deja vu --- I suddenly realize that I've been here before, maybe ~7 years ago, during a Boy Scout expedition. There's a colonial-era house and an antique mill where we saw corn being ground. The muddy HAT path hooks around a historic site marker, climbs up a hill that's emulating a staircase, and doglegs back down to the other side of the mill. Then up again, even steeper now, past an official sign that gives the unnecessary advice "DISMOUNT AND WALK BICYCLES".
15
Finally our trail emerges into another meadow where we can hear voices tantalizingly near. It's a close encounter with the start/finish pavillion, but there's still a few miles to go out and back before the halfway point. At 3:11 on my watch I reach the unmanned aid station, ~13.7 miles I reckon. I'm slower than 15 minutes/mile for this segment, reasonable given the recent steepness. Another water refill, a couple of cookies, and I'm outta there.
RFP becomes my mantra: Relentless Forward Progress, a phrase I saw on someone's ultrarun web site. I vow that I'll stop taking the elevator at work and instead will use the stairs from now on. Another meadow, a road crossing, and then down into a valley. Horses have been here before me; I step cautiously around roadapples. Then up and out of the woods, along the street, and after a final climb it's back to the starting point. With 16 miles and 3 hours 48 minutes behind me, I sit down. The overall pace thus far has averaged 14:15, just about right for my condition and the ruggedness of the course. The fastest runners begin to finish the entire 50k HAT Run only minutes later, but in my self-absorption I don't even notice.
To avert chafing I slather a handful of petroleum jelly between thighs and (pardonnez mon anglais) on a mamelon that's starting to feel friction. Six minutes after I enter the pavillion --- now with fresh socks and clean shoes on my feet plus three more chunks of NaCl-encrusted boiled tuber in my belly --- it's time to start Lap Two. This time I know what to expect and that neutralizes most of the fatigue. A few minutes after the 4 hour mark it starts to rain, hard. I just grin and enjoy the cool wetness. Around mile 18 I pick up some paper trash from the trail, rare exceptions to the general cleanliness seen thus far. Then I find a candy bar in the mud, slightly battered but wrapper intact, and rescue it too.
20
My pace remains fairly steady, and the change of footwear seems to have reinvigorated the whole lower body. I begin to pass exhausted runners, one or two every few miles. The palatial central Aid Station arrives on schedule, mile ~20.5 at a minute before 5 hours on my watch. Official cut-off time is 3pm here, so I'm a full hour ahead of disgrace --- sweet! I pause to eat more salt-dipped potato hunks and then continue to make haste slowly.
At 5:15 I tell myself that I've been on the road longer than ever before, beyond the bounds of my slowest marathon though not yet as far. This segment is the one that includes the long downhill road. I'm not as frisky as I was on Lap One but still manage to alternate minutes of slow jogging and brisk walking. As for "Relentless Forward Progress", the word "Relentless" is redundant, I decide. For that matter, so is "Forward". My slogan becomes simply the imperative verb: Progress.
25
I pass Comrade Mark, and then he passes me in turn. We chat and encourage each other; he's suffering from lack of rest during recent days, but presses on via sheer guts. The mega Aid Station rematerializes at Mile 25 with 6 hours 2 minutes elapsed, again about an hour ahead of the cut-off. I snag a salted spud and move on with minimal delay, while Mark II pauses to refuel.
After another twenty minutes I see the old mill again, but this time I'm in new territory, beyond the 26.2 miles of my hitherto-longest jaunt. I am ultraman! My energy level goes up. As I stride past another runner I joke with her about my death-march strategy:

walk up the hills, because they're so steep
walk across the hill tops, to recover from the effort of the climb
walk down the hills, lest one slip and fall in the mud
walk across the valleys, where the stream crossings are
But I try to ignore that lazy logic and instead do my best to keep on trucking. Each minute that I jog now, I tell myself, will shave ~30 seconds off my finish time. My mental arithmetic is fuzzy but I estimate that 7 hours is impossible, 8 hours is trivial, and 7:30 just might barely be feasible. On a hill I pass a gentleman who seems to be thinking like I am; we urge one another along. Then it's past another couple at the crest of the ridge. He's suffering from late-race intestinal distress, and she's a lookout. I tell them my eyes are closed and jog on by.
30
For a couple of miles now I'm all alone, with just Pachelbel's Canon to listen to inside my skull. I step cautiously over a worm that writhes, unscathed, in the middle of the muddy path. Wouldn't it be a shame if, after surviving the passage of hundreds of earlier runners, it were squashed by my clumsy feet?
When I try to go too fast my calves begin to cramp, just slightly but enough to be a clear warning: "Watch it, buddy!" I slow to a roughly 50-50 walk-trot balance and they stop complaining. Three minutes before the 7 hour mark I arrive at the unmanned aid station, mile ~28.7 by my estimate. Excelsior!
The home stretch through the forest is pleasant as I keep to a moderate pace. My new friend reappears to race by me, but then begins to look tired. A belch echoes loudly in the woods; a lady whom we have just passed grins and denies responsibility. We all have a laugh together and attack the final mile.
New energy surfaces and I start jogging uphill. I get ahead of my buddy on the penultimate slope and clamber onward, ascend through a field of stubble to the road, and at last can see the race's endpoint. A crowd of earlier finishers and their friends sit by the final tiny hill and huzzah raucously as each straggler stumbles by. I make a valiant effort to keep jogging and they cheer --- but as my calves start to cramp again I slow and ask, "If I walk now, will you applaud longer?" "NO!" one of them shouts, "KEEP RUNNING!" I try, but with only temporary success.
31+
The goal line --- 7:33:17 on the official clock, for an overall average 14:35 minutes/mile and 302nd place. I accept my HAT Run finisher's cap and thank Phil Anderson who is there keeping track of everybody. A kind volunteer hands me a hot cup of delicious vegetarian chili. Racers whom I met along the way shake my hand and congratulate me on the result. In turn I applaud the runners who reach 50 km behind me, shake their hands, and salute them.
As I walk back to my car and prepare for the drive home, for the first time today the clouds part and the sun emerges. I salute it too.
Postscript
Before the 50k I rest for almost a week; likewise I take off some time thereafter to give imperceptible tears and bruises a chance to heal. By Thursday my legs feel healthy enough to venture out. But I soon discover on this rainy afternoon that I'm not yet recovered from the HAT lesson in muddy trail running. I feel:

an aversion to looking at my watch;
an utter contempt for hills; and
an irrational urge to run through puddles.
I partially control #3.
(see also Bless the Leathernecks (28 Oct 2002), Rocky Run (17 Nov 2002), ForestPrimevalPedestrian (9 May 2003), Marathon in the Parks 2003 (11 Nov 2003), Washington Birthday Marathon 2004 (23 Feb 2004), ...)
---
TopicRunning - TopicPersonalHistory - TopicRecreation - 2004-04-02

---
(correlates: Comments on LyricalHook, SuspectTerrain, AntiQuaintances, ...)