The weekly Seminar Calendar was a fixture of the Caltech Physics Department. It showed up in professors' mail boxes and on hallway bulletin boards every Friday ... a boring but useful tool for spreading the news of talks to be given during the following week. One Friday in October 1975, however, a rather different Calendar appeared. Most of the recipients thought it was riddled with typographical errors when they first glanced over it; a few are rumored to have called the departmental office to complain --- until they looked more closely.
See [1] (included below) for a scanned image, courtesy Cosmas Zachos, a grad student who may or may not have been involved. Carl Caves and Sandor Kovacs similarly may or may not have led the conspiracy to compose, copy, and distribute the spurious calendar. Among the presentations ostensibly scheduled for the week of 20-24 October 1975 were several that perhaps could use explanation to those more distant in space and time from the event:
... a riff on John Archibald Wheeler's penchant for paradoxical aphorisms ...
... a salute to Richard Feynman's image of physical fitness ...
... a recognition of Murray Gell-Mann's pleasure in pronouncing words and names correctly and in their original language ...
... a nod in the direction of Kellogg Corporation, the cereal company whose founder's name graced the nuclear physics building ...
... plus some obvious wordplay and mild sophomoric double entendres --- adding up to an entertaining distraction for some overworked students and their teachers.
Saturday, April 21, 2001 at 08:44:00 (EDT) = 2001-04-21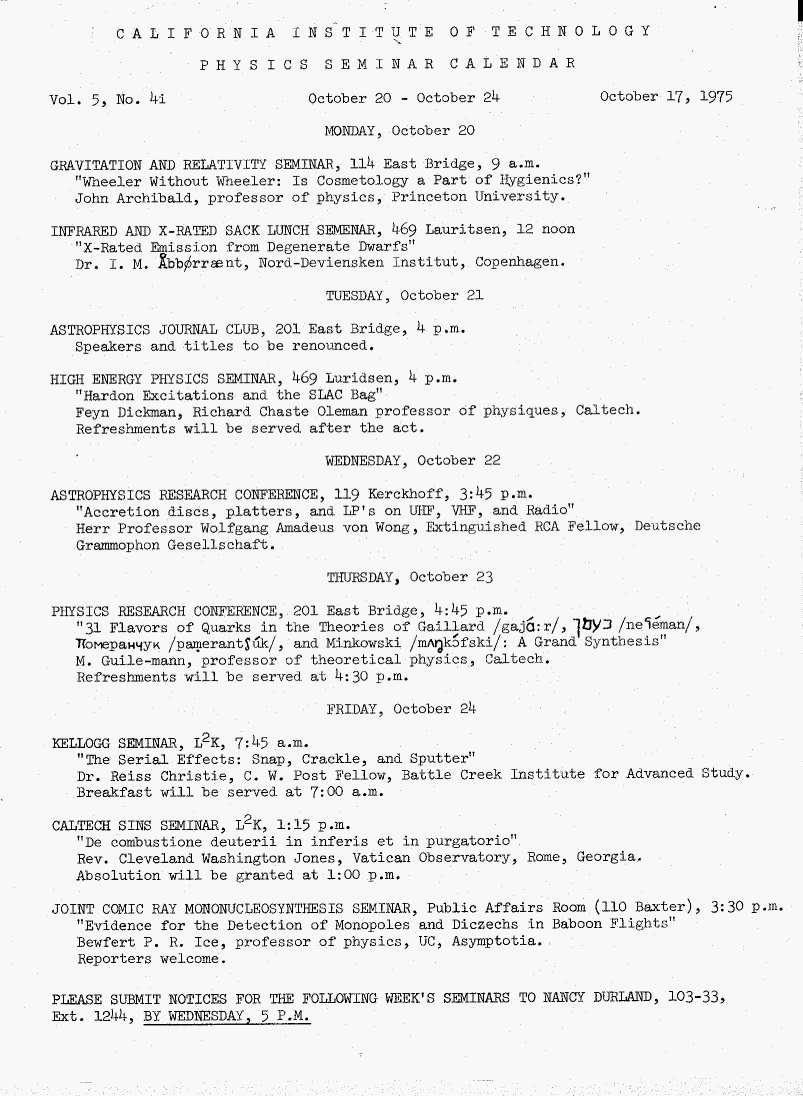 ---
(correlates: VitalAndNegligible, UnfortuneCookies, TomorrowSinger, ...)
1 person liked this