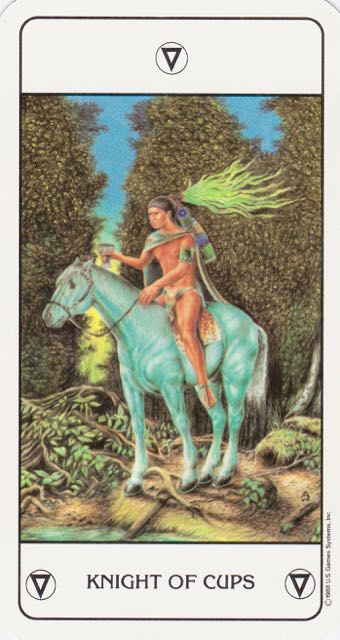 Tarot of the Ages - Mario Garizio
©1988 U.S. Games Systems, Inc.
Unlike two of the other Knights, those of Wands and Swords, the Knight of Cups is not dashing across the land with the wind blowing through his hair. His horse moves forward, but slowly, giving an impression of calmness and peace. Indeed, the Knight of Cups is the most feminine of his group of four, though that does not mean by any definition that he is any less of a Knight. He is in touch with his intuition and emotions, and he uses them for his own good during his quests of romance and seduction. He can manifest as an event, a person in your life, or as a part of yourself.

The posture of the Knight of Cups implies that of a messenger, so it comes as little surprise that he often manifests as a bearer of news. He represents invitations, messages of love and proposals of marriage. In addition to the physical sources of information, the Knight of Cups can also represent wisdom that comes from your dreams to help you surmount obstacles in your life at the moment. Sometimes this card can represent the start of a relationship, but in this case if often serves to warn one or both partners. It shows daydreaming and idealism, and it can highlight relationships in which one partner is placed on an unfair pedestal. ...