~26.5 miles @ ~17 min/mi
| | |
| --- | --- |
| | "It's not a race, it's a training run!" I tell Kate Abbott during the days before today's trot over the hills, across the rocks, and through the woods of northern Maryland. Officially we're in the Catoctin 50k race. But we both agree not to push the pace and not to worry if we don't make the cutoffs. Kate's hamstrings seem sore and I'm stumbling, so we enjoy the scenery and strive (successfully) to avoid injury. |
When Aid Station captain Ed Schultze pulls our numbers at mile ~23+ (Delauter Rd) for being behind schedule we carry on for another three miles to Hamburg Rd. That aid station is shutting down, however, and there aren't enough fluids left to resupply both us and the sweepers who arrive behind us. So Kate and I decide to hitch a ride back to the start/finish with the kind volunteers there.
Hasty racers somethings inadvertently drop things. As we trek along Kate and I pick up litter to keep the wilderness wild. During the first quarter mile I snag an unopened Clif Shot energy gel. On the way back, there's a more exotic find: a new, still-wrapped sanitary napkin. And of course we remove the usual bits of trash, bottle-caps, paper cups, and candy-wrappers. Toward the end of the run bending over to pick things up becomes a challenge.



(map by http://gpsvisualizer.com) |
During the steep descent to the midpoint at the Manor Area my phone rings. It's Caren Jew, checking up on us! She and her lovely daughters Ashley and Jenna are waiting to cheer us along. Thanks, Caren!
As we approach the turnaround sweepers catch up with us and dog our path. On the way back Kate and I accelerate, opening up a gap. At Gambrill Park Rd the aid station volunteers are sipping beer and kindly offer us some. We decline: stability is essential on this rocky terrain. Only after we're a mile farther along do I realize that we should have told them to give the sweepers drinks, to slow their pursuit.



(photo by Bobby Gill) |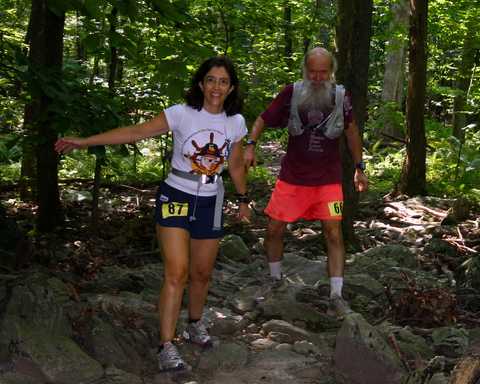 |
Data
The table below shows timing information from Catoctin 50k runs in 2008, 2009, and this year. Note that the "official distance" for 2008-2009 is an underestimate. In 2010 the course is an additional half mile or so longer in each direction due to rerouting of the trail between Delauter Rd and Fishing Creek Rd. My GPS indicates 26.5 miles at the final Hamburg Rd aid station, for instance, instead of the purported 25 miles.
2010
time
2009
time
2008
time
cutoff
official
dist.
location
1:53
1:37
1:42
1:45
6
Hamburg Rd
2:47
2:17
2:28
2:35
9
Delauter Rd
3:29
2:48
3:05
-
-
Fishing Creek Rd
-
3:16
3:37
-
-
Gambrill Park Rd
4:36
3:44
4:10
4:15
15.5
Manor Area
-
4:26
5:04
-
-
Gambrill Park Rd
5:52
4:56
5:43
-
-
Fishing Creek Rd
6:35
5:27
6:24
6:20
22
Delauter Rd
7:32
6:13
7:27
7:15
25
Hamburg Rd
-
7:53
9:45
9:15
31
Tea Room
^z - 2010-08-17