~6.2 miles @ ~7.6 min/mi
| | |
| --- | --- |
| | "I'm a really BAD pacer!" I explain at mile ~1.5 of the MCRRC "Piece of Cake" 10 k race, when a runner passes me and notes the "12:00+" on the back of my singlet. I push hard, with mile splits by my watch of 7:36 ⇒ 7:30 ⇒ 7:47 ⇒ 7:40 ⇒ 7:27 ⇒ 7:42 plus a final ~0.2 mile in 1:26. The result is not quite a PB (Personal Best) at 47:07 (gun time, within a second or two of my estimated chip time). Three years ago at the 2009-03-21 - Piece of Cake 10k I finished ten seconds faster, 46:57. But it's a good comeback from last year's 2011-03-20 - Piece of Cake 10k at 50:43. Today the official log puts me 79th overall of 254 finishers, 68th of 200 males, 9th of 24 in the male 55-59 cohort. The GPS trackfile is high by ~3%. |
Barry Smith kindly gives me a ride to the event. He's a volunteer course marshall. We arrive well over an hour before the 9am start, which provides time for relaxed visiting with comrades. Christina Caravoulias is super-busy running the registration tables. Mayra Fairbairn, Race Director, gives Barry his instruction sheet and map. We snag cups of coffee and, feet already wet from the soggy grass, hike back to Barry's car and move it to near the 1 mile mark where he will direct runners. While waiting we chat about random topics. Barry recommends Collision Course, a book about the 1981 air traffic controller strike. I'm currently reading The Coming Fury, book 1 of Bruce Catton's centennial history of the Civil War.



(Mark Zimmermann near mile 5.5 — photo by Ken Trombatore)|
At ~8:30am I warm up by jogging again to the start/finish area. Ken Swab and Don Libes are there and we chat. Friendly rivals Sara Burkheit, Tom Young, and Dee Nelson tell me of their recent runs and past experiences at this race. Priscila and Warren Prunella greet me. I dash out fast and after the first mile am mostly alone. On the out-and-back segments I get a chance to greet Betty Smith, Julie Trapp, and other friends.
Tom Young is a target but after mile 4 escapes from sight ahead. Beverly Black finishes a few seconds behind me; I manage to chase her down in the final fraction of a mile. Waiting near the finish line afterwards I cheer Ken Swab in and claim to offer him a cup of free beer. He mock-swerves but then resumes course. Walking back to Barry's car I meet Gwynne Roth, who had planned to run the Philly 100 but probably can't after all. Barry drives me back to the post-race banquet area. I haven't signed up, however, so instead of crashing the party I carry volunteer gear back to the start/finish zone and then assist the clean-up crew. We fold up half a dozen big pavilion/rain-shelters and load the MCRRC truck with timing gear. When that's done, with thanks from RD Mayra, I sneak into the Awards Ceremony tent and applaud the winners. I take photos of Jeanne Larrison and her cake, then head for home with Barry.



(photo by Dan DiFonzo) |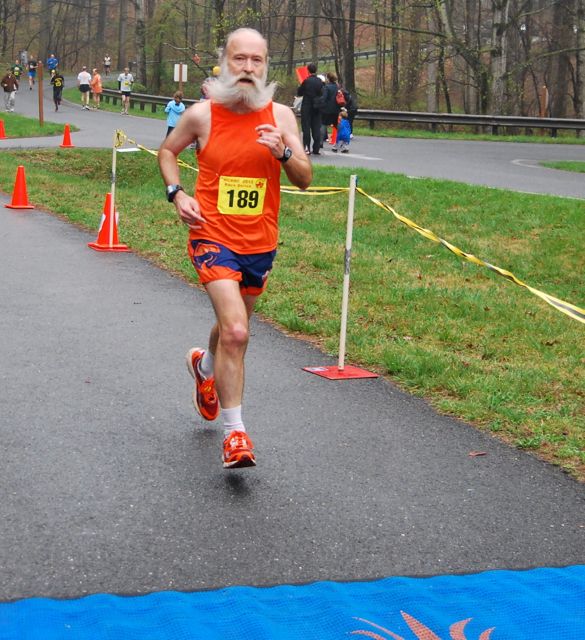 |
^z - 2012-04-06