~11 miles @ ~10.2 min/mi
Late morning, head out to run between storm squall lines and showers, but come to a dead stop 1/4 mile from home: a freight train blocks the grade crossing. Turn back and try another route? Crawl across the tracks between the cars, like a real fool? As I dither the train begins to creep along slowly, removing the second possibility. Then Mike Kerr appears. He's a friendly-fast young fellow who is new to the neighborhood and has a young daughter. We chat while waiting ~5 minutes for the tracks to clear, discuss local running routes, races, clubs, etc.
Then Mike blasts away and I plod onward, pulling my average pace back down after that delay, which with the GPS units unpaused gives mile splits of 14:22-9:28-9:33-10:08-10:29-9:40-9:50-9:59-9:18-9:35-9:34 and a similar final fractional mile. Lots of other folks are out also today, along Rock Creek Trail, Cedar Lane, the Bethesda Trolley Trail, and the Capital Crescent Trail. Anny Rosenthal is flying down the hill near NIH and pauses to greet me with mock-hugs (hi Anny!). Fog hangs over Rock Creek, as unseasonably warm winter weather continues. The GPS records of Garmin and Runtastic generally concur.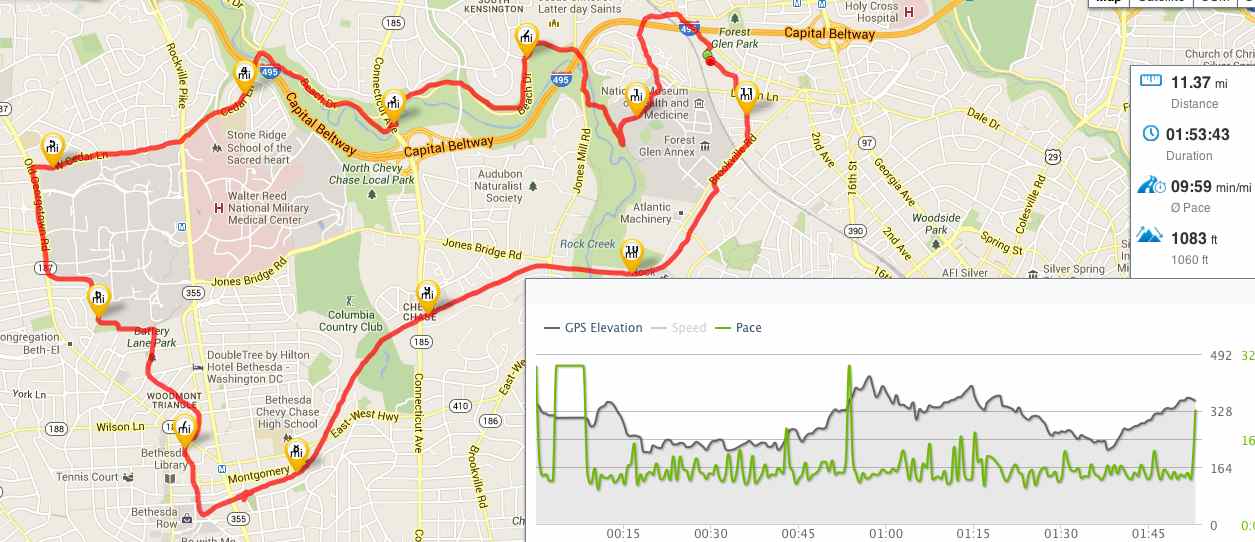 ^z - 2014-01-10