^zhurnaly 0.98

Howdy, pilgrim! No ads — you're in volume 0.98 of the ^zhurnal (that's Russian for "journal") — see ZhurnalyWiki for a Wiki edition of individual items; see Zhurnal and Zhurnaly for quick clues as to what this is all about; see Random for a random page. Briefly, this is the diary of ^z = Mark Zimmermann ... previous volume = 0.97 ... complete list at bottom of page ... send comments & suggestions to "z (at) his (dot) com" ... click on a title link to go to that item in the ZhurnalyWiki where you can edit or comment on it ...

RSS
---
---
~3.1 miles @ ~8.8 min/mi
Free beer (of which I don't partake) and free ice cream (which I can't resist) — kudos to the Bachman family! Official result: of 169 total runners, I'm 59th of 105 men and 5th of 12 in the 55-59 year male cohort at 27:37 total time. Slower than last year or the year before, but at least I don't fall down.

Barry Smith kindly gives me a ride to today's race; afterwards Emaad Burki and I treat him to a birthday dinner of Mexican food. Comrades Dee Nelson and Warren Prunella greet me in the first mile. A young lady passes me about mile 1.8, and I pant out data for her on how much farther we have to go and our current speed, based on the Garmin GPS display. Afterwards she and her father come up to me as I'm standing in the ice cream line and thank me for helping her.

(photos by Trey Kincaid)
(cf. 2008-08-16 - Comus Run 2008, 2009-08-15 - The Bridges of Sligo Creek Trail plus Comus Run, 2010-08-21 - Comus Run 5k XC, 2011-08-20 - Comus Run 5k XC, ...)
- Thursday, September 06, 2012 at 23:52:19 (EDT)
---
Some months ago The Economist magazine had an issue railing against "regulations". Not surprisingly, the primary author(s) said that regulations "destroy jobs". But is that true, in any meaningful sense? Or is this just the fallacy, well-attacked in other Economist articles, that there's only a fixed amount of work to be done and therefore any (unwanted-by-the-writer) changes will "destroy jobs"? And if it were valid, wouldn't the same argument also hold against new technology, or in fact against any efficiency improvements at all? Hmmm ...
- Wednesday, September 05, 2012 at 05:34:40 (EDT)
---
~8 miles @ ~10.7 min/mi
A bit after 7am Hilary Swab and her fiancé Justin meet me in downtown Bethesda at the dysfunctional water fountain plaza of the Capital Crescent Trail. Southwards we proceed, chatting about injuries and training and upcoming races, blasting along at 9-9:30 min/mi pace. Megan O'Rourke greets us along the way; like me she's putting in some early extra mileage. At the ~1.5 mile point I turn back while H&J continue onward. Back at the non-fountain Megan awaits, with Sara Crum, Barry Smith, and Ken Swab. South again we go. Sara & Megan recommend the movie Bridesmaids, apparently a chick-flick version of The Hangover. Then Sara & Megan trot ahead as Ken & Barry & I hang back and tell stories. Barry & Megan & I turn back again after ~2.5 miles. The Garmin GPS trackfile gives my splits as 9:45+ 9:01 + 9:00 + 11:53 + 10:44 + 11:50 + 11:24 + 11:45 and a fractional sprint back to the start/finish marker.
- Tuesday, September 04, 2012 at 18:25:30 (EDT)
---
At last we've come full circle, from ancient cuneiform clay tablets for record-keeping, reference, and calculation, to today's iPads, Nooks, Kindles, Nexus (Nexuses? Nexi?) — what a long strange journey, and where will the next few millennia take us?
(cf. Omamori (2012-03-09), ...)
- Sunday, September 02, 2012 at 09:03:42 (EDT)
---
~10 miles @ ~11.2 min/mi
Girl in an eye-catching lime-green shirt crosses the Wooton Parkway and trails behind me for a while. Young Asian guy salutes as re blasts by on a long hill. Falafel and hummus and fatoush lunch again remind me, as they did on 2012-06-14 - Home to UM for Concert, that indigestion during a long hot run is no fun. At 5pm I'm in downtown Rockville and meet Paulette who just arrived with the car from home. She's got a special Library Board meeting that won't finish until after dark, so I get to spend a few hours trotting around before driving her back — yay!
Quick-change in the library bathroom, let the GPS get a lock, and head south down Rockville Pike to join the Millennium Trail at First St, the mile 5 marker, after precisely 1.00 miles on the GPS display. Begin by thinking "12 min/mi", but at first it's hard to go much slower than 10 min/mi pace.
Then the heat and humidity get to me, and walk breaks commence. Take off a minute to recover every 5. Then more. And more. A pair of cyclists curse a car that doesn't pause for them when they're about to cross a side street. My 20-oz. water bottle is empty and I'm sucking fumes after ~5 miles. Walk up anything that feels like a slope. At mile 6.75 the Community Center, Millennium Trail mile 0.0, offers a chance to reboot, refill, and drink for a few minutes (while the timer keeps running). Then back along Gude Dr, past the road construction project, to Rockville Pike and southward past Montgomery College back to the start.
The Garmin GPS trackfile gives mile splits as 10:02 + 10:01 + 11:14 + 10:30 + 10:57+ 11:02 + 13:24 (including water stop) + 12:03 + 11:36 + 10:36 plus a final 10:46 min/mi fraction. Zig-zag around the parking lot block to make sure the total is 10+ miles.
- Friday, August 31, 2012 at 04:48:23 (EDT)
---
A fearless prediction: within the next decade, the US economy will recover and the stock market will set major new highs. Things look grim now, yes — but they always do before another season of growth begins. We've had good times and bad times aplenty in years past; the current bust is a lot worse than many, but there are also a lot of productive resources, and productive people, that will get to work again soon.
Numbers? In 2002 I foolishly forecast a Dow Jones Industrial Average of 20,000 in 2010, and further doubling every decade. That was wrong; it assumed higher inflation (general price level increase) than happened. Realistically one expects a long-term growth of 2%-4% in a mature economic system, which makes for a doubling time of about 20-30 years. But we're at a trough now, so likely growth will be faster for a while.
Bottom line? Don't gamble; do consider diversified no-load mutual funds for a significant amount of savings, at least until markets start to set new highs and everybody is optimistic about the future. That's the time to hunker down and move back toward cash.
(from the dot-com boom/crash era cf. TheCancerIdeology (1999-05-19), RailWeb (2001-01-03), PopGoes (2001-06-19), HopefulRejoinders (2001-06-23), LoomingDisaster (2001-08-06), BubbleBusters (2002-02-06), GrowthAssumptions (2004-04-17), ..., and see especially MoneyWisdom (2001-05-20))
- Thursday, August 30, 2012 at 04:25:33 (EDT)
---
~3.5 miles @ ~9.2 min/mi
"Excuse me, Sir, how long have you been running?" a young fellow asks me. It's unclear whether he means this evening or more historically. I pick the second and tell him, "About 10 years." He's impressed, or maybe confused. His workout this evening is 800m repeats. "Good job," I say. "That's a tough distance!"
Earlier this evening, during the walk home from the Metro station, I phone the Marathon Deli. "How late are you open tonight?" I ask. They're available until 8pm, and with a Montgomery County Coin Club meeting, daughter Gray to pick up, and an Olympic-sized craving to do some speedwork on the University of Maryland track, there's just enough time to change into running clothes and head over to College Park. Robin investigates the Student Union and Library for half an hour while I do oval orbits, hoping after halfway that he gets back early. He doesn't, so I have to do all 10 planned repeats: 400 meter laps in the 1:45ish zone, with half-lap (~2 minute) walks between. Grounds crews with gasoline-fueled leaf blowers are tidying up the infield, and big bleachers block lanes 1 and 2 on the east side of the arena. Temperatures are near 90°F and the humidity makes it slightly tough. The Garmin GPS trackfile has details: laps splits in seconds, a warmup 107 followed by 99 + 100 + 98 + 101 + 103 + 104 + 104 + 104 + 103.
- Wednesday, August 29, 2012 at 04:44:56 (EDT)
---
~6 miles @ ~11.7 min/mi
The Olympic men's marathon is on TV live, so I'm a few minutes late getting to the 7:30am meet-up at the Pauline Betz Addie tennis center and Locust Grove nature center on Democracy Blvd near Seven Locks Rd. Ken Swab and his neighbor Harold Booth are there already, as is Don Libes. Rebecca Rosenberg soon arrives. We head north at 0744; I lag behind. A small box turtle on the trail interrupts our progress. At the north end of the CJSVT we pose for photos at the sign, then head back. The re-routed trail is nicer than in years past, with fewer messy water crossings. Harold, recovering from surgery and still super-fast, tells me the rules of soccer, what "offsides" means, etc. as we trot ahead. The Garmin GPS trackfile shows brisk splits of 13:19 + 10:41 + 12:07 + 12:40 + 10:37 + 10:44 and then 9:59 for the last quarter-mile sprint.
- Tuesday, August 28, 2012 at 04:28:23 (EDT)
---
After the women's marathon at the 2012 Olympics elite US runner Shalane Flanagan, who finished tenth, made a smart observation about setting targets. From Peter Gambaccini's interview published by Runner's World:

It's a bit of a bummer. I was hoping for top 10 as my first goal. I was in it for a while, but it got much harder later. Jerry asked me to stay connected to the pace, and that's what I tried to do. It's hard to stay on it. I got gapped at some point, and it was hard to fight back. I saw someone at 40k, and chased her. It's heartbreaking when you put in as much training as we did. But, as I always say, 'If you hit all your goals, you're not aiming high enough.'

(cf. PleasantSurprises (2002-08-08), LoseTrack (2002-11-11), ...)
- Monday, August 27, 2012 at 04:52:07 (EDT)
---
~13.3 miles @ ~12.5 min/mi
| | |
| --- | --- |
| | My right hamstring is achy after last night's two-miler at the 2012-08-10 - Going Green Track Meet. This morning I take a walk break within a few hundred yards of starting from the front steps at 6:10am. A tiny rabbit stands in the street peering at me before it dashes away. At 6:29am, approaching Meadowbrook Stables, I spy Gayatri Datta coming toward me. We run together back to the Candy Cane City parking lot as Barry Smith arrives in his car. The lot is almost full already with Team in Training triathletes doing transition practice and preparing for cycling and running. Barry and Gayatri jog a few miles with me down Beach Drive and back. The Park Police close the gates to automobile traffic at 7am as we run past. |
At 7:30am we're back at Candy Cane. Megan O'Rourke, Sara Crum, Alyssa Smith, and Ken Swab are now here, and then Rebecca Rosenberg arrives followed by Saira and Emaad Burki. Sara and Gayatri go to visit restrooms at the stables; I follow to add another wrinkle to the GPS trackfile and fill my water bottles. Eventually, belatedly, we're all gathered together. Led by Rebecca we form a circle to introduce ourselves. I suggest telling what tree we would be if we could be one — I yearn to be a dwarf juniper — but Rebecca just asks for name, favorite ice cream flavor, and how far each person plans to run today.

We proceed down Beach Drive into DC again, but at Wise Road I turn back solo since I need to get home by 9am and have just passed my 9 mile mark. But I run briskly and there's time enough for me to take the long way back, up Rock Creek Trail to near the Beltway, then climbing Ireland Drive to the National Park Seminary. A contemplative statue, "Joan of Arc at Domremy", catches my eye and I stop to photograph it.

I notice a strange white foam on my legs during the final miles. Is it a chemical exudation from the new Fuel Belt I'm wearing for the first time today? Leftover detergent in my shorts? Something my body is producing? Rather a mystery, without an obvious answer.

The Garmin GPS is running the entire time, so the average pace for today includes a couple of 5-10 minute breaks. Mile splits are 10:21 + 10:40 + 15:57 + 11:36 + 12:40 + 11:35 + 15:25 + 16:35 + 11:28 + 10:35 + 11:19 + 11:03 + 12:44 and a final 0.4 mile sprint at 10:47 min/mi to get the overall average down a bit.
- Sunday, August 26, 2012 at 17:26:41 (EDT)
---
Total non-sequitur? Sarcastic riposte? Bitter humor? Whatever it was, I had to smile when I read TV producer Dan Harmon's reply to the network chief who fired him from the show Community (which Harmon created):

"That's a misquote. I think he meant to say he's sure cookies are yummy ..."
- Saturday, August 25, 2012 at 04:50:28 (EDT)
---
2 miles @ ~7.25 min/mi
A dinner of potato chips and cheetos and instant Arnold Palmer (tea-lemonade blend) is my preparation for tonight's track meet. Alas, the weight of the old carcass has drifted up to almost 149 lbs, a penalty factor that counteracts the pleasant weather. The pre-race schedule says the 13-15 minute heat will be at 8:20pm, but when I arrive at 8pm that group is at the starting line already. So I warm up and join the slowest heat, 15+ min. In accord with the "green" theme of the event I donate two pairs of used but still-nice running shoes to the collection bin.

Comrades Christina Caravoulias and Ken Swab tease me at the starting line. I begin near the front of the pack and run in third place for the first lap, then pass and take over the lead. Lapping of slower runners ensues. A cute seven-year-old girl is weaving between lanes and I have to swing wide to get by.

Running hard but trying to consciously relax, lap splits are approximately 1:43 + 1:47 + 1:51 + 1:54 + 1:45 + 1:50 + 1:50 + 1:50 and add up to match the official result of 14:30 — overall 73rd of 122 finishers, 65th of 84 males, 5th of 7 in the age 55-59 year male bin. I chat with Cynthia Cohen and cheer the rest of the gang as they finish, then decide to skip the one-mile race and the 4x400m relay in order to get home early and rest for tomorrow's longer run.

Past years of this event show that I'm a hair faster than in 2011 but far behind 2009 and 2010:

16:02 = 2007-08-03 - Two Minute Man
13:42 = 2009-08-07 - MCRRC Going Green Track Meet
13:53 = 2010-08-13 - Going Green Track Meet
14:31 = 2011-08-12 - MCRRC Going Green Track Meet

... but at least the deceleration trend is (barely!) reversed.






(photo by Ken Trombatore)
- Friday, August 24, 2012 at 04:44:58 (EDT)
---
Imagine that you're looking at a point, a dimensionless dot. Now move your head to one side, and aha, you see it was a line, just aimed straight at you.
So now look at that line, and move your head to one side in another direction: aha, it was an infinitely thin plane, just edge-on to you.
And now look at that plane, then move your head to one side: aha, it was a solid block, just flat-face toward you.
Now look at that block and shift your viewpoint in another dimension: aha, ...
(cf. SimplifyingThroughComplexity (1999-05-31), One Transcend Suffices (2009-10-14), ...)
- Thursday, August 23, 2012 at 04:44:51 (EDT)
---
~13.1 miles @ ~9.2 min/mi
Curse you, GPS! With about four miles to go it's clear that I might finish the Riley's Rumble half marathon in under two hours — if instead of slacking off I can manage to run hard the rest of the way, challenge the hills, ignore the humidity, and gut it out. Every few minutes I check time and mileage again, and every time I'm right on the edge. The Garmin GPS trackfile shows splits descending from ~10 min/mi in the middle of the race down to 9, then 8.5, followed by the long hill at 9.5, mile 13 at 8.3, and sprinting the final flat fraction at ~7.3 min/mi. Cross the timing mat with the clock reading 2:00:10, but starting behind the line makes the official chip time 1:59:44 — 16 seconds to spare. Whew!

Matt Bevan and Tom Young run with me for the first few miles, and we entertain each other with what passes for witty banter. Ken Swab and Barry Smith taunt me before the race. Rebecca Rosenberg volunteers at Don Libes's turnaround aid station and offers a welcome ice pop. It tastes like an odd flavor — tangerine? apricot? — or perhaps that's a delusion of my senses. At the next aid I take some ice chips and hold them in my hands to cool down. There's no Cave of Pain today, but maybe I do glimpse a gully of discomfort.

Official result: 160th place out of 482 finishers, 129th of 290 males, 8th of 26 in the 55-59 year male cohort.

Compared with the prior three years:
2:10:34 - 2011-08-07 - Riley's Rumble Half Marathon 2011 (meltdown)
1:57:33 - 2010-07-25 - Riley's Rumble (race declared a "fun run" due to excessive heat and humidity)
1:55:25 - 2009-07-26 - Riley's Rumble Half Marathon (unofficial new course)





(photo by Mark Schadly
- Wednesday, August 22, 2012 at 04:35:39 (EDT)
---
~1.5 mi @ ~8.1 min/mi
Shamefully short speedwork: 4*400m repeats (98-95-96-97 seconds, respectively), dodging toddlers in Lane 1 around the ancient track at the Silver Spring International Middle School. Was Taco Bell for lunch & dinner suboptimal prep? The Garmin GPS trackfile thinks the laps are 0.28-0.29 miles each.
- Tuesday, August 21, 2012 at 04:38:09 (EDT)
---
The Bat-Poet is a big-sized small-person's book, or maybe a small-sized big-person's book. It's a sweet story of a bat who can't sleep, who squints and listens and tries to put daytime into words. His poems are distractingly good — author Randall Jarrell (1914-1965) was US Poet Laureate before the post had that title. As my favorite character, the mockingbird says of one bat-verse, "Technically it's quite accomplished. The way you change the rhyme-scheme's particularly effective. ... And it was clever of you to have that last line two feet short." Yep, the bird's a critic, and comically hypersensitive about his own work. Maurice Sendak's gentle, realistic illustrations frame the fantasy nicely. Like many poems, The Bat-Poet doesn't really go anywhere. It's a delightful journey.
- Monday, August 20, 2012 at 21:03:27 (EDT)
---
~13 miles @ ~11.2 min/mi
Two energy gels, four S! e-caps, and a bottle of Gatorade help fight the humidity this warm Sunday morning. Take the long way from home, 3 miles down Rock Creek Trail to Candy Cane City. Pause to stalk and photograph a small herd of deer feeding on Ray's Meadow. Megan O'Rourke, Don Libes, and Barry Smith are already there when I arrive a few minutes after 0630; Rebecca Rosenberg appears soon after. We walk south along Rock Creek Trail while she attempts to phone the Humane Society to report a possible injured cat she saw on her way to meet us.
Once on Beach Dr in DC Megan and I run ahead. She recounts her Ironman triathlon training, serious start planned for September. At Broad Branch Rd the group has done 5 miles and turns back. Don Libes and I dash ahead and chat about web pages, movies, and foot injuries. Otakon, an anime/manga fan convention, is happening in Baltimore this weekend. Coincidentally both Don's daughter Kenna and my son Merle are attending.
Back at the cars after a fast final mile I beg a ride home from kind Barry. The Garmin GPS trackfile shows path and mile splits: 10:27 + 9:54 + 11:33 + 14:05 + 9:49 + 11:25 + 11:33 + 12:39 + 10:35 + 12:24 + 11:13 + 10:44 + 9:09 — yes, that was a bit o' blitz to the finish!
- Sunday, August 19, 2012 at 10:36:55 (EDT)
---
Random rattles
Flickers of form
Glimpses of order
Rows and diagonals
Take shape in the forest
Raindrops patter on rooftops
Stars glide into constellations
And poetry emerges from the noise
- Saturday, August 18, 2012 at 14:16:10 (EDT)
---
~14 miles @ ~11.5 min/mi
Dripping wet from humidity, I leave a puddle on the park bench while awaiting Rebecca Rosenberg at Candy Cane City where I've jogged from home. I sip from a bottle of Gatorade and watch the sun rise. At 0635 she arrives and we do a quick out-and-back along Beach Drive, 3+ miles at brisk sub-10 min/mi pace. Then Rebecca quick-changes into a dry singlet by her car as I finish chugging electrolytes. Barry Smith, Emaad Burki, and Ken Swab join us, and we tag along with the MCRRC trail running group through the woods and along the Western Ridge Trail to near Military Rd. Barry and Emaad and I branch left with a trio of ladies to return via the Valley Trail. At Barry's suggestion we turn aside and add a trek along the Holly Trail to enjoy some steep hills. Then at Barry's insistence I take some ice and a few sips of his Gatorade before trotting home solo. The Garmin GPS trackfile and the iPhone Runens app offer approximate mile splits: 10:24 + 09:55 + 10:08 + 10:18 + 09:26 + 09:30 + 12:42 + 13:50 + 12:51 + 13:55 + 11:12 + 12:39 + 11:16 + 09:51 and a final quarter-mile fast fraction at ~9:42 pace.
- Friday, August 17, 2012 at 04:42:49 (EDT)
---
In her essay last week "Afghan athlete runs for more than speed" Kathleen Parker in the Washington Post rhapsodizes about the primal simplicity of running:

... Every able-bodied human being on the planet can and has run, knows the feeling of running full speed — as fast as you can — and the exhilaration of crossing a finish line, or not.

...

... Whoever may be faster in the next lane, the fastest person in the runner's heart is the runner herself. The feeling of fastest possible, though known to most, is indescribable. It is too bad that life eventually slows the sprinter in every former child.

Running is unique in sport by virtue of its utter purity, requiring nothing more than a willing body and force of spirit. No accoutrements: No bats, balls, helmets, motors, masks, goggles, oars, nets, padding, bars or beams. It's just you against ground, gravity and your own heart, not merely literally.

Sure, some are more genetically blessed than others, but anyone can turn the ignition and churn away. Deprived of wings, running is as close as we humans come to flying. To run is to be alone, free and limited only by the horizon. Whether recreational or functional, to run is to escape.

Parker's ultimate theme is the challenges that women, particularly in some Muslim-fundamentalist nations, have had to overcome in order to live decent lives.
- Thursday, August 16, 2012 at 04:40:55 (EDT)
---
~7 miles @ ~9.7 min/mi
Sweet meaty-smelling smoke from the Bethesda Community Store shack across from NIH makes me forget, for a moment, that I'm a vegetarian — I'm tempted to take a break at mile 3 of my evening run and stand in line to grab barbecue beef and pork. Then realize: I have no money. Oops!
Paulette's library advisory committee meeting starts at 6pm at the Chevy Chase Library, which conveniently is only a few blocks from the eastern extension of the Capital Crescent Trail. It's an anomalously cool, low-humidity summer day today, with temps in the mid-80°F zone. So, home from work, quick-change into running garb, and start trekking.
Jaywalk-cut through late-rush-hour traffic paused at the light on Connecticut Av, then Georgetown Branch Trail to downtown Bethesda, north to Norfolk St and the Trolley Trail. At the National Institutes of Health campus follow the BTT and the BBQ smoke along Old Georgetown Rd to Cedar Ln, and thence to Rock Creek Trail. Young girl in eye-searing orange tank top power-walks west along Cedar toward the Beltway underpass, but by the time I've paused at the water fountain to refill my bottle she's back to RCT. I pass her at the traffic light crosswalk.
At RCT milepost 4 approaching Connecticut Av it's time to branch off the trail and turn toward my starting point. Sprint across the Beltway on/off ramps and busy side streets. The Garmin GPS trackfile shows splits as 9:43 + 8:27 (glitch in the tunnel under Wisconsin Av?) + 10:45 (Bethesda traffic delays) + 9:46 + 9:51 + 9:46 + 9:39 and final quarter-mile fraction at 9:19 to pull the average down a bit.
- Wednesday, August 15, 2012 at 04:46:32 (EDT)
---
A striking image, from a Wired online essay by Kim Zetter about electronic badges for the 2012 DefCon hacker conference, shared by comrade Macy Cronkrite:

The Goon badges, the red ones (above) with a scarab beetle on them, are designed to affect other badges as the goons pass conference attendees. Clarke's personal badge, as well as the badge of conference founder Jeff Moss, will also have an effect on other badges in their vicinity.

"In theory," Clarke says, "it should be possible to figure out where we are by looking at the residual effect on other badges. It's kind of like you leave behind a wake of information."

"Wake of information" — that phrase resonates with "Shul", the ancient Tibetan word for a path, a clearing in the forest, a footprint, a stream-bed ... an emptiness that leads to a something.
And perhaps the words also echo with another meaning of "wake": a ceremony for the dead, a celebration of departure — as order fades and entropy inevitably grows, and the tide of chaos rises to wash away all that was written on the sand ...
- Tuesday, August 14, 2012 at 04:25:22 (EDT)
---
~16 miles @ ~11 min/mi
"4 + 8 + 4 — that's about 14, isn't it?" Rebecca Rosenberg and Sam (Sandra) Yerkes and I have just been talking about how math ability is the first thing to go during a long run, and my attempt to answer their question, "How far will you be going today?" is an inadvertent demo. We take turns struggling to compute when to take walk breaks, in between anecdotes on dementia ward hijinks (Sam is a doctor) and similar topics.
I trot to Bethesda 6am, with rabbit and deer scurrying away into the brush at my approach. Only Sam is there at the out-of-commission water fountain, so we walk back past the construction site and meet Ken Swab. Rails from a Georgetown Branch siding have been uncovered by the digging and stretch five feet below the ground across a huge pit. Barry Smith and Rebecca Rosenberg materialize and we proceed four miles southward and back on the CCT. My left metatarsals ache. Cyclists are frequent and loud as they announce, "Passing on your left!" and zoom by — but at least they almost all give warning. The trail today is also in use by flocks of walkers, joggers, pram-pushers, and dog owners.
Separate Garmin GPS track files record the various trek segments: to Bethesda (10:26 + 11:17 + 10:35 + 10:33) and along the CCT southwards (10:47 + 10:55 + 11:26 + 10:42 + 12:11 + 12:51 + 11:51 + 10:56) and back home (10:13 + 10:15 + 10:53 + 10:04).
Later that same day Mary Ewell arrives to visit and share photos from her recent Alaska hiking adventure. We walk along Rock Creek Trail with occasional jogs, 4 miles in a loop from home at ~15-16 min/mi, to get Mary's heart rate into the proper zone for her current training regime.
"I can't do more than 20 miles in these shoes," Mary complains as we climb the steps at Ray's Meadow.
"TWENTY MILES?!?" a cyclist exclaims who overhears her.
- Monday, August 13, 2012 at 04:20:27 (EDT)
---
Marvelous understatement and grace under pressure, as described by Hiroko Tabuchi's New York Times article "Videos Shed Light on Chaos at Fukushima as a Nuclear Crisis Unfolded":

Shortly after an explosion rocked the stricken nuclear plant at Fukushima last year, blanketing the plant and nearby towns in radioactive material, Masao Yoshida, the plant's chief manager, rallied his men.

"I fear we are in acute danger," he said. "But let's calm down a little. Let's all take a deep breath. Inhale, exhale."

Worth putting in a box for use when needed:

I fear we are in acute danger
But let's calm down a little.
Let's all take a deep breath.
Inhale, exhale.
Mr. Yoshida, according to Mr. Tabuchi, had a brain hemorrhage recently and has esophageal cancer (presumably unrelated to the nuclear accident). He defied his superiors during the event and kept injecting seawater into the reactor, likely preventing far greater disaster. He also took care of his men. "I'm truly sorry. Please proceed with the utmost care," he told them. Tabuchi's article concludes with:

One constant image in the videos is a line of white boards used to scribble data and work assignments.

A gaunt Mr. Yoshida recently said that he asked all his workers to sign one of the boards in case the worst happened.

"We thought it would be a record of the men who stayed to fight to the end," he said.

(cf. OutOfPuff (2007-04-07), Try It for a Few Years (2009-05-19), Be Earth (2010-12-07), Let It All Go (2011-09-03), Coming Back to Your Breath (2011-09-25), ...)
- Sunday, August 12, 2012 at 18:32:39 (EDT)
---
~12 miles @ ~10.2 min/mi
"Runner coming through!" someone shouts from the pack of MCRRC Experienced Marathon Program folks (XMPers) gathered just inside the west end of the tunnel under Wisconsin Avenue. Several of them recognize me and send up a cheer and applause. I'm embarrassed and try to cover my face. I look like a drowned weasel, shirtless and dripping after the ~3.5 miles from home along the Capital Crescent Trail. Gayatri Datta, part of thegang there, writes later: "Ah ... and the hero's welcome you received running to the finish line ... shirtless through the tunnel around 6.30am this morning!" I actually don't remember seeing her.
At 6am I set off from home, optimistic even when heavy rains begin during the first half mile. After the tunnel experience I get to mile 4 in downtown Bethesda, far too early for a planned 7am meet-up with comrades Rebecca, Ken, et al. So I continue onward with a pod of MCRRC First Time Marathon runners doing a 16 mile run don the Capital Crescent Trail today. After half a mile I turn back. Still nobody I recognize in Bethesda. I text-message; it turns out the crew doesn't want to run until the showers cease.
An unopened "Espresso Love" GU brand of gel lies on the ground dropped by an earlier runner. I suck it down and proceed north alog the Bethesda Trolley Trail to Cedar Lane. The "BCS Barbecue" hut on Old Georgetown Road, across the street from NIH, is belching sweet-smelling smoke as it prepares the day's meats. By the path I find a UNIX-themed hat that reads "#!/bin/bash". Homeward then, via Rock Creek Trail.
A big ~8-point velvet-horned stag stands near his doe and eyes me as I approach the meadow near Ireland Drive. Both deer bolt for the woods when I stop and reach for camera-iPhone. A trio of young ladies are approaching from the other direction on RCT. "Love your cape!" I tell one of them, who sports a plastic sheet that flies behind her. The rain has mostly stopped, now but huge puddles remain and streams flow across the path in low places. Separate Garmin GPS trackfiles give the first five miles and, after a 20-minute break, the return journey.
- Saturday, August 11, 2012 at 04:57:09 (EDT)
---
The Spring 2012 issue of Inquiring Mind arrived recently. It's an odd bird of a publication, a free (largely donation-supported) semiannual tabloid-sized rough-paper collection of essays and advertisements, sketches and meditations. Most of the contents clanked to my ear, but in the middle were a pair of poems by Ellery Akers: "What Rises in the Sea at Night, Rises in Dreams" and "Long Distance: England". Amazing imagery, lovely sentiments — combinations of technology and emotion. They begin:
What Rises in the Sea at Night, Rises in Dreams

"By the time the last light has faded from the sky, the surface layers of the water,
so empty before, are a teeming soup of planktonic animal life."
The Life of the Ocean, N.J. Berrill

Every night the largest migration of animals in the world
rises while we sleep —
arrow worms clear as glass, comb jellies,
salps. When the first sting of sun
strikes the water, they sink back down.
And while I fall asleep, some unlived life
floats toward me,
or parts of myself I pushed down
rise, starved as they are, and scan my eyelids
for some kind of recognition
before they sink into the steep drop-off of the brain.
One night I dreamt I heard a golden tone;
a bell rang, but it was a bell made of krill,
climbing out of blackness so cold it stank of cold.
And in the sea, too, there are bells of jellyfish,
rafts of plankton, pulsing with light, that swim to the surface
and rock back and forth.

...

Long Distance: England

— for Alexander Graham Bell

Somewhere along the line
hail strikes the wire
that holds your voice,
and that wire,
slung between two poles,
sways in the wind.
I think of the men who stood in a steel bucket or climbed those poles.
I think of the poles themselves,
stripped of leaves, standing among live trees
smelling of sap and chlorophyll:
spike after spike stuck in the wood
and still its cells remember the breeze,
though bolted and coated with creosote.
Bell is in this call, too:
his patience during the day,
trying one magnetic strip after another;
his doubt at night,
looking at the moon through a window,
inhaling the smell of dusty curtains.

...
- Friday, August 10, 2012 at 04:35:35 (EDT)
---
~4 miles @ ~9.7 min/mi
Torrential rain, hail, and lightning menace the Metro at Takoma and Silver Spring, but the walk home a few miles farther north is dry as localized storms drift slowly away. Temperatures fall ~15°F into the lower 80s but humidity is high when I set out for a quick trek about the 'hood for midweek mileage. The pool parking lot is almost empty but a few lifeguards are hanging around. The McKenney Hills Learning Center construction project bears a new sign that suggests it will be an elementary school. By the Mormon Temple my pace picks up on the downhill segment. I head for home, totally sweat-wet, rather than add extra mileage. On the Ireland Drive climb from Rock Creek to the National Park Seminary I pass a runner trudging up the hill. I compliment his Grandma's Mountain Marathon shirt that features a scary elevation profile on the back.
- Thursday, August 09, 2012 at 04:21:47 (EDT)
---
Dark magic, myth, metaphor — I hoped for some of each when I picked up A. S. Byatt's Ragnarök: The End of the Gods from the Chevy Chase public library's new fiction shelf, after watching it molder there for many months. Alas, there wasn't much magic, at least not on a level that spoke to me. Byatt is a Booker-Prize-winning writer, but her retelling of the old Norse tale of the world's end oddly plods for such a tiny tome. M. John Harrison's review in The Guardian last year nails it nicely:

Ragnarok is a clever, lucid, lovely book. But it isn't a novel, or even a story in the usual sense. It's a discourse on myth, woven in and around a polemic about pollution and loss of species diversity: Yggdrasil the World Tree reinscribed as a doomed ecosystem. Byatt's ideas lie close to the surface; moreover, the author herself is waiting patiently at the end of everything, to make sure we take her point.

In the afterword "Thoughts on Myths" Byatt steps out from behind the curtain and seizes the microphone:

... We are a species of animal which is bringing about the end of the world we were born into. Not out of evil or malice, or not mainly, but because of a lopsided mixture of extraordinary cleverness, extraordinary greed, extraordinary proliferation of our own kind, and a biologically-built-in short-sightedness. ...

and after a litany of extinctions and pollutions, finally returns to the story — only to veer again into lecture-mode:

... But there is a sense in which the Norse Gods are peculiarly human in a different way. They are human because they are limited and stupid. They are greedy and enjoy fighting and playing games. They are cruel and enjoy hunting and jokes. They know Ragnarök is coming but are incapable of imagining any way to fend it off, or change the story. They know how to die gallantly but not how to make a better world. ...

If only Byatt had managed to step back from hammering home her arguments, and let the myths speak for themselves. They might have made her point far more convincingly.
(cf. KenningConstructionKit (1999-11-17), 2009-01-19 - PHT Valkyrie, ...)
- Wednesday, August 08, 2012 at 21:37:42 (EDT)
---
~2 miles @ ~11 min/mi
A lovely double rainbow rewards Robin and me as we wind down our speedwork. When we begin a light rain is falling and there are rumbles of thunder at the old asphalt track by the Silver Spring International Middle School. A soccer game continues unaffected in the infield, but there are only a couple of other silly runners braving the elements. Once Robin has decided to do 8 intervals he sticks doggedly to the number and won't let me persuade him to stop at 7. We start each one together but, except for the last which he finishes beside me, I come in a few seconds ahead of him, with splits 47 + 43 + 43 + 43 + 44 + 44 + 44 + 43 seconds. Afterwards I can't find the mechanical key-insert that the new MINI Cooper key fob plugs into. We search the car and Robin walks a loop around the track scanning for it, until suddenly I realize that it's still stuck inside the key fob — duh!
- Tuesday, August 07, 2012 at 04:22:34 (EDT)
---
~7.5 miles @ ~14 min/mi
"Ha! I saw a deer before you did!" I tell Caren Jew as she catches up with me and we observe a big doe run away from Seneca Creek Trail. Of course, I was over a hill and around a corner from Caren, so it wasn't a fair contest. And when I turn to go onward, there are two more deer standing on the trail immediately in front of us.

Then Caren points out a little fawn and its mother by the creek. And during the later part of the run she calls me to come back to her and shows me a big brown-gray hawk perched on a fallen tree trunk near Watkins Mill Rd, looking like a stubby broken limb at first glance. Clearly Ms. C still has The Eye!

On a hyper-humid morning at 6am I begin a quick survey of the Greenway Trail near MD-355. Weeds brush against my legs. I pause to take photos of the abandoned farm machinery (a manure spreader?) and then take Game Preserve Rd back to meet Caren at the parking lot. We proceed the opposite direction on the SCGT, upstream on higher ground.

"I dare you!" is enough of a taunt to get us racing up the long hill along Watkins Mill Rd. Running hard I glance over my shoulder and at first glimpse think Caren is about to pass me — but it's a high school cross-country kid in training. I barely make it to the traffic light corner before he zips by. Caren and I follow him to the school track and forlornly circle the outside of the fence, seeking entrance without success. As he's running laps we shout to him and he tells us he squeezed through one of the chained-shut gates. Neither Caren nor I feel svelte enough to try that today. The Garmin GPS trackfile shows the route we take.
- Tuesday, August 07, 2012 at 04:18:28 (EDT)
---
Anthony Lane in his New Yorker essay "The Body Olympic" muses on all the different physiques competing in the 2012 games: svelte and strong, fast and flexible, precise and powerful. Lane concludes:

... one's sentiments are broadly in line with those of Zoe Smith, the weightlifter, who had been baited and bullied on social networks during the runup to the Games, for being a diminutive young woman in a burly sport. After her competition, she took on the trolls, reminding them that she had just taken part at the Olympics, where she had lifted twice her own body weight, and asking, "What are you doing with your life?" Good question.

(cf. That Feeling of Weightlessness (2012-06-23), ...)
- Monday, August 06, 2012 at 04:21:02 (EDT)
---
~9 miles @ ~13 min/mi
"I tried to grab the only part of you that wasn't slippery!" Sara Crum says. She ends up holding Barry Smith's wristwatch by its quick-release velcro strap, when he looses his footing on a muddy stick and falls halfway through the run. He's ok, but has a scraped knee and a considerable quantity of wet leaves on one side.
At 5am it's raining hard, and in a series of email exchanges Rebecca Rosenberg defers our planned 6am meetup to 6:30, then 7, then 7:30 when Ken Swab, Megan O'Rourke, Barry Smith, and Sara Crum are all planning to gather at Candy Cane City for some trail mileage. Rain stops, restarts, pauses. Eventually instead of running from home I drive to the park, arriving just behind Ken in his Miata. Brave Megan and Sara have both already done a few miles. Sara's plantar fasciitis is bad today, really bad — she needs to stop running on it and let it heal.
Downstream we trek, chatting and regrouping as one or another subset gets ahead or drops behind. A bit beyond the equitation rings south of Military Rd we turn back, and to ease some of Sara's suffering take Beach Dr on the return trip. The Garmin GPS trackfile agrees mostly with Runens on the iPhone, pace on trail 12-15 min/mi but the final two ~10.4 to blow the dust off.
- Sunday, August 05, 2012 at 05:06:17 (EDT)
---
~7 miles @ ~9.5 min/mi
Leaves and sticks are scattered across Rock Creek Trail like chair fragments after a barroom brawl. The doe eyes me suspiciously as she stands with her fawn at her shoulder. Paulette has a Library Board meeting tonight, so I meet her in Rockville and, since there's time, take the car home, change into running shorts, then return to Aspen Hill Park. Dozens of trucks almost fill the lot as neighborhood baseball players chat at 6:45pm.
The park's water fountain's drain is clogged; it overflows its basin and spills almost onto my shoes as I drink before setting out northward. Fanny pack and bottle are forgotten, so it's a light-fast trek this evening. At ~1.8 miles I pause to gulp from the fountain under the Route 28 high bridge, just after the only major deadfall causes me to stop and clamber carefully over the tree trunk blocking the trail. Cyclists politely warn, "Passing on your left!" A few other shirtless male runners meet me en route.
Lake Needwood is spooky-empty, car-free, still closed for clean-up after the storm 11 days ago. I circle the empty parking lot rather than the entire lake. Two young ladies in bright running garb meet me twice, as I go upstream and again near Southlawn Rd as I return. The Garmin GPS trackfile is more conservative than the iPhone Runens app by ~2%, with splits 9:17 + 9:59 + 9:36 + 9:49 + 9:27 + 10:04 + 8:34 and a final quarter-mile also sub-9.
- Sunday, August 05, 2012 at 04:58:38 (EDT)
---
~6 miles @ ~11.2 min/mi
Karen Craney chats with me at the KenGar parking area on a sultry Sunday morning, with temperatures already in the 80s at 6:30am. She's leading the Fleet Feet training program for the Parks Half Marathon. Record high temperatures and punishing humidity are an incentive to run super-early pre-dawn. Plan One falls through, when a friend's daughter is injured and has a rough night. So Plan Two: KenGar, where I greet Ken Swab as he arrives a few minutes later. Rebecca Rosenberg is soon here. She took her dog Ivan to the emergency vet at 4am when he had a seizure. It's a rough day; the Garmin GPS trackfile shows us doing 11-12 min/mi until the last one, when Rebecca and I sprint ahead to go sub-10.
- Sunday, August 05, 2012 at 04:51:01 (EDT)
---
Boris Johnson, the Mayor of London, in a recent essay offers twenty "Reasons to Feel Cheerful about the [Olympic] Games", of which the penultimate is the poetic:

19. As I write these words there are semi-naked women playing beach volleyball in the middle of the Horse Guards Parade immortalised by Canaletto. They are glistening like wet otters and the water is plashing off the brims of the spectators' sou'westers. The whole thing is magnificent and bonkers.

Why can't our politicians use such imagery and allusion? (OK, Lincoln did, but that was a while ago.) Canaletto was a landscape painter who moved from Venice to London in the 1700's. And "plashing", and "glistening like wet otters"? Indeed, magnificent and bonkers!
- Saturday, August 04, 2012 at 18:49:39 (EDT)
---
~14 miles @ ~11.5 min/mi
Hot & humid summer morn: I start at 5:10am and jog from home via the usual Georgetown Branch Trail/Capital Crescent Trail route to downtown Bethesda. Amy (? — LNU, shoulders brightly tattooed) is there early, and so is Megan O'Rourke with her sister Barney from Minnesota. "Santa Steve" sets off ahead of us with comrade Joyce. It's Megan's birthday; we chat about her triathlon training plans.

Ken Swab, Gayatri Datta, and Rebecca Rosenberg appear and the group sets off southward on the CCT to the water fountain near the Dalecarlia reservior/tunnel, three miles. There we refill bottles and reverse course. Most drop out when we're back at the starting point, but Rebecca and Amy and Gayatri want a few more miles so they head east with me. I sprint ahead and get an iPhone photo of the trio, illuminated by the rising sun, on the GBT as we approach the high trestle over Rock Creek.

See the Garmin GPS trackfile for split data; individual miles vary between 10 and 13 minutes.
- Friday, August 03, 2012 at 04:39:09 (EDT)
---
Can werewolves (lycanthropes) apply "moonscreen" to protect them against inadvertently changing form? What Moon Protection Factor (MPF) is required?
(cf. UndeadTrafficIncident (2004-03-20), ...)
- Thursday, August 02, 2012 at 04:24:28 (EDT)
---
1 mile @ 6.7 min/mi
The electricity is back at home, after six days of post-storm powerlessness. Instead of going to see an amateur baseball game Robin and I celebrate by heading to the Rockville High School track.

As we arrive Caren Jew is warming up, running along Baltimore Rd near the school grounds. Christina Caravoulias lets me hold her nice camera and take photos while she races. Jeanne Larrison is as always ebullient and finishes comfortably sub-10; Caren runs strong to finish sub-9, cheered by her husband and younger daughter; Robin without much training is happy with his sub-8 result.

Is it the "Midsummer's Night Mile" or "Midsummer Night's Mile"? Sources disagree. I trot a lap to loosen up. The summer heat isn't too troublesome tonight, and it's not even terribly humid — or so I try to tell myself. Deliberate relaxation is the plan. My socks are forgotten at home. The first lap is hyperoptimistically too fast, but pushing the rest of the way gives approximate quarter-mile splits of 1:34 + 1:41 + 1:43 + 1:40.

The official result has me in the top hundred, namely 100th place, 82nd of 119 males, 5th of 7 in the 55-59 male age cohort, total time 6:38. Not a PB (given 6:32 at the 2009-07-10 - Midsummer Night's Mile) but not too shabby.





(Photo by Dan Reichmann)
- Wednesday, August 01, 2012 at 20:03:09 (EDT)
---
Maria Popova's Brain Pickings site is a fascinating collection of essays and notes, lists and aphorisms. It's self-described as "... a modest exercise in vision- and mind-expansion...". A few brief excerpts and samples:
From "How to Find Your Purpose and Do What You Love":

"What you should not do, I think, is worry about the opinion of anyone beyond your friends. You shouldn't worry about prestige. Prestige is the opinion of the rest of the world." — Paul Graham

"Find something more important than you are and dedicate your life to it." — Daniel Dennett

From "New Year's Resolution Reading List: 9 Books on Reading and Writing":

"Finish each day before you begin the next, and interpose a solid wall of sleep between the two. This you cannot do without temperance." — Ralph Waldo Emerson

From "(Almost) Everything You Need to Know about Culture in 10 Books":

"The story begins with an account of how the human mind works. Not a full account, of course, just two ancient truths that must be understood before you can take advantage of modern psychology to improve your life. The first truth is the foundational idea of this book: The mind is divided into parts that sometimes conflict. Like a rider on the back of an elephant, the conscious, reasoning part of the mind has only limited control of what the elephant does. Nowadays, we know the causes of these divisions, and a few ways to help the rider and the elephant work better as a team." — Jonathan Haidt

From "Five Manifestos for the Creative Life":

"Pretending you know what you're doing is almost the same as knowing what you are doing, so just accept that you know what you're doing even if you don't and do it." — Bre Pettis and Kio Stark

From "10 Tips on Writing from David Ogilvy":

"Never write more than two pages on any subject." — David Ogilvy

- Tuesday, July 31, 2012 at 04:42:04 (EDT)
---
~10 miles @ ~ 10.3 min/mi
"I have an embarrassing question to ask," one young woman says to another. I prick up my ears. "Where do you go around here to get waxed?" My ears droop. Too much information!
With no electricity at home since last week's storms I trot downtown starting at 5:55am on Independence Day. The Silver Spring "Pacers" running store has a Wednesday morning group that I've meant to visit but hitherto haven't had the time. At about 6:20am when I arrive nobody else is there, but soon Joanna appears, jogging in from her home. Then organizer Courtney Sloan comes, along with a couple of other women. Courtney has just had a baby and is starting to ramp up her mileage again. She opens the store, where we fill water bottles.
The five ladies and I head east on Ellsworth St past the Silver Spring Public Library. Joanna is faster than the rest of the group, so she and I run ahead after a few blocks. We reach Sligo Creek Trail near the tennis courts just downstream of Colesville Rd, and proceed north past Dennis Av to the recreation center, circle around it, pause briefly at the water fountain, then head back. Joanna and I chat about training, work (she is newly employed at the FDA), and life in general. Back on Ellsworth St we catch up with Ashley as we're climbing the hills back to the store. After a final visit I trot home. Details are in the Garmin GPS trackfile; splits it records are 10:48 + 10:26 + 10:35 + 10:25 + 9:22 + 9:33 + 8:59 + 10:51 + 11:30 + 10:19.
- Monday, July 30, 2012 at 04:28:22 (EDT)
---
Sans mind, mass, meaning —
Without form, space, sense, truth, time —
Beginningless. No
(cf. No Concepts At All (2001-02-22), DestinationMind (2003-10-27), Dalai Lama Birthday Gift (2004-08-24), Nothingness Shows Through (2005-12-06), Everything Is Symbolic (2009-04-01), No Method (2010-01-21), ...)
- Sunday, July 29, 2012 at 04:59:55 (EDT)
---
~11 miles @ ~12 min/mi
At 6:10am I set off from home toward Candy Cane City for a rendezvous with Rebecca Rosenberg, Barry Smith, and Ken Swab. Small world: en route on the Georgetown Branch Trail whom should I see but yesterday's new acquaintance, young Ms. V! (aka Javi Hartenstine; cf. 2012-06-30 - Meet V) She's heading toward me and turns from the GBT onto the connector path at Terrace Dr and Grubb Rd, then proceeds down to the Ray's Meadow water fountain. I catch up with her there and re-introduce myself; she wasn't sure it was me since today I'm shirtless after the first humid mile.
At Meadowbrook Stables a MINI Cooper beeps and comrade Joyce drives past. I visit with her at the Candy Cane playground before she and friend KC set off to run trails in Rock Creek Park. Ken arrives, followed soon by Rebecca and Barry. We proceed down Rock Creek Trail to Beach Dr at the DC line, and onward as speeding cyclists whirl past. When Barry's GPS says 3+ miles at the bridge over Rock Creek (between Bingham and Military Rd) we turn back. It's ultra-damp and warm. We take walk breaks guiltlessly.
Back at Candy Cane City Ken heads for home; he survived 30 miles of the Black Hills ultramarathons in South Dakota last weekend and is still recovering from that hyperthermic experience. Barry is willing to give me a ride but wants to do another mile or two with Rebecca and her friend Megan O'Rourke, who arrives at 8am. I follow them along north on RCT, but instead of turning back with Barry just continue on homewards, bidding Megan and Rebecca adieu at the branch to take Ireland Dr up the ridge to my home. The Garmin GPS trackfile offers more detail.
- Friday, July 27, 2012 at 04:35:20 (EDT)
---
Paired bats flitter-glide
As Venus and Jupiter
Climb the dawn's ladder
(haiku-observation during a walk to the Metro at 0530 yesterday morning — cf. Richard Wilbur (2005-06-30), You Cannot Write That Story (2005-10-12), ...)
- Thursday, July 26, 2012 at 20:24:24 (EDT)
---
~8.8 miles @ ~11.1 min/mi
"V", short for Javi Hartenstine, is picking her way through the fallen trees that block the Capital Crescent Trail (Georgetown Branch) after last night's dramatic storm, a derecho that blasted through the region and left widespread power outages in its wake. A tattooed cyclist has to stop every hundred yards to portage his bike over and around the debris. V and I chat; she lives in Bethesda, ran cross-country in high school, and is about to move to Baltimore to be closer to her work. She's funny and rather faster than me, which is good since it keeps me working hard on a hyper-humid morning.

At 6am sharp I park in the downtown Bethesda garage, on schedule to run with comrades Barry, Ken, Rebecca, et al. But none of them make it out of their neighborhoods. Roads are blocked; traffic lights are dark. After a few minutes of waiting and texting I set off eastward through the tunnel under Wisconsin Av. I pause to take photos of deadfalls. V overtakes me and at Jones Mill Rd we look ahead and see the trail blocked before us.

We turn north to join Rock Creek Trail via Susanna La, and the fat cat that was lying immobile in the street on my 2012-06-27 - Photo Ramble is ambling down the road this time. We crawl over or bushwhack around more fallen trees, then drink at the water fountain near Old Spring Rd. I take walk breaks while V runs in place. Cedar La gets us back to Old Georgetown Rd, and then we branch along the Bethesda Trolley Trail until I take a wrong turn and lead us back to Old Georgetown Rd again. Finally at Barnes & Noble in downtown Bethesda we bid each other good-bye. The Garmin GPS trackfile shows splits of 13:41 + 17:03 + 10:43 + 10:20 + 9:57 + 9:51 + 9:32 + 9:15 plus a 9:13 min/mi pace on the final 0.8 mile segment.
- Wednesday, July 25, 2012 at 04:43:36 (EDT)
---
Some folks see 95% or more of all people as potential (or actual) lazy bums who will quit their jobs and shamelessly take advantage of The System if it offers them a free lunch, free health care, a free place to live, etc.
The same folks see 95% or more of all businesses, large and small, as noble law-abiding ventures, engines of creativity and social progress, hamstrung by senseless regulations and bureaucratic red tape.
They see Government in the process of becoming a criminal organization, perverted from its original mission of ensuring liberty and justice for all into something evil that takes from the deserving and gives to the undeserving, that strips away freedoms and tramples the rights of decent individuals and organizations.
Other folks see 95% or more of all people as hard-working, honest, and generous, inclined by nature to help their neighbors in need, willing to pay their fair share and a bit more if they're fortunate enough to have a good job, good health, good family, good friends.
The same folks see 95% or more of all businesses, large and small, as potential (or actual) rapacious cheats, enterprises to take advantage of the weak, cancers on society that concentrate wealth, pervert the political process, and largely write the rules.
They see Government in the process of becoming a criminal organization, perverted from its original mission of ensuring liberty and justice for all into something evil that takes from the deserving and gives to the undeserving, that strips away freedoms and tramples the rights of decent individuals and organizations.
Reality? Call me Pollyanna: I see 95% or more of all people and 95% or more of all businesses as basically good and sensible. Yep, there are jerks and crooks. We need rules and enforcement of those rules. But most of the time most of us try to play fair. Over time things are mostly getting better. Some people and businesses are unlucky and need help; others are lucky and can afford to help. "Luck" includes being born with stable brain chemistry, having wealthy parents, making fortuitous career choices, etc. There's a lot more "luck" in life than many of us realize. Getting angry and shouting at each other is less beneficial, overall, than working together to make the rules — which we call "Government" — more balanced, transparent, and easier to understand. Strive to maximize liberty and justice for all. Worry a bit less about keeping score. Have more fun playing the game together.
(cf. AuthorizedVersusForbidden (2005-07-03), GovernmentJob (2005-08-23), WhateverYouWant (2007-02-26), ...)
- Tuesday, July 24, 2012 at 04:28:56 (EDT)
---
~8 miles @ ~11.7 min/mi
| | |
| --- | --- |
| | "Is it OK if I take photos of the old statues?" I naïvely ask the policeman who has driven up to inspect my activities at the National Park Seminary this afternoon. I wave my iPhone camera at him and show him my water bottle. The opportunity to answer "Yes" gets the conversation started off on the right foot. |
| | |
| --- | --- |
| "Sure," he says, "and there are some more in the garden down the hill." I thank him and don't mention that I've been exploring the woods down there for the past couple of decades. He drives away and I proceed to take more pictures, trot along the stream, crawl under a fallen tree that's almost blocking the stairway, and climb back up to the open lawn. Then it's the usual path up Rock Creek Trail to the Kensington Pkwy followed by an unusual exploration of neighborhood streets. The Runens iPhone GPS app helps me navigate. I cut through a gap between streets and deliberately run a loop (Park View Rd and Levelle Dr) to make the Garmin GPS trackfile look sillier, with a bonus of hillwork and a classic scarlet Pontiac GTO along the way. | |
| | |
| --- | --- |
| | Then down Rock Creek to the meadow where I pause to photograph the spring that George Washington supposedly drank from, and back home via the Capital Crescent Trail's Georgetown Branch. A cat sits in the middle of Susanna Ln and makes me detour around her. An extra zig at the end makes the distance on both GPS units safely exceed 8.00 miles. Runens iPhone splits are 10:59 + 15:25 + 10:18 + 12:12 + 11:22 + 12:00 + 10:23 + 10:00. |
- Monday, July 23, 2012 at 04:29:37 (EDT)
---
What if we grew up on a planet
With cats a mile tall?
So petting one could build up a charge
That sent sparks shooting from fingertips
Into the next county?

Would thunderstorms be trivial?
Obvious? Negligible? A joke?

Or what if we came from a world
Without air, without weather?
Or grew up underwater, no electricity?

Could anyone imagine clouds towering in a sky?
Lightning's crash, tornado's destruction?
Water forming droplets, even freezing into stones?
Pelting down in torrents and floods?
- Sunday, July 22, 2012 at 05:21:27 (EDT)
---
~5 miles @ ~8.7 min/mi
Double-laps at 3:43 ⇒ 3:37 ⇒ 3:35 ⇒ 3:39 ⇒ 3:42 ⇒ 3:41 ⇒ 3:37 ⇒ 3:35 with a lovely cool breeze: Robin is riding his bicycle to UM via Sligo Creek and Northwest Branch, ~10 miles, so I drive to the track and get in some mileage as he pedals. A few sprinters and some steady-slow joggers are also using the facility at Kehoe Field on the west side of campus. The temperature is about 80°F, dew point below 50°F, north wind gusting to more than 20 mi/hr. Nice!
At first I intend to do ten repeats, but after five brisk ones I'm hoping Robin arrives sooner than planned. The seventh interval is tough; 8 x 800m sounds plausibly planned; ~5 miles on the GPS looks decent. Pushing hard, the final test half-mile ties for fastest. Then cool down, don shirt, and meet Robin at the Marathon Deli. The Garmin GPS trackfile shows boring orbits and 1-mile average splits, with an up-and-down square-wave pace chart.
- Saturday, July 21, 2012 at 15:23:14 (EDT)
---
Last month in the Washington Post appeared a well-written but seemingly anonymous essay, "Google Glass and the Genesis of the Hive Mind". Digging suggests it's by Jolie O'Dell who writes for VentureBeat. The article makes some sharp observations about the narcissistic nature of folks who are hyper-connected and "share" everything they eat, everywhere they go, etc. "We're spewing wave upon wave of drivel into the ether, convinced that our sharing has some moral merit." Ms. O'Dell hits the bit at the center of the target with her comment:

I love technology as a means to an end, the end being a full and happy life.
- Friday, July 20, 2012 at 04:45:00 (EDT)
---
~12.5 miles @ ~11.5 min/mi
"I have a confession to make: I just bought a Journey Greatest Hits album!" Barry Smith admits to Rebecca Rosenberg and me. Two rabbits scurry away from us when they hear the news. We keep running.
Early Sunday morning while we await Rebecca Rosenberg, Barry and I chat with (no obvious relation!) Betty Smith at KenGar. Betty is ~70 years old now and tells us she's planning to try a major ultramarathon, the 72-hour "Across the Years" run in Arizona. She's also coaching the MCRRC First Time Marathon program. Participant cars almost fill the lot when Rebecca arrives. The three of us proceed from milepost 7 south along Rock Creek Trail to just inside the Beltway, where I swear that there used to be a mile 2.5 marker painted on the asphalt until the road was resurfaced. We reminisce about rock concerts we've attended, until back at KenGar where we decide to continue north about two-thirds of a mile and return. That makes a total of ~10.5 miles, enough for Marathon Maniac Barry who raced the Dreaded Druid Hillls 10k yesterday in Baltimore.
Rebecca and I then do a blitz upstream and back, a final two miles, at sub-9 pace. We manage to stay ahead of pack of a dozen young and scary-buff FTMers finishing their ~9 min/mi ~12 mile trek. The Garmin GPS trackfile and iPhone's Runens more-or-less concur on our mile splits: 11:05 + 11:26 + 10:33 +10:34 + 12:48 + 11:27 + 12:12 + 12:02 + 12:05 + 12:42 + 12:20 + 9:15 and a final half at 8:21 min/mi.
- Thursday, July 19, 2012 at 04:45:45 (EDT)
---
A thoughtful essay by Atul Gawande recently appeared in the New Yorker online, titled "Something Wicked This Way Comes". It talks about complex so-called "wicked problems" associated with health care, and about the challenge of empathy for others in society, especially those in desperate need. A key paragraph:

The major social advances of the past three centuries have required widening our sphere of moral inclusion. During the nineteenth century, for instance, most American leaders believed in a right to vote—but not in extending it to women and black people. Likewise, most American leaders, regardless of their politics, believe people's health-care needs should be met; they've sought to insure that soldiers, the elderly, the disabled, and children, not to mention themselves, have access to good care. But many draw their circle of concern narrowly; they continue to resist the idea that people without adequate insurance are anything like these deserving others.

... sentiments reminiscent of moral philosophers Albert Schweitzer and Rushworth Kidder and, a few centuries earlier, Adam Smith. It's all about about broadening individual perspectives, reducing the gap between self and other, until eventually it dissolves and, maybe, we all become just reflections in an endless maze of mirrors ...
- Wednesday, July 18, 2012 at 04:21:09 (EDT)
---
~9 miles @ ~11 min/mi
It's a J. R. R. Tolkien Hobbit day, starting when Rebecca Rosenberg and Emaad Burki and I meet at KenGar at 7am. "Stand by the grey stone when the thrush knocks, and the setting sun with the last light of Durin's Day will shine upon the key-hole." Today, however, it's the rising sun that pierces the line of trees and spotlights the misty meadow. Buried treasure? If only we had marked the location in time!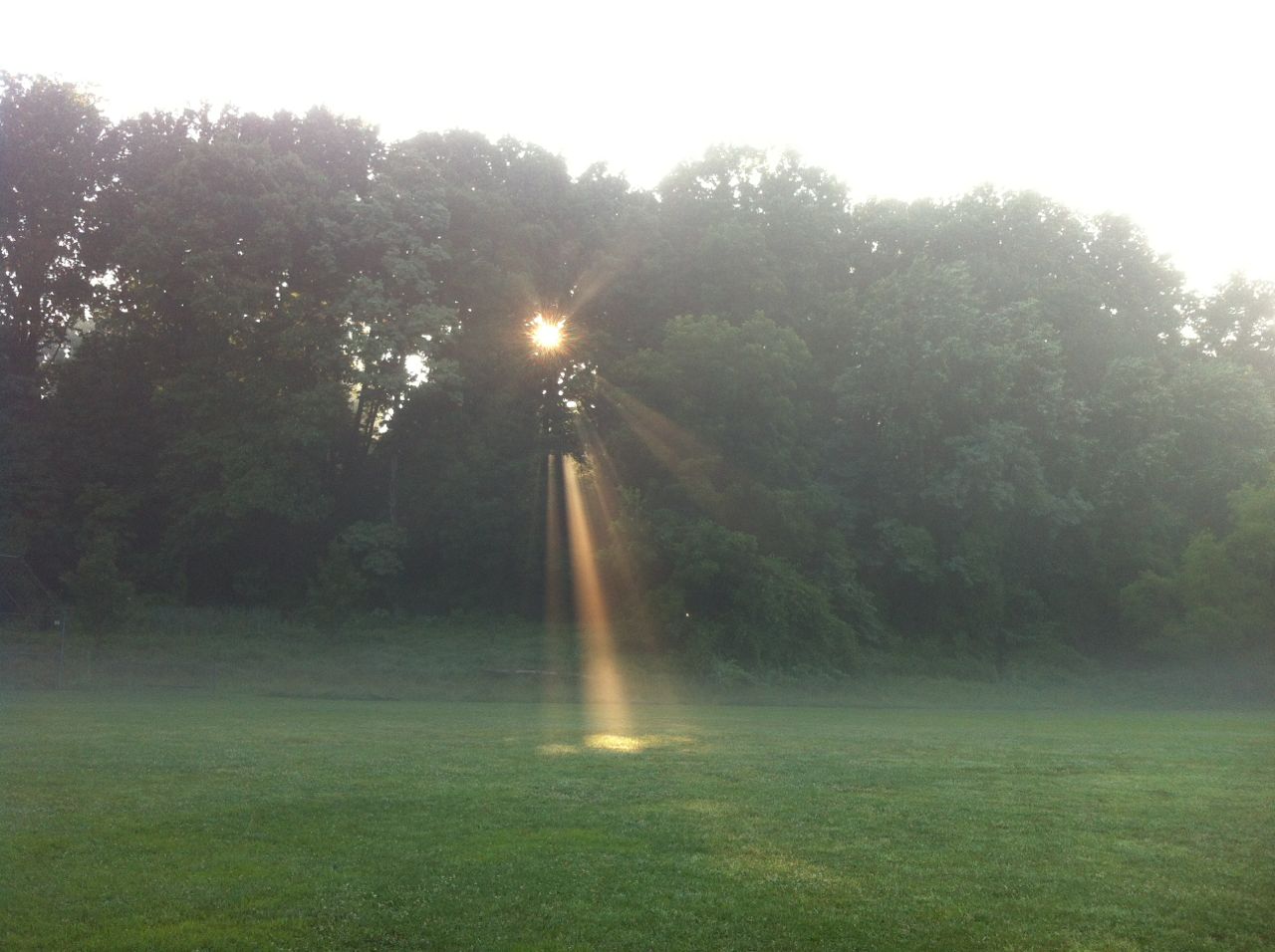 Mirkwood, full of giant spiders. Their nets catch unwary travelers who venture off the path. Upstream, between mileposts 9 and 10 in the wooded hills we encounter webs in the fog. Look closely and you can see Emaad and Rebecca in the distance behind the mesh.

Splits from the Garmin GPS for the first six miles are 11:40 + 11:08 + 11:23 + 11:53 + 10:40 + 8:50 with that last brisk one a solo run-ahead to get my heart pounding. After waiting for E&R at the water fountain the next three miles go 11:29 + 10:54 + 8:16 with another final sprint to pull the average pace down.
- Tuesday, July 17, 2012 at 04:23:44 (EDT)
---
A terse, striking four-word summary of the goals of his paintings, by Lucian Freud (1922-2011):

Astonish, Disturb, Seduce, Convince
- Monday, July 16, 2012 at 04:35:06 (EDT)
---
~5.5 miles @ ~10.5 min/mi
"It's like peace, there's no struggle. That's what we're all searching for, that feeling of weightlessness."

Those words, from Elizabeth Weil's New York Times profile "She's 350 Pounds and Olympics-Bound" of weightlifter Holley Mangold make my spirits float in spite of temperatures in the low 90's as I set off to circle the neighborhood.

A scrawny deer with ears like radio telescopes warily eyes me near milepost 2 of Rock Creek Trail. The Garmin GPS trackfile concurs with Runens on distance and pace, with mile splits including pauses to take photos and drink from the water fountain at Ray's Meadow: 10:11 + 10:32 + 9:56 + 10:58 + 11:15 and the final fraction at 9:30 pace to pull the average pace safely under 10.5 min/mi.
(cf. That Feeling of Weightlessness (2012-06-23), ...)
- Sunday, July 15, 2012 at 04:25:32 (EDT)
---
~2 miles @ ~10.2 min/mi
On the way to the AT&T Store to get iPhones for Gray and Paulette there's enough time to stop at the Marathon Deli — and on the way there, enough time for twenty minutes of interval training to counterbalance the long runs I've been doing of late. So at the usual UM track Robin does 400m repeats and I do eight 200's with ~2 minutes of recovery between. The stopwatch says, in seconds: 49 + 46 + 45 + 45 + 44 + 44 + 44 + 44 — at least I'm consistent this afternoon.
- Sunday, July 15, 2012 at 04:21:00 (EDT)
---
~8 miles @ ~15 min/mi
At 6:15am I meet Caren Jew near the Wheaton Regional Park stables off Kemp Mill Rd. Down the right bank of NWBT we go, and then back up the more rugged and overgrown left bank. We count at least five log bridges over the water, each with ropes strung above them for hand-holding, but only cross one over a small tributary. Besides dog-walkers and hikers, there's a solo fast trail trekker and a band of four runners on the opposite bank. They meet us again on on our side. Caren spies a deer with two-point antlers and a big rabbit.

Runens on the iPhone reports 8.29 miles; the Garmin GPS says 8.00 miles.
- Sunday, July 15, 2012 at 04:18:54 (EDT)
---
Physicists are notorious for self-flattery; they think they (can) (in principle) understand everything based on first principles. A friend recently encapsulated it in a joke she quoted, playing off the fact that beyond the simplest single-atom quantum-mechanical systems the equations are usually far too complex to solve exactly:
"Physicists say a diatomic molecule is a molecule with one too many atoms."
Hmmm, maybe to a normal person that's also an example of physicists' (lack of a) sense of humor?!
(cf. PhysicsEnvy (2001-04-11), ...)
- Saturday, July 14, 2012 at 06:48:11 (EDT)
---
~13.1 miles @ ~10 min/mi
Like teenagers who don't know quite what to do in a new situation, two young stags with thumb-length velvet-covered horns stand next to the Matthew Henson Trail by Layhill Rd. They eye me as I approach but eventually judge me harmless and don't bolt for the woods, as their elders typically do when someone passes within a few feet of them.
It's an unusually cool and pleasant day, with noonday temperatures only ~80°F and decently low humidity. After visiting the Silver Spring Farmers Market and the Kensington Post Office I leave the car at KenGar and run upstream starting near milepost 7. My recollection is that the MHT is ~4.5 miles long, and leaves Rock Creek Trail near milepost 9. So a round trip should be 2 + 4.5 + 4.5 + 2 = 13 miles or so. Caren Jew and I exchange text-messages. Last week she outdistanced me by one mile, 36 to 35. I ask how far she has run earlier this week, and offer to fudge my numbers so she can beat me again. She forgives me in advance.
Upstream I cruise, feeling good. A group of women sit cross-legged under the trees near the beginning of the MHT — yoga? meditation? On Turkey Branch Parkway a county radar speed-display unit is set up, to shame drivers into slowing slightly as they fly through the neighborhood. I leave the sidewalk and run toward it in the street, and am happily surprised to see it detect me. The big yellow-pixelated display shows "6" mph with flickers of "7". Cyclists hunched over handlebars display décolletage. Near the Connecticut Av underpass I pass a blonde jogger on the way back who comments on how warm it's getting. Hikers in pairs greet me as they trek along. The road crossings mostly turn out lucky with minimal delay, though I do have to sprint to get across Georgia Av between cars both ways.
The Garmin GPS trackfile estimates the splits as 9:39 + 10:04 + 9:45 + 9:34 + 10:08 + 9:52 + 9:49 + 9:31 + 9:45 + 9:50 + 10:20 + 11:01 + 10:27 plus a final ~0.14 mile frantic dash at ~8.6 min/mi to keep the overall pace estimate slightly under 10 min/mi — 9:58 on the Garmin, 9:56 on the iPhone "Runens" GPS app, which calls the distance 13.18 instead of 13.14 mi.
- Friday, July 13, 2012 at 04:39:27 (EDT)
---
Sometimes elder statesmen can be kind. A concert program quoted Hector Berlioz's praise of the brilliant young composer Camille Saint-Saëns: "He knows everything, except inexperience." (Wikipedia gives it in French as "Il sait tout, mais il manqué d'inexpérience.") In the opposite direction, however, there's physicist Wolfgang Pauli's scathing criticism of a junior colleague, "So young, and already so unknown." Ouch!
- Thursday, July 12, 2012 at 17:44:17 (EDT)
---
~2.5 miles @ ~12.2 min/mi
The Garmin GPS trackfile shows the route, but not the three rabbits that Robin and I spy: a tiny one near the Benjamin Franklin Plumber shop, and a larger pair in the neighborhood park at the corner of Birch Av and Sharon Dr. With walk breaks and a five-minute walking warm-up we make steady progress around the 'hood. A narrow shoulder on Capitol View Av is not enjoyed by Robin. A scrawny deer eyes us from the gravel parking lot near the train tracks.
- Wednesday, July 11, 2012 at 04:33:12 (EDT)
---
~8 miles @ ~11.2 min/mi
"Run, Forrest, Run! I bet you hear that all the time!" the cyclist shouts and waves at me as he zips past on University Blvd. I don't have time to tell him that, actually, I only remember a single incident long ago (2006-05-18 - Evening Anacostia Loop). Perhaps the movie wasn't as popular, or the line not as memorable, as it seemed to some?
Daughter Gray's chamber music recital tonight is another excuse to trek from home to the University of Maryland campus. The route (see Garmin GPS trackfile) is the same as 2012-06-02 - Deliverator to UM. The iPhone Runens app has problems in its new version and falls asleep, loses data, etc. A lunch of falafel, hummus, and fatuoush proves to be suboptimal before a long run, from a digestive perspective. Change clothes in the bathroom at the Music Center, then enjoy the recital.
- Wednesday, July 11, 2012 at 04:31:10 (EDT)
---
~6.5 miles @ ~9.4 min/mi
Home early, with showers moving out of area but light drizzle. One hour to go: up the Mormon Temple hill trotting hard, then down Old Spring Rd. The water fountain trickles just enough to splash face and sip from cupped hand at the dog-water tap. Push down Rock Creek to Ray's Meadow, remembering CM's hard run with me there and her comment on it, as well as the time we got her to a new mile PB on that trail segment. The Garmin GPS trackfile shows the route. An experiment with making a Google map of the Runens *.kml file is less successful. Mile splits: 9:40 + 9:54 + 8:55 + 8:56 + 9:10 + 9:47 with a final ~0.5 mile at ~9.4 min/mi.
- Wednesday, July 11, 2012 at 04:28:42 (EDT)
---
Sometimes simplest wins. A favorite quote around our home, from French chef Jacques Pepin:
"If you have the best bread in the world and the best butter, it's hard to beat bread and butter."
- Tuesday, July 10, 2012 at 04:36:42 (EDT)
---
~2 miles @ ~11.5 min/mi
At Clair Sullivan's home after my 2012-06-10 - Metropolitan Branch Trail to Clair we get little daughter Sophie into her racing stroller and set off in a trot. The Garmin GPS trackfile shows the resulting out-and-back on the Metropolitan Branch Trail, our last chance to run together before Clair moves away to her new job, a professorship at the University of Illinois in Champaign-Urbana.
A few minutes after we return to her home and part ways I hear a voice shout "Mark!" as I walk along R St NW in search of 7th Av to catch the #70 Metrobus home. It's Clair, still pushing Sophie in the pram. They're locked out: husband-daddy is apparently in the shower and doesn't hear their knocks and shouts. I return with C&S, who chat with me, use my phone to call home a few times, and eventually get in.
- Monday, July 09, 2012 at 04:38:35 (EDT)
---
~10 miles @ ~11.5 min/mi
| | |
| --- | --- |
| | Decorative benches on a grassy field in Takoma Park catch my eye on the way down the Metropolitan Branch Trail on Sunday morning. From home at 5am the trek is uneventful, with mile splits 11:09 + 11:17 + 11:09 + 11:53 + 11:37 + 11:11 + 10:50 + 13:22 + 11:35 + 9:48 from the Garmin GPS trackfile. Today the iPhone Runens app agrees to within a few seconds in time and a fraction of a percent in distance. |
More striking than the park benches, however, is the trompe-l'œil painting on the wall of "Dance Place" on 8th Street in NE DC: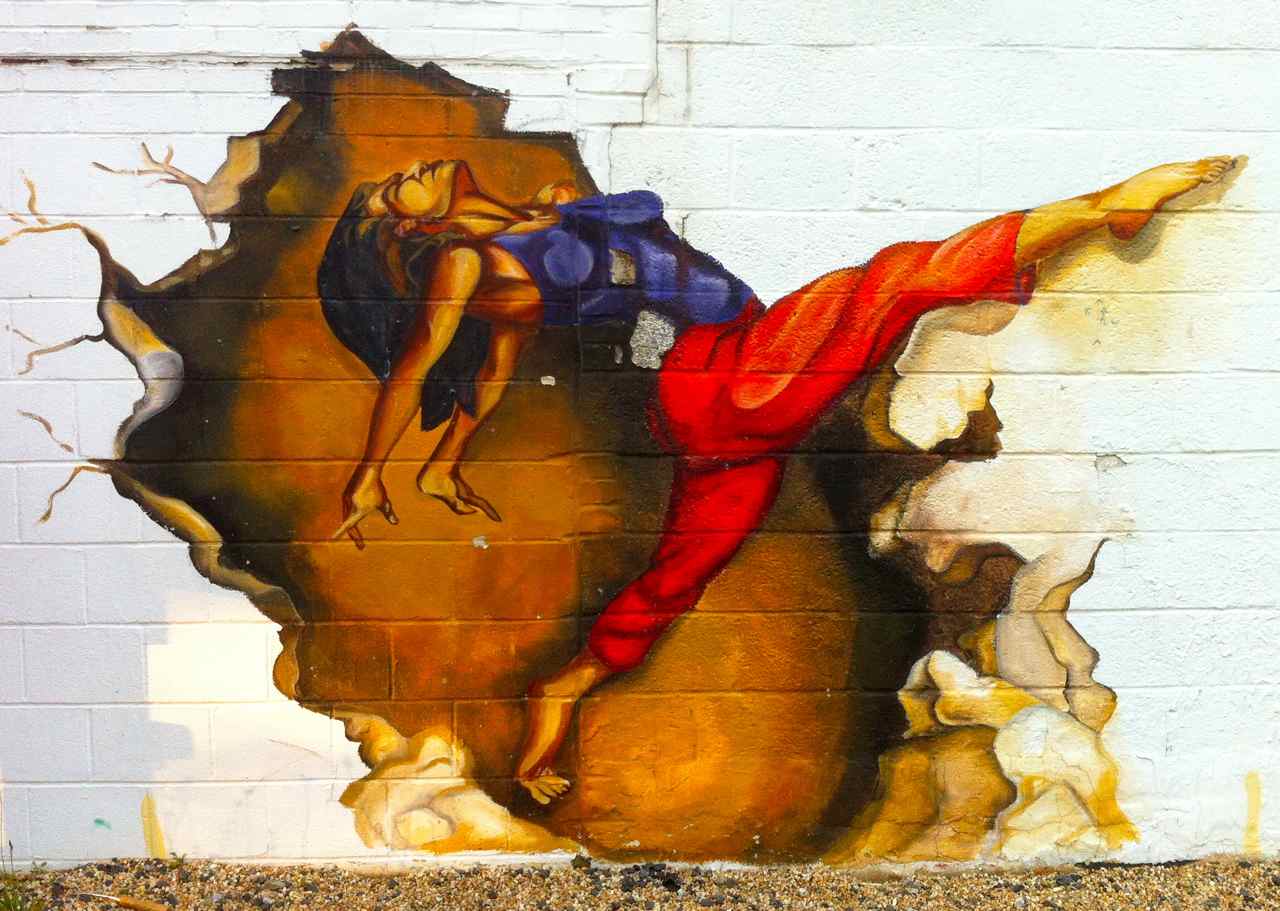 A couple of miles later I arrive at comrade Clair Sullivan's home — cf. 2012-06-10 - MBT with Clair and Sophie.
- Monday, July 09, 2012 at 04:37:25 (EDT)
---
As an experiment, at a local amateur collegiate league baseball game last week I tried near-real-time text-messaging the action to my Twitter account. It was, perhaps, partially successful in telling the story of the game. For the record, below are the half dozen raw tweets along with a more human-readable narrative.
The game was between the Alexandria Aces and the Silver Spring-Takoma Thunderbolts, held at Blair Field in Silver Spring on Sunday 1 July 2012. The Cal Ripken League offers a detailed score with play-by-play description of every pitch. Son Robin kept score also and has his own on-paper record of the proceedings. Note that this was a special 7-inning Sunday game that started early, 5:30pm, since there was no electrical power at the field after the heavy storms on Friday night. Various errors in my tweets have been corrected by reference to the official record.
| tweet | translation |
| --- | --- |
| 1st inning: Alexandria 6, K, 4-3; #TBOLTS 2B, RBI 1B, 1B, 2x steal lead runner out, BB, 1B, 6-4 FC RBI, F9 | In the first inning the Aces hit a line drive out to the Thunderbolts shortstop, strike out, and ground out to the second baseman. In their half of the inning the Thunderbolts hit a double, followed by a single which scores a run, then another single, after which an attempted double steal fails and the lead runner is put out. A base on balls is followed by a single and then a grounder to the Aces shortstop, who throws to second and gets that runner out while another Thunderbolt run scores. The last Tbolt batter flies out to right field. At this point the score is Aces 0, Tbolts 2. |
| 2nd inning Alex F8, BB, F8, F8; #TBOLTS P9, 4-3, K --- Thunderbolts lead 2-0 | The second inning is uneventful, as the Aces fly out to center field, get a walk, and then fly twice more to the busy Tbolt center fielder. The Thunderbolts in turn pop out to right field, ground out to the second baseman, and strike out. The score remains 0-2. |
| 3rd inning: Alex BB, 1B runner to 3rd, RBI 1B, Sac 1-3, IBB, 3RBI 2B, RBI 1B, F9, PB, F8; #TBOLTS 6-3, K, 4; score Aces 5 Tbolts 2 | The third inning is less happy for the Thunderbolts, as the Aces draw a walk followed by a single that advances the runner to third base. Another single scores the run, and a sacrifice bunt advances the remaining runner. An intentional walk — in general, statistically foolish — loads the bases and is followed by a double on which three more Aces cross the plate. A single brings home the Ace on second base, after which flies to right and center field end the Thunderbolts' suffering. In the bottom of the frame the Tbolts ground to short, strike out, and line drive out to second. Score now: Aces ahead, 5-2. |
| 4th inn Aces F9, F9, 5-3; #TBOLTS K2-3, 1B, 1B, K, RBI 1B+T, 9; score 5-3 Aces leading | The top of the fourth is peaceful with two flies out to right field and then a ground out to third. The Thunderbolts strike out but then two singles in a row are followed by a strikeout, a single that scores a run, and a fly out to right field. The Aces now lead 5-3. |
| 5th Aces HR, BB, 1-4 CS, K, 3U; #TBOLTS K, 1B+E9, RBI 1B, F9, 4-3; 6th Aces 4, K, F9; TB HR, E6T, SAC 1-3, 9, 1B E6T run, 1B r to 3rd, 5-3 | The fifth inning begins with an Ace home run, a walk which is followed by the runner caught attempting to steal second, a strikeout, and a grounder to first. The Tbolts strike out, then single with that runner advancing on an error by the Aces right fielder. Another single knocks in the run, and the inning ends with a fly to right and a grounder to second. In the sixth inning the Aces go down in order with a line drive to second, a strikeout, and a fly to right. The Thunderbolts hit a home run, get a runner on base due to a shortstop throwing error, advance the runner on a sacrifice bunt, fly out to right field, and then score a run on a single accompanied by another Ace shortstop throwing error. A single advances a Tbolt runner to third but the inning ends with a ground out to third. The score is now tied 6-6. |
| 7th inning Aces K, 4-3, HBP, 1B, 2RBI 2B, 1B, PF4; #TBOLTS 1-3, 5-3, 6-3 - final score Aces 8 runs 8 hits 2 err, Tbolts 6 runs 12 hits 0 err | The Aces begin the seventh inning with a strikeout and a ground out to second. But then a batter is hit by a pitch, advances on a single, and two runs score on a subsequent double. A single is followed by a pop fly to second to end the Aces' turn at bat. The Tbolts go down in order, grounding back to the pitcher, to third, and to short. Final score: Aces 8, Thunderbolts 6. |
Note the impressive data compression that baseball scorekeeping syntax permits!
(cf. TboltMonkeysOnMyBack (2002-07-19), SummerBall2002 (2002-09-03), KeepingScore (2003-06-13), OfficialScorekeeper (2004-07-03), ThunderboltBaseball2005 (2005-08-12), ...)
- Sunday, July 08, 2012 at 19:52:48 (EDT)
---
The electrical power outage from last week's storms is driving many neighbors here crazy in the absence of air conditioning and Internet and juice to charge their portable electronic devices. A couple this morning, observing downed trees and wires, explained that they had rented a hotel room to meet their young daughter's "developmental needs". (How did the species survive pre-A/C?) They cursed the local public utility for not preemptively cutting down ancient oaks, and expressed willingness to pay hundreds of dollars more on each month's electric bill for the next few decades to have their yards torn up and power lines buried.
Don't worry — they'll come to their senses when their lights come back on, and will return to complaining about taxes, regulations, and other things that inconvenience them for the benefit of the rest of society. Happy Independence Day!
- Wednesday, July 04, 2012 at 17:02:36 (EDT)
---
~18 miles @ ~11.5 min/mi
The lissome-buxom young Asian girl in a snug scarlet shirt carries a rolled lavender mat diagonally on her back, like a quiver for arrows. "These yoga people are just all about their outfits!" comrade Gayatri Datta with me observes as we jog through downtown Bethesda. It's a humid cool morning and we're returning from a long trek together. Our path makes a pattern rather like a running deer, as the Garmin GPS trackfile illustrates.

My day begins hours earlier at home when I set out in near-darkness ~5am. The old back aches for the first mile (cf. Victim of Venus) but then loosens up. Three rabbits eye me from near the Capital Crescent Trail (Georgetown Branch). I pause to pick up a nickel lying on the ground. Gayatri and I meet at the Barnes & Noble corner and decide to loop around NIH via the Bethesda Trolley Trail to kill an hour or so before another group of runners is due to join us. The route is a bit longer than I expect, but pleasant enough. Back in Bethesda we the CCT back to Jones Mill Rd, proceed downstream to Meadowbrook Stables, then venture into DC before returning to Bethesda via hilly Leland St. Gayatri needs a little extra mileage to reach her goal of 14, so we take a final out-and-back along the CCT into Little Falls Park. Whew!
My mile splits from the iPhone Runens app: 11:02 + 10:40 + 8:50 + 10:15 + 11:26 + 12:07 + 10:35 + 10:55 + 11:02 + 10:16 + 10:22 + 10:28 + 10:50 + 12:38 + 11:12 + 12:57 + 12:17 + 11:00 and a final 0.4 miles at ~10:26 min/mi. Total estimated ~18.4 miles, but by the Garmin it's a bit less, ~18.1 miles.
- Tuesday, July 03, 2012 at 16:46:18 (EDT)
---
A colleague recently referred to University of Maryland computer science professor Ben Shneiderman's mantra of good information access: "Overview, Zoom and Filter, Details on Demand". That in turn led to Shneiderman's "Eight Golden Rules of Interface Design" (cf. [1] and [2] etc.):
Strive for consistency — consistent sequences of actions should be required in similar situations; identical terminology should be used in prompts, menus, and help screens; and consistent commands should be employed throughout.
Enable frequent users to use shortcuts — as the frequency of use increases, so do the user's desires to reduce the number of interactions and to increase the pace of interaction. Abbreviations, function keys, hidden commands, and macro facilities are very helpful to an expert user.
Offer informative feedback — for every operator action, there should be some system feedback. For frequent and minor actions, the response can be modest, while for infrequent and major actions, the response should be more substantial.
Design dialog to yield closure — sequences of actions should be organized into groups with a beginning, middle, and end. The informative feedback at the completion of a group of actions gives the operators the satisfaction of accomplishment, a sense of relief, the signal to drop contingency plans and options from their minds, and an indication that the way is clear to prepare for the next group of actions.
Offer simple error handling — as much as possible, design the system so the user cannot make a serious error. If an error is made, the system should be able to detect the error and offer simple, comprehensible mechanisms for handling the error.
Permit easy reversal of actions — this feature relieves anxiety, since the user knows that errors can be undone; it thus encourages exploration of unfamiliar options. The units of reversibility may be a single action, a data entry, or a complete group of actions.
Support internal locus of control — experienced operators strongly desire the sense that they are in charge of the system and that the system responds to their actions. Design the system to make users the initiators of actions rather than the responders.
Reduce short-term memory load — the limitation of human information processing in short-term memory requires that displays be kept simple, multiple page displays be consolidated, window-motion frequency be reduced, and sufficient training time be allotted for codes, mnemonics, and sequences of actions.
(cf. ThinkingEnvironments (1999-04-07), SeeingThought (1999-10-19), TufteThoughts (2000-12-18), EyeCandy (2002-12-23), ...)
- Monday, July 02, 2012 at 07:41:18 (EDT)
---
The Dunning-Kroger Effect, named for psychologists David Dunning and Justin Kruger, is all about the most vicious problem of ignorance: if people don't know much about something, they also don't realize how little they know. They tend to overestimate their skill in that area. Worst of all, they don't know which "experts" to believe on the topic, so they're easily led astray by those who are smarter and want to manipulate them for profit or power.
This has depressing consequences for democracy. Topics that are rather technical — macroeconomics or global warming or health care policy or old age pension systems — require study and thought to understand. The average voter who hasn't looked into them in detail is likely to be snookered. Society suffers.
And this form of blindness to one's own blindness is an old story. Wikipedia offers quotes from Charles Darwin ("Ignorance more frequently begets confidence than does knowledge") and Bertrand Russell ("One of the painful things about our time is that those who feel certainty are stupid, and those with any imagination and understanding are filled with doubt and indecision"). And William Butler Yeats said it even better in his poem "The Second Coming":

The blood-dimmed tide is loosed, and everywhere
The ceremony of innocence is drowned;
The best lack all conviction, while the worst
Are full of passionate intensity.
(cf. MereAnarchy (1999-10-06), KnowNot (2001-08-29), ...)
- Thursday, June 28, 2012 at 21:52:34 (EDT)
---
---
For back issues of the ^zhurnal see Volumes v.01 (April-May 1999), v.02 (May-July 1999), v.03 (July-September 1999), v.04 (September-November 1999), v.05 (November 1999 - January 2000), v.06 (January-March 2000), v.07 (March-May 2000), v.08 (May-June 2000), v.09 (June-July 2000), v.10 (August-October 2000), v.11 (October-December 2000), v.12 (December 2000 - February 2001), v.13 (February-April 2001), v.14 (April-June 2001), 0.15 (June-August 2001), 0.16 (August-September 2001), 0.17 (September-November 2001), 0.18 (November-December 2001), 0.19 (December 2001 - February 2002), 0.20 (February-April 2002), 0.21 (April-May 2002), 0.22 (May-July 2002), 0.23 (July-September 2002), 0.24 (September-October 2002), 0.25 (October-November 2002), 0.26 (November 2002 - January 2003), 0.27 (January-February 2003), 0.28 (February-April 2003), 0.29 (April-June 2003), 0.30 (June-July 2003), 0.31 (July-September 2003), 0.32 (September-October 2003), 0.33 (October-November 2003), 0.34 (November 2003 - January 2004), 0.35 (January-February 2004), 0.36 (February-March 2004), 0.37 (March-April 2004), 0.38 (April-June 2004), 0.39 (June-July 2004), 0.40 (July-August 2004), 0.41 (August-September 2004), 0.42 (September-November 2004), 0.43 (November-December 2004), 0.44 (December 2004 - February 2005), 0.45 (February-March 2005), 0.46 (March-May 2005), 0.47 (May-June 2005), 0.48 (June-August 2005), 0.49 (August-September 2005), 0.50 (September-November 2005), 0.51 (November 2005 - January 2006), 0.52 (January-February 2006), 0.53 (February-April 2006), 0.54 (April-June 2006), 0.55 (June-July 2006), 0.56 (July-September 2006), 0.57 (September-November 2006), 0.58 (November-December 2006), 0.59 (December 2006 - February 2007), 0.60 (February-May 2007), 0.61 (April-May 2007), 0.62 (May-July 2007), 0.63 (July-September 2007), 0.64 (September-November 2007), 0.65 (November 2007 - January 2008), 0.66 (January-March 2008), 0.67 (March-April 2008), 0.68 (April-June 2008), 0.69 (July-August 2008), 0.70 (August-September 2008), 0.71 (September-October 2008), 0.72 (October-November 2008), 0.73 (November 2008 - January 2009), 0.74 (January-February 2009), 0.75 (February-April 2009), 0.76 (April-June 2009), 0.77 (June-August 2009), 0.78 (August-September 2009), 0.79 (September-November 2009), 0.80 (November-December 2009), 0.81 (December 2009 - February 2010), 0.82 (February-April 2010), 0.83 (April-May 2010), 0.84 (May-July 2010), 0.85 (July-September 2010), 0.86 (September-October 2010), 0.87 (October-December 2010), 0.88 (December 2010 - February 2011), 0.89 (February-April 2011), 0.90 (April-June 2011), 0.91 (June-August 2011), 0.92 (August-October 2011), 0.93 (October-December 2011), 0.94 (December 2011-January 2012), 0.95 (January-March 2012), 0.96 (March-April 2012), 0.97 (April-June 2012), 0.98 (June-September 2012), 0.99 (September-November 2012), 0.9901 (November-December 2012), 0.9902 (December 2012-February 2013), ... Current Volume. Send comments and suggestions to z (at) his.com. Thank you! (Copyright © 1999-2012 by Mark Zimmermann.)