^zhurnaly 0.9918

Howdy, pilgrim! No ads — you're in volume 0.9918 of the ^zhurnal (that's Russian for "journal") — see ZhurnalyWiki for a Wiki edition of individual items; see Zhurnal and Zhurnaly for quick clues as to what this is all about; see Random for a random page. Briefly, this is the diary of ^z = Mark Zimmermann ... previous volume = 0.9917 ... complete list at bottom of page ... send comments & suggestions to "z (at) his (dot) com" ... click on a title link to go to that item in the ZhurnalyWiki where you can edit or comment on it ...

RSS
---
---
---
~26.2 miles @ ~14.5 min/mi
"This day is call'd the feast of Crispian!"

It's the 600th anniversary of the Battle of Agincourt, where an outnumbered English army under King Henry V met the French. In pre-dawn darkness, an hour before the 40th Marine Corps Marathon, Drs Kerry and Kristin stand in a crowd of thousands, waiting to get through the metal detectors so we can find our way to the starting line. Today is K&K's first marathon.

And somehow in the mass of runners Anton Struntz spies us. He's an ultra-buddy, a fellow-traveler in long races for the past decade, an Ironman, and a historical reenactment lecturer.

"He that outlives this day, and comes safe home,
Will stand a tip-toe when the day is named,
And rouse him at the name of Crispian!"
Anton and I recite in chorus most of the famous speech from Shakespeare's Henry V, to the amusement of Kerry and Kristin. When I miss a few lines, Anton corrects me. He knows it in the original Elizabethan English, which sounds rather like Scottish.

"We few, we happy few, we band of brothers. ..."

Eventually the Marines let us through the security checkpoint. Light drizzle pauses, then begins again. The color guard prepares for pre-race ceremonies. Parachutists with giant American flags descend from cloudy skies.

"But if it be a sin to covet honour,
I am the most offending soul alive!"
And what a day of honour it is! The race is a beautiful icing on the cake of six months' training together.

"ADVENTURE", reads the plinth of the John Ericsson National Memorial at mile 10. K&K pose, appropriately.
Along the way there's hard effort, silly signage, more photo ops, fist-bumps from enthusiastic bystanders, and much joy. Approaching the halfway mark near the tip of Hanes Point we run a quiet mile past signs commemorating fallen soldiers. Then there's an avenue of flags waved by cheering volunteers.

On the 14th Street Bridge over the Potomac River, safely ahead of the crucial cutoff, K&K stretch tight muscles.
At mile 26 Kerry's husband Clay and daughter Ellie join us. We pause before charging up the final hill.

Kerry's Embry-Riddle University shirt — her son is a freshman there — elicits almost as many shout-outs as does my beard. This years best spectator salute to excessive facial hair comes at mile 25: "Fear the Beard!"
"Congratulations, Ma'am," says the young marine to Kristin at the finish line, as he looks her in the eye and puts the medal around her neck.

Then he salutes. "Mission accomplished!"
- Monday, November 09, 2015 at 05:18:32 (EST)
---
Mindfulness in Plain English by Bhante Henepola Gunaratana in Chapter 4 ("Attitude") offers eleven useful guidelines for productive meditation:
Don't expect anything.
Don't strain.
Don't rush.
Don't cling to anything and don't reject anything.
Let go.
Accept everything that arises.
Be gentle with yourself.
Investigate yourself.
View all problems as challenges.
Don't ponder.
Don't dwell upon contrasts.
That last, in particular, means not to compare oneself with others, but instead notice the similarities, the harmonies, the universal oneness ...
- Saturday, November 07, 2015 at 05:11:14 (EST)
---
~6.0 miles @ ~12.0 min/mi
"It's like the air is fueling us!" Kristin says, on a crispy-brisk morning with Mercury, Jupiter, Mars, and Venus all sparkly in a line, glow of sunrise growing in the east. We ramble around McLean High School and take Old Chesterbrook Rd past mini-mansions and by-comparison modest hovels. Energy and thankfulness levels are high. It feels like Kerry is with us, even though she's far away on business travel. Philosophical musings include the suggestion that Stoicism is kinda like Buddhism minus lovingkindness.
"Hair brush!" gets interpreted as "Watch out, low branches!" but turns out to be an actual comb-like artifact dropped by the path near Pimmit Run. We agree: the Marine Corps Marathon, only 9 days in the future now, really isn't important. What's worth cherishing is the joy of training together.
- Friday, November 06, 2015 at 05:49:39 (EST)
---
~9.5 miles @ ~12.8 min/mi
"Wok!" Beth and I shout as Kristen runs up the hill ahead of us. She slows and we deny calling for a walk break. Sunrise reflects pastel pink off scattered clouds. Halloween decorations are starting to proliferate, including a notable number of witches-flown-into-tree-trunks, miniature grave sites, and flaccid-but-soon-to-be-inflated cats, pumpkins, and ghosts. A big bunny poses on a front lawn. During final cooldown-stretch we discuss our favorite flavors of ice cream ("Any flavor!") and local ice cream parlors ("The Dairy Godmother" in Arlington is recommended).
Earlier Kerry and Kristin lead a brisk loop. There's no sign of the Attack Owl that has recently been reported in the Bethesda area, swooping down upon pre-dawn runners with pony tails and flashlights. We think that maybe we spy Mercury in line with Venus, Mars, and Jupiter.
- Friday, November 06, 2015 at 05:47:21 (EST)
---
"Trigger warnings" are cautionary alerts that something may be coming up that could cause problems for certain members of an audience, perhaps due to past traumatic experiences. In the classic MIT Computer Science textbook Structure and Interpretation of Computer Programs, available now online, there's an interesting trigger warning during one of the original lectures as given by coauthor Gerry Sussman in July 1986. Standing at the blackboard, Professor Sussman notes in lecture 7A:
... So we're going to see an amazing thing today. We're going to see, on the blackboard, the universal machine. And we'll see that among other things, it's extremely simple.

Now, we're getting very close to the real spirit in the computer at this point. So I have to show a certain amount of reverence and respect, so I'm going to wear a suit jacket for the only time that you'll ever see me wear a suit jacket here. And I think I'm also going to put on an appropriate hat for the occasion. Now, this is a lecture which I have to warn you — let's see, normally, people under 40 and who don't have several children are advised to be careful. If they're really worried, they should leave. Because there's a certain amount of mysticism that will appear here which may be disturbing and cause trouble in your minds.

Well in any case, let's see, I wish to write for you the evaluator for Lisp. Now the evaluator isn't very complicated. It's very much like all the programs we've seen already. That's the amazing part of it. ...

... and it is truly amazing: a program that can evaluate itself, pick itself up by its bootstraps and fly away — a Universal Machine, a snake that forever eats its own tail ...
(cf. Meta-circular evaluator, KeyToTheTreasure (2004-04-23), ...)
- Thursday, November 05, 2015 at 04:42:45 (EST)
---
~2.4 miles @ ~22.8 min/mi
Neighborhood afternoon ramble plus grocery errand with DD: black squirrels pose holding nuts in their cute little paws and a CSX freight train cruises beneath us at the Linden Lane bridge over the Metropolitan Branch line.
- Wednesday, November 04, 2015 at 04:21:07 (EST)
---
~8.6 miles @ ~12.5 min/mi
"Double-7 — we're in luck!" I announce when I pick up the domino from Great Falls St. Kristin's flashlight is strobing, perhaps due to battery bounce. Kerry tells of her son's doll since infancy, "Flat-a-bear", left behind now that he's gone off to college. His sister is saddened to see it alone in his room.
Venus, Mars, and Jupiter form a line in the eastern sky. We peer near the horizon in a vain attempt to see Mercury. Beth joins us for the final four mile meander. Kristin spies one rabbit, unconfirmed by others. Her friend the Weimaraner puppy isn't out to play this morning when we pass his mansion. We cut through Pimmit View Park and Olney Park, and discuss RFID-chip race-timing technology.
- Wednesday, November 04, 2015 at 04:18:29 (EST)
---
~10.6 miles @ ~11.1 min/mi
"Hooray!" Loud cheers erupt as I run by Denizens Brewing Co., an outdoor beer garden and microbrewery in downtown Silver Spring. Pure coincidence: at that very moment the Atlanta Falcons, with 51 seconds to go in their game versus the Washington Redskins, score a go-ahead touchdown, but the officials reverse it. Too bad everybody at the sports bar is applauding me and misses the football action, eh?!
"Mark!" shouts friendly Phil, and honks his horn as I dash across Georgia Avenue at the light. A chain saw screams as it converts a gigantic tree into mega-log segments in Rosemary Hills. White cabbage butterflies flit across a lawn. Flags and thank-you notes decorate the tiny Memorial Park ([1]) across the street from the library in Takoma Park.
Sunday afternoon is seasonable, temps in the upper 60s, light breezes, a lovely time for a solo ramble down Sligo Creek Trail and neighborhood sidewalks. At mile 6+ pretty scenery distracts from twinges in the groin triggered by coughs (hope no hernia?) and the old nemesis, metatarsalgia in the left foot (are the new Hoka One One shoes too narrow in the toe box?). With a quarter mile to go friendly neighbors John and Miriam driving home pause to offer me a ride. "No, but thank you!".
- Wednesday, November 04, 2015 at 04:14:42 (EST)
---
Famous physicist Richard Feynman, in Lecture I-03 footnote 1 of The Feynman Lectures on Physics, muses about the power and beauty of scientific knowledge:

How I'm rushing through this! How much each sentence in this brief story contains. "The stars are made of the same atoms as the earth." I usually pick one small topic like this to give a lecture on. Poets say science takes away from the beauty of the stars—mere globs of gas atoms. Nothing is "mere." I too can see the stars on a desert night, and feel them. But do I see less or more? The vastness of the heavens stretches my imagination—stuck on this carousel my little eye can catch one-million-year-old light. A vast pattern—of which I am a part—perhaps my stuff was belched from some forgotten star, as one is belching there. Or see them with the greater eye of Palomar, rushing all apart from some common starting point when they were perhaps all together. What is the pattern, or the meaning, or the why? It does not do harm to the mystery to know a little about it. For far more marvelous is the truth than any artists of the past imagined! Why do the poets of the present not speak of it? What men are poets who can speak of Jupiter if he were like a man, but if he is an immense spinning sphere of methane and ammonia must be silent?

- Tuesday, November 03, 2015 at 05:21:22 (EST)
---
~4.7 miles @ ~12.5 min/mi
"I'm late!" texts Mary. "Ditto!" I reply. Just as we both park our cars the MCRRC 5k race begins on the Matthew Henson Trail. I pin bib to shirt, lace chip to shoe, and 4+ minutes late we salute the timing crew (which includes office running friend-and-fellow-physicist Beth Masimore) and begin our informal-yet-officially-timed trek. Mary pushes the pace on the first uphill mile and we soon pass the sweepers, a couple in fluorescent green Race Official vests who are holding hands sweetly. Fast runners returning on the home stretch soon blast by. We maintain a ~12 min/mi pace, speed-walking the hills and cautiously navigating slightly-slippery wooden bridges.
"You're a known liar!" Mary chides me the third time I say that we've reached the crest of the path and it's all downhill to the finish line. (Sorry, Dr Ewell, but I did precisely the same thing to Dr Fonda three years ago here; see 2012-10-13 - Matthew Henson Trail with Stephanie.) We follow the measured course (my official gun time = 42:16) and then continue along the trail between Georgia and Connecticut Avenues. Ken Swab greets us as he likewise adds bonus mileage. Mary and I chat about family, training, diet, life. It's all good — as is our traditional Chinese lunch afterwards!
- Monday, November 02, 2015 at 05:21:08 (EST)
---
~7.8 miles @ ~15.7 min/mi
"No, we will not crawl under that train!" says Dr Fonda, when we find our route blocked by a line of stationary freight cars on the tracks at Garrett Park Station. And later, "No, we will not throw stones at the hornet's nest in that tree!"
At 6am after a quick "Good Morning!" with Stephanie's mom, daughter, and Louis ze French bulldog it's time to get moving. Venus, Jupiter, and a thin crescent Moon glow in a line through hazy clouds. My hip adductors and groin ache (hope no hernia!), while Stephanie's left calf twinges after hill repeats yesterday /(hope not torn!). Rock Creek Trail is gloomy by the fading light of my headlamp (new batteries needed!). Sticks and muddy patches decorate the asphalt.
We leave the woods and tour neighborhood streets - Saul, Parkwood, Franklin, Cedar - with a detour around the Unitarian church parking lot. Stephanie points out a beautiful tree with gnarly bark, and later we see spiky seed pods on the sidewalk. Conversation is thoughtful and happy. So nice to share a sunrise with a friend!
- Monday, November 02, 2015 at 05:13:10 (EST)
---
Bhante Henepola Gunaratana's book Mindfulness in Plain English, originally published in 1990, is a down-to-earth guide to vipassana (insight) meditation. Its style is direct talk-to-the-reader, and its instruction are meticulous on how to deal with everything between feelings one's legs going to sleep and developing psychic powers. But beyond "plain English", Guntarana does wax poetic, as in Chapter 2 ("What Meditation Isn't"):

... We are going to teach you to watch the functioning of your own mind in a calm and detached manner so you can gain insight into your own behavior. The goal is awareness, an awareness so intense, concentrated, and finely tuned that you will be able to pierce the inner workings of reality itself.

and:

... The goal is insight. Vipassana meditation is a profound religious practice aimed at nothing less than the purification and transformation of your everyday life. ...

Often Guntarama is too certain. He shows too much acceptance of mystical and unverifiable notions about mind and the universe, too much credence toward ancient authorities and traditional doctrine, too much readiness to interpret altered brain states as physical evidence of the real world.
But he also gives solid advice, based on years of experience by many people, on how to calm one's mind, sharpen one's concentration, and improve one's self-awareness. Maybe that's more than enough! Further excerpts and commentary to follow ...
(see [1] for links to the older edition, without the afterword on lovingkindness ("loving friendliness") and the appendix on Buddhist tradition ...)
- Sunday, November 01, 2015 at 20:05:48 (EST)
---
~7.9 miles @ ~13.0 min/mi
"Maybe there should be an 'Everybody But ...' set of pronouns — words for 'Everybody But Me' and 'Everybody But You' etc.?" and "I didn't do it for her — I did it for me!" (paraphrasing Scott Pilgrim) and "Maybe I should use the First Person about 80% less?" This morning there's much blathering-in-the-dark by one of us. Kerry and Kristin listen patiently. The waning crescent moon peeks between clouds above bright Venus.
Beth takes the torch from Kerry as we loop past the start. We explore cut-throughs between Windy Hill and Hooking Rd and connecting Evans Mill and Dolley Madison. Discussion includes pronunciation (is it "Windy" or "Windy"?) and how to cheat at Candyland or Go Fish. Beth and Kristin jointly clear away a giant spiderweb on the path by 123, like runners in a tie to break the finish line tape. A major GPS glitch in Runkeeper when we stop at the MITRE-1 loading dock appends ~1.5 miles at ~10 seconds/mile pace, along local roads back to McLean Knolls Park. Weird!
- Saturday, October 31, 2015 at 04:51:42 (EDT)
---
Safety * Health * Insight * Peace
... loving wishes to make for others — freedom from danger, illness, darkness, strife — and for oneself!
(cf. Opening to Love (2013-09-27), Lovingkindness - The Revolutionary Art of Happiness (2015-07-12), SHIP of Lovingkindness (2015-08-18), ...)
- Friday, October 30, 2015 at 05:28:16 (EDT)
---
~8.3 miles @ ~12.3 min/mi
"I just heard the word RUN!" Kristin says, as she charges up the hill in front of Kerry and me. We are in a walk break as I innocently start to ask, "Maybe we should run at the next ...". The morning is cool and crisp, and after a week of rest and recovery from last Monday's 20 miler Kristin's legs are frisky. It's a superb feeling, gliding free and easy over the earth. "We need to bottle this for race day!"
The loop through Tysons Corner includes a sunrise selfie pause in front of an office building with glowing stripy lights that slowly cycle through the spectrum. After the bridge over Route 7 our search for a short-cut is stymied by a fence. ("It's not legitimate but let's do it anyway!" somebody says about the cross-country quest.)
New Hoka One One superpadded shoes feel comfy, but classic metatarsal twinges in the left foot begin after ~7 miles. Perhaps two inserts are one too many? Earlier my head brushes against low-hanging leaves because of an extra inch of height that thick soles provide. The comment "I should have ducked!" provokes laughs.
- Thursday, October 29, 2015 at 05:14:08 (EDT)
---
Samuel R. Delany's 1966 novel Babel-17 won big awards at the time, and even after half a century it's still excellent — though maybe not quite on a par with his Nova of a few years later. Many elements of the books overlap, particularly in their rich depictions of exotic interstellar cultures with their body-mods and mind-melds, mysticism and techno-savvy.
Flaws? Yes, aplenty, particularly in exaggerating the capabilities of the protagonist to learn a new language ("Babel-17") from far-too-tiny samples, and of course in having cosmic events that hinge on tiny coincidences. But set all that aside. Like many great efforts, this story is really about Attention and the power of language to, perhaps, take Attention to a new, higher plane.
Early in the novel, for instance, central character Rydra Wong is talking with her advisor T'mwarba ("Mocky") about her plan:
"I'm going to solve this whole Babel-17 business myself."

T'mwarba leaned his head to the right.

"Because I have to find out who speaks this language, where it comes from, and what it's trying to say."

His head went left.

"Why? Well, most textbooks say language is a mechanism for expressing thought, Mocky. But language is thought. Thought is information given form. The form is language. The form of this language is . . . amazing."

"What amazes you?"

"Mocky, when you learn another tongue, you learn the way another people see the world, the universe."

He nodded.

"And as I see into this language, I begin to see . . . too much."

"It sounds very poetical."

She laughed. "You always say that to me to bring me back to earth."

"Which I don't have to do too often. Good poets tend to be practical and abhor mysticism."

"Something about trying to hit reality; you figure it out," she said. "Only, as poetry tries to touch something real, maybe this is poetical."

... and later in the novel, Rydra begins to really think in Babel-17, and discovers new powers of perspicacity it gives her:
No.

She didn't "look at the room."

She "something at the something." The first something was a tiny vocable that implied an immediate, but passive, perception that could be aural or olfactory as well as visual. The second something was three equally tiny phonemes that blended at different musical pitches: one an indicator that fixed the size of the chamber at roughly twenty-five feet long and cubical, the second identifying the color and probable substance of the walls—some blue metal—while the third was at once a place holder for particles that should denote the room's function when she discovered it, and a sort of grammatical tag by which she could refer to the whole experience with only the one symbol for as long as she needed. All four sounds took less time on her tongue and in her mind than the one clumsy diphthong in 'room'. Babel-17; she had felt it before with other languages, the opening, the widening, the mind forced to sudden growth. But this, this was like the sudden focusing of a lens blurry for years.

She sat up again. Function?

What was the room used for? She rose slowly, and the web caught her around the chest. Some sort of infirmary. She looked down at the — not 'webbing', but rather a three particle vowel differential, each particle of which defined one stress of the three-way tie, so that the weakest points in the mesh were identified when the total sound of the differential reached its lowest point. By breaking the threads at these points, she realized, the whole web would unravel. Had she flailed at it, and not named it in this new language, it would have been more than secure enough to hold her. The transition from 'memorized' to 'known' had taken place while she had been —

Yes, and... — it's all about Attention ...
(cf. MentalBandwidthBoosters (1999-06-26), Languages for Smart People (2008-03-12), ...)
- Wednesday, October 28, 2015 at 05:41:47 (EDT)
---
~19.2 miles @ ~12.6 min/mi
"Watch out, slippery bridge!" Stephanie warns as we approach the first of several spans decorated with wet leaves, acorns, mud, and mildew.
"Oh, then you go first," I reply.
"Such chivalry!" Stephanie observes. A few miles later she laughs, remembering my helpful advice two years ago during an über-muddy "Fire on the Mountain" 50k: "Just hug the thorn bushes!"
Today is a long fast run for me, a short slow recovery jog for my friend. Maybe if I could lose 15 pounds (and several years) I could maintain closer to her current pace? But it is what it is: we hang together for the first dozen miles, chatting about life and training, mindfulness and love, injuries and equipment. Her new hydration pack has a pair of front-mount bottles, provoking silly banter. I tangle myself up putting on my own backpack and need her help to escape.
Light drizzle, temps near 50F, and gusty nor'easter winds chill us as our pace slows. Six geese waddle by the trail. Small herds of deer cross our path. A branch crashes to the ground. The old hip adductors, hamstrings, and quads ache, especially on the left side. Stephanie reports twinges in her left calf, and I accuse her of feigning injury to make me feel less guilty about slowing her down.
We circle Lake Needwood and after a few more miles of intermittent walking and groaning I finally persuade Stephanie to run on ahead. At Garrett Park Rd she takes the long way home, I follow a short-cut, and we arrive back at our start almost simultaneously but with her 20+ mile training assignment accomplished.
- Tuesday, October 27, 2015 at 05:17:48 (EDT)
---
Maybe pronouns are needed to indicate everyone Except a given person? That is, single words to represent:

everybody-but-me
everybody-but-you
everybody-but-her/him/it
... and so forth? That way, a speaker can more easily and precisely indicate who is not included in a generalization, who lacks a certain quality, etc. — making for more compact and precise expression. And it completes the logical Venn diagram of possible references in a useful way.
Yes, and maybe everybody-but-me sees no need for that ...
- Monday, October 26, 2015 at 04:18:45 (EDT)
---
~3.5 miles @ ~13.1 min/mi
"Some people need a sign on the inside of their door - 'Shirt? Shoes?' - to remind them!" says Beth, when we meet a young woman walking toward McLean High School in fuzzy slippers. It's a foggy-soggy morning, perfect for intervals. So, try two 400 meter repeats at the track: push the first in 2:10 and pace more comfortably on the second at 2:17. The not-so-subtle campaign to seduce Dr B into a marathon next year continues: "15 minutes/mile? You could WALK most of it!" She doesn't say no ...
- Sunday, October 25, 2015 at 04:17:57 (EDT)
---
Elisabeth Tova Bailey's slim little book The Sound of a Wild Snail Eating is a fast-reading slow-motion film, closely-observed and beautifully-written. It glows with attention paid to the minute maneuvers of a wee fellow creature. Yet somehow, the book doesn't satisfy. Why?

Perhaps it's the unrelenting first-person narrative, with hardly a paragraph in which the author steps off center stage?
Perhaps it's the ultimately-monotonous musing over the mundane and microscopic, the piling-on of detail without development?
Perhaps it's language that tiptoes toward poetry but then pauses, like cymbals struck yet too-soon damped to silence?
Perhaps it's the Epilogue, wherein it is revealed that the seemingly-factual tapestry woven in the previous 22 short chapters is actually semi-fictional ("... I have merged that story and a few nonsocial stories with my later scientific readings ..."), a confession that abruptly deflates narrative tension?
Perhaps it's self-pity by the author, surfacing shyly between stoic passages, that takes the oxygen out of what could have been a moving tragedy?
Perhaps its a tone-deaf sense of entitlement, wealth, and servants unnamed who support the writer while she lies in bed recovering from illness?
Or maybe Snail is just an extraordinarily fine short essay that was force-fed to grow into book length. And maybe it's best to cherish it as that. Bailey brings to mind The Diving Bell and the Butterfly by Jean-Dominique Baby, plus bits of Charles Darwin's Origin of Species and Verlyn Klinkenborg's Timothy; or, Notes of an Abject Reptile. Good company to keep!
- Saturday, October 24, 2015 at 14:43:11 (EDT)
---
~20.3 miles @ ~13.6 min/mi
"What is the name of that tree?" the lady in Belle Haven Park asks Kerry and Kristin and me at mile 18 of our morning trek along the Mount Vernon Trail. "Fred!" is the reply one of us is tempted to give.

At 0530 Kristin arrives at Jones Point Park and discovers the fence locked shut. She scouts out the 'hood and, when Kerry and I get there, we park at a friendly Safeway and head down South Royal St. Cyclist-commuters swoop through the darkness; a pair almost collide as they swerve around us under the Woodrow Wilson Bridge. On the opposite shore of the Potomac River the ferris wheel at National Harbor glows in a gigantic "O". The dawn is cool but humid.

"It's a big dog day!" Kerry observes, after the fourth one we meet. The journey is uneventful: water fountains work well, nobody falls down, salt and energy gels keep us happy, and chafing is minimal. At Mount Vernon we loop around parking area, check out the menu at the restaurant, and crouch down for selfies by the "Mile 0" sign. The toughest part: standing up afterwards.

During the return journey walk breaks become longer and the sun begins to peek between clouds. Everything looks different in the light: forests, marinas, hills and valleys, the river. During the final mile I drag the group off-course to visit the Boundary Stone at the Jones Point lighthouse, placed there in 1791 to mark the southernmost point of the DC diamond.

Earlier, a pair of ladies walking the other way on the trail greet us. One of them, uh, tests the elastic limits of her electric-violet shirt's fabric. "Wow," I whisper to K&K, who laugh and forgive me.
- Friday, October 23, 2015 at 05:21:07 (EDT)
---
A rhapsodic reminisce by Nico Alary in Kinfolk magazine (issue #6) a few years ago, describing how Australian coffee maven Mark Free makes a cuppa joe using an Aerobie AeroPress device:

He tells me that coffee tastes better when you make it yourself, or when it is made by someone you know. The perfect cup is not only about how you make it, or which bean you use, but also (and just as importantly) who has made it for you. The first couple of cups are ready and the room fills with the aroma of freshly brewed coffee. My cup is perfectly extracted, sweet and clean with complexity. Peach, apricot and shortbread biscuit flavors come to mind. It looks like it's going to rain. I put the camera down for a few minutes and we all quietly sip the warm beverage, looking out at the unsure weather. I'm thinking that this could be it, the perfect cup. A comfy couch, some single-origin beans and a carefully prepared cup of coffee, made by a friend.

Yes, silly mysticism, exaggeration for effect ... and lovely, lyrical language plus mindfulness.
- Thursday, October 22, 2015 at 05:37:13 (EDT)
---
~4.9 miles @ ~20.2 min/mi
Squirrel, snake, pigeon, rabbit, frog, fox — small angular bronze statues by local artist Raya Bodnarchuk decorate the pedestrian pathway that arches over busy on/off-ramps and dives below the Capital Beltway beside Georgia Avenue. It's all part of a Sunday afternoon trek with DD Gray, beginning with a meander through woods and by a local swimming pool, across parks, past street parties.
- Wednesday, October 21, 2015 at 05:16:45 (EDT)
---
~5.6 miles @ ~15.1 min/mi
"Emptiness!" Stephanie says, describing a meditative experience. We share thoughts about oneness, nonattachment, mindfulness — and then go back to comparing our super-overbooked schedules for upcoming races, volunteer work, family, jobs, and far too many other activities. Emptiness? Maybe some day!
Eight deer nibble the grass near the corner of Grosvenor Ln and Rockville Pike. We climb the steep path from Rock Creek to Ken-Gar, tag the post at the top, and descend. Stephanie's injuries from a bad fall one week ago are healing, but the six stitches remain in her right hand. Her solo 20 mile run a few days ago went well. Bright blue and white flower bowls decorate the front of an apartment.
- Wednesday, October 21, 2015 at 05:14:22 (EDT)
---
Chapter 5 ("Working for Peace") of Thich Nhat Hanh's collection of 1985 lectures titled Being Peace concludes with thoughtful, effective advice:

In the peace movement there is a lot of anger, frustration, and misunderstanding. The peace movement can write very good protest letters, but they are not yet able to write a love letter. We need to learn to write a letter to the Congress or to the President of the United States that they will want to read, and not just throw away. The way you speak, the kind of understanding, the kind of language you use should not turn people off. The President is a person like any of us.

Can the peace movement talk in loving speech, showing the way for peace? I think that will depend on whether the people in the peace movement can be peace. Because without being peace, we cannot do anything for peace. If we cannot smile, we cannot help other people to smile. If we are not peaceful, then we cannot contribute to the peace movement.

I hope we can bring a new dimension to the peace movement. The peace movement is filled with anger and hatred. It cannot fulfill the path we expect from them. A fresh way of being peace, of doing peace, is needed. That is why it is so important for us to practice mediation, to acquire the capacity to look, to see, and to understand. It would be wonderful if we could bring to the peace movement our contribution, our way of looking at things, that will diminish aggression and hatred. Peace work means, first of all, being peace. Meditation is meditation for all of us. We rely on each other. Our children are relying on us in order for them to have a future.

(cf. EatTheOrange (2004-11-28), Breath as Vehicle (2009-06-17), We Are the Pot (2009-08-13), Blooming of a Lotus (2013-11-17), Four Mantras (2014-06-26), ...)
- Tuesday, October 20, 2015 at 07:38:38 (EDT)
---
~5.2 miles @ ~12.9 min/mi
"If I get a call, I will deny knowing either of you!" Kerry cautions, after hearing of Kristin's and my exploratory adventures in her absence. In contrast, at dawn this morning as we venture along a narrow cut-through between Rupert St and Bonheim Ct, Kerry's comment is, "We were meant to be here!"
Venus glitters in the eastern sky as we set out for a trot around the McLean extended neighborhood, trying not to over-do the distance before Monday's planned long run. The bank thermometer reads 59°F. Rabbit count = 1, spotted by Kerry as it scampers away in the gloom, confirmed in Kristin's flashlight beam.
- Monday, October 19, 2015 at 06:13:11 (EDT)
---
A 1976 NASA Symposium at the California Institute of Technology resulted in a little book titled Why Man Explores, with musings by Philip Morrison, James Michener, Jacques Cousteau, and Ray Bradbury. My brother-in-law Michael Lawrence Dickerson gave me a copy recently. Some of the remarks by Bradbury in particular are powerfully poetic. In response to the question "What next? What do you see ahead?" he replies:

Everything, the universe of course, and it remains tremendously exciting. The one question that is asked time and again by people who think they are being practical is, "Haven't they caught up with you?" Well, of course not, because we haven't caught up with the universe yet. We're at the rim of the cave, and I'm the maker of metaphors — I've discovered this along the way. I can service the cause by trying to find metaphors to fit what we're doing.

... and then, discussing the difference between reality and the tiny images that come on display screens and small-scale reproductions:

... We have been given the facts over and over again, and they are always diminished by what I call the aesthetic of size. Television diminishes everything it touches and makes it small. It takes a rocket that is 300 feet high and crushes it down to a 14-inch image. I have used this sort of comparison time and again over the years; I've told my friends that one of my favorite films is King Kong, that everyone should go see it, it would be good for them. And people see it on television and come back to me and say, "What are you talking about? I saw Kong and it wasn't that much." I said, "No, no, you mustn't see it on TV, there you hold Kong in your hand. You've got to go to the theatre where Kong holds you in his hand and drops you off the side of the Empire State Building." So it is with the space program.

The first time I went to Italy, I saw the real Renaissance paintings, a real Botticelli, a real da Vinci, or whatever it was, or a Tintoretto. These things were larger than myself. A really fine Botticelli is bigger than ourselves, and as we stand before it, an incredible light comes out of the frame and we are changed. We've been raised on a culture where we hold things in our hands — books — they're smaller — they can be shut. And you're bigger than Botticelli. We are raised on TV, which we treat as children. Anything that we are larger than, we have contempt for. The TV is smaller than ourselves, so anything we see on TV must be contemptible because of that aesthetic. Now, as soon as the screen gets larger, we begin to sell the Space Age again, because the Space Age is titanic; it's a whole universe we are talking about. But we've been doing it all wrong; we're data oriented when we should be poetry and symphony oriented. That's my business — to find the metaphor that explains the Space Age, and along the way write stories.

(cf. Why Man Explores, esp. Ray Bradbury transcript, ...)
- Sunday, October 18, 2015 at 09:00:56 (EDT)
---
~9.2 miles @ ~12.3 min/mi
"You're too short!" says Beth, as she takes a spider web in the face while running behind Kristin. "Uh, I mean, you're exactly the right height, but ...". We loop past the home of Monday's friendly Weimaraner puppy, but alas he's not waiting for us at the gate today.
Earlier this morning in the pre-dawn gloom Kristin leads the way in an exploratory quest for connections between Dolley Madison Blvd and Balls Hill Rd. A search down Merrimac Dr fails (we're not willing to tresspass or climb fences), but after some nervous scampering over fallen walnuts and acorns, success! — we discover a public cut-through to Evans Mill Rd, by the tennis courts behind the Langley School. A fast young runner leads us back across Hwy 123 just as the light changes. We meet him again an hour later as he returns along Magarity Rd.
- Saturday, October 17, 2015 at 09:59:45 (EDT)
---
A new word! — for decades I've heard and read, typed and said "ABTRUSE" when it should have been "ABSTRUSE" ... oops! According to Wiktionary:

1. (obsolete) Concealed or hidden out of the way; secret.
2. Difficult to comprehend or understand; recondite; obscure; esoteric.

Yes, and even more abstruse: "abstrusion" is defined as "(rare) the act of thrusting away".
(Hmmmm! Perhaps that definition was not meant the way it was first parsed in some low minds? cf. DoMeta (1999-05-08), ...)
- Friday, October 16, 2015 at 04:33:46 (EDT)
---
~9.5 miles @ ~12.3 min/mi
Kristin's travel snafu-cancellation has a silver lining! — with Kerry this morning we enjoy an awesome run:

huge rainbow, glowing opposite a brilliant chiaroscuro sunrise
water sprinklers in the new little park by Route 7 at the W&OD — we duck low under the arching spray and get wet hair
cottontail bunny scampers away in our flashlight beams, near a flower bed of what looks in the gloom like a miniature forest of broccoli
barefoot runner dashes past us ("We're not taking a walk break, we're admiring the dawn!")
delightful-friendly Weimaraner puppy that we're tempted to kidnap.
... more than a "silver lining" — it's solid gold!
- Thursday, October 15, 2015 at 05:14:05 (EDT)
---
Near the end of Chapter 9 ("Widening the Circles of Compassion") of Tara Brach's Radical Acceptance:

If we ask ourselves when meeting anyone—friend or stranger—"How can I be more kind?" inevitably we will recognize that every being needs to be listened to, loved, and understood. While we might become aware of this first with those in our immediate circle, it is possible to pay attention and care for all living beings. The more fully we offer our attention, the more deeply we realize that what matters most in life is being kind. As we open to the vulnerability of others, the veil of separation falls away, and our natural response is to reach out a helping hand.

(cf. Zen, Words, and the World (2012-01-03), Ground of Being (2013-10-03), Saying Yes to Life (2014-07-08), It is Thou (2014-09-24), ...)
- Wednesday, October 14, 2015 at 04:38:13 (EDT)
---
~6.5 miles @ ~19.6 min/mi
"Groundhog Day!" At mile ~6 a big brown-black Marmota monax — aka woodchuck or whistle-pig, according to Wikipedia — lumbers across the street in front of DD Gray and me, then vanishes into the grass. We're finishing up a neighborhood walk that includes adventurous natural-surface digressions off the official trail on both sides of Sligo Creek, plus a bonus stop in a newly-reopened local ice cream parlor.
- Tuesday, October 13, 2015 at 05:16:45 (EDT)
---
~6.2 miles @ ~15.5 min/mi
"Don't tell me how much time I have left!" Mary insists, in an effort to preempt any temptation to slow down. Today's goal is a 5k in under 40 minutes. A cool front has just come through, making the late morning air relatively comfy in spite of a bright sun. We walk ~1.9 miles to the crest of a hill and blast off from there: mile splits are roughly 11 + 13 + 13 plus a final fraction, for a total of ~38.5 minutes. Good job, Mary! I confess to adding ~1% to the distance, in case of GPS error. Tykes on bikes wobble by us and cute dogs tug at leashes.
- Tuesday, October 13, 2015 at 05:14:00 (EDT)
---
~6.0 miles @ ~12.2 min/mi
"I can do half of a chin-up — the downward half!" I tell the three powerfully-built young hunks. They cruise by Amy and me as we approach the Ken-Gar playground, pause for bonus upper-body exercise on the bars and other equipment there, then run onward passing us again. We're doing a loop around Stephanie's neighborhood without ultra-tough Stephanie, who took a bad fall yesterday during a solo trek and then drove herself to get repairs ("only 6 stitches!"). A bunny scampers off the trail at our approach. At Randolph Rd we branch west, past RnJ Sports which reminds us that we both need new shoes.
- Tuesday, October 13, 2015 at 05:12:13 (EDT)
---
... an especially nice thing to say if a dear friend has just proposed a crazy adventure — or to hear from a dear friend no matter what you need, or want, to try to do!
(adapted from original Twitter post by dad_on_the_run (2015-10-10); cf. Yes, and... (2012-11-14), ...)
- Monday, October 12, 2015 at 04:27:15 (EDT)
---
~6.6 miles @ ~12.3 min/mi
"The song is 'Lean Back' - it's by Fat Joe!" Kristin tells me at the end of our trek. On busy Balls Hill Road sidewalks are scant; we have to stand against the guard rail and lean way back at mile 2 this morning, as cars speed by in the dark. Our dawn meander is in search of new cut-through paths. No luck, alas. But Kristin does see one rabbit flee at our approach, and a low layer of fog over the McLean High School football field is awesome as the sun rises and we silently circle the track.
- Sunday, October 11, 2015 at 07:33:26 (EDT)
---
Near the end of Chapter 8 ("Awakening Compassion for Ourselves") of Tara Brach's Radical Acceptance:

When we understand our pain as an intrinsic gateway to compassion, we begin to awaken from the imprisoning story of a suffering self. In the moments when we tenderly hold our anger, for instance, we cut through our identity as an angry self. The anger no longer feels like a personal flaw or an oppressive burden. We begin to see its universal nature—it's not our anger, it is not our pain. Everyone lives with anger, with fear, with grief.

...

Understanding that the pain in our life is an expression of universal suffering opens us to the fullness of Radical Acceptance. Rather than being a problem, our depression, fear and anger are "entrusted to us," and can be dedicated to our awakening. When we carry our pain with the kindness of acceptance instead of the bitterness of resistance, our hearts become an edgeless sea of compassion. We, like the Mother of the World, become the compassionate presence that can hold, with tenderness, the rising and passing waves of suffering.

- Saturday, October 10, 2015 at 04:33:50 (EDT)
---
~8.9 miles @ ~12.3 min/mi
"It looked better in the dark!" Today is trash day in Pimmit Hills, and my explanation for picking up a slightly soggy stained "Where the Shops Are" bag makes Kristin laugh out loud. Kerry spies two rabbits within the first mile by the glow of her cellphone. Her son's first weeks in college have gone well, thanks in part to his little sister's helpful fashion advice. Stars swim overhead: Betelgeuse, Rigel, Sirius, the Pleiades. "But those are just words for their names!"
We loop back and at 7am rendezvous with Beth to run a concentric loop, crude GPS cave art. She describes her volunteer work at last weekend's half-marathon, timing runners at the 10k point. Long shadows dance the path ahead of us.
- Friday, October 09, 2015 at 05:30:52 (EDT)
---
A scene in the movie Scott Pilgrim vs. The World, just before the climax, where arch-enemy Gideon is taunting protagonist Scott about motive:

Gideon: Scott Pilgrim! Hey, buddy!
Scott: Save it! You're pretentious. This club sucks. I've got beef. Let's do it.
Gideon: Wa-wa-wait! You wanna fight me ... for her?
Scott: No. I wanna fight you for me.

Then, like a video game voice-over, the narrator announces, "Scott earned the Power of Self-Respect!" as the hero pulls a physically-impossible cartoonish flaming sword out of his chest and the battle begins.
Doesn't sound like zen — but maybe it is? Self-sacrifice begins with Self, a nobility on center-stage display, a look-at-how-great-I-am act for The Others to admire. Scott tried that, in an earlier encounter, and failed. If self goes away and all are one ... — perhaps the self in self-respect can transcend.
And the same throughout the smaller encounters in life. After a family argument, trouble at work, a relationship breakdown, instead of forgiving or apologizing for The Others, maybe the atonement is for ...
(cf. Unselfing (2009-01-14), Clinging Is Optional (2013-08-21), 0-1 (2014-08-29), No-Self and the Space of Wonder (2014-10-20), No-Self (2014-12-25), Self and No-Self (2015-03-11), ...)
- Thursday, October 08, 2015 at 05:23:08 (EDT)
---
~11.7 miles @ ~13.3 min/mi
"Back-to-School Run!" Kristin names today's trek, a venture that starts in the dark on a cool crisp fall-like morning. Kerry has just returned from Italy, and on her internal clock it's 10am. After a warm-up lap around McLean HS track we head east toward Venus. On Franklin Park Rd a weird creche, occupied by two human-sized statues of crows, stands beside a spooky-looking house that we all agree looks like it belongs in the wilderness, guarded by a shotgun-totin' tobacco-chewin' squint-eyed mountain man. At Tuckahoe Park a water fountain beckons, as does playground equipment including a giant rope-spiderweb, bouncy-spring stools, and a mega-xylophone. Our return trip intersects rush hour at the high school where cars of last-minute arrivals jam the parking lot. Rabbit Count = 1, in the final mile.
- Wednesday, October 07, 2015 at 04:17:50 (EDT)
---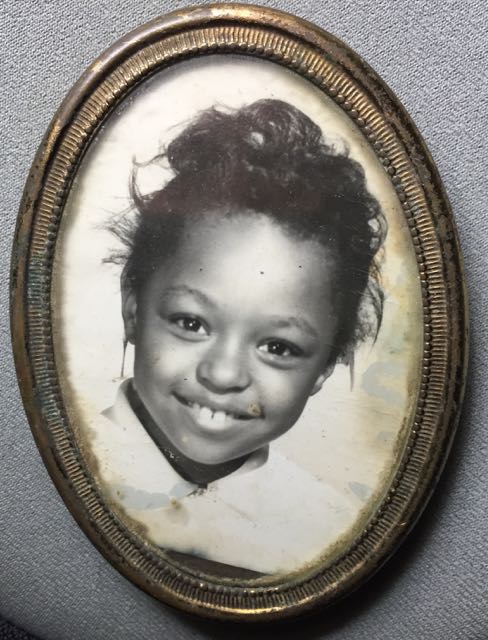 ... a sweet photo of DW from a few years ago!
- Tuesday, October 06, 2015 at 05:14:48 (EDT)
---
~4.0 miles @ ~15.4 min/mi
"You're a big fat liar!" says Mary the third time I promise that we've reached the crest of the hill. After a brisk neighborhood walkabout with DD Gray, Mary and I go to Wheaton Regional Park, where traffic is heavy and fields are full with late-summer baseball games. We run 1.5 miles at ~12 min/mi pace in three laps around the paved loop at the southwest corner of the park, watched by a ~10 point buck in the woods nearby. Then after a recovery walk we do a mile in ~13 minutes. The Runkeeper track files and split data are suspiciously identical, in spite of the differences in our phone hardware. Does the system somehow merge information from multiple people who are running together?
- Monday, October 05, 2015 at 04:45:37 (EDT)
---
~5.8 miles @ ~19.9 min/mi
"We will look for you at Mile 10!" I tell Amy Couch, when she texts me to report that she has just passed Mile 8 of the Parks Half Marathon. We last met at dawn: I was a volunteer course marshal, rubbing the sleep out of my eyes at mile ~0.6 and happily surprised to see Amy dash past. DD Gray and I are doing a walk that includes the one-lane Grace Church Rd bridge. After a couple of miles we join Mary Ewell, who accompanies us on the trek to Rock Creek. Perfect timing: Amy appears just as we arrive! After a quick pause for photos Mary, Gray, and I continue up the long Mormon Temple hill, then return home via a woodsy path near Forest Glen.
- Monday, October 05, 2015 at 04:44:00 (EDT)
---
If you are super-sad and suffering:
friends are good
exercise is good
talking is good
caffeine is good (sometimes!)
meditation is good
Yes, and especially good: all of the above — getting out with friends to sweat, share, drink, think ...
(adapted from a recent note to a dear sad friend; cf. Don't Panic (2010-11-17), When Someone You Love Is Unhappy (2011-05-29), Friendship and Meditation (2012-11-06), Thirty Things (2013-10-01), Happiness Buffer (2013-12-02), Habits of Unhappy People (2014-03-11), ...)
- Sunday, October 04, 2015 at 11:42:14 (EDT)
---
~11.3 miles @ ~11.5 min/mi
A big doe stands nervously in the mud, then flips up her white tail and flees into the thickets. Heavy rains midday leave puddles on the path and high roiling waters in the stream. Race officials are installing big signs along the course of tomorrow's half marathon. At the barbecue shack on Old Georgetown Rd two guys are starting the charcoal fires to cook meats. Sidewalks in downtown Bethesda are crowded with shoppers.
Back home, the scale shows just under 150 lbs for a loss of ~2% from dehydration, in spite of three water stops at fountains en route. No wonder the final miles included so many involuntary walk breaks! Will a slice of cheesecake baked a few hours ago neutralize all the spartan goodness of this run?
- Saturday, October 03, 2015 at 05:18:43 (EDT)
---
~3.7 miles @ ~13.1 min/mi
"We have to run under the rainbow!" An awesome arc spans the highway on the way to Cara Marie's 'hood this morning, with fainter double bow visible in segments. In the east sunrise glints kumquat-pumpkin-hued on the underside of clouds. Intervals of running and walking average more than 1 minute/mile faster pace than just a week ago. Dialogue passing CM's favorite grocery store:
"Let's stop — I need to get a watermelon."
"Won't that slow you down?"
"You can carry it!"
- Saturday, October 03, 2015 at 05:14:06 (EDT)
---
... well, ok, maybe that's a secret — but there are no other secrets!
(cf. TwoGreatSecrets (2001-11-09), KeyToTheTreasure (2004-04-23), BigSecret (2005-07-05), There Are No Secrets (2014-02-26), ...)
- Friday, October 02, 2015 at 05:32:00 (EDT)
---
~7.1 miles @ ~13.0 min/mi
"It only gets better from here!" the fellow walking into the building greets Kristin and me as we debate which route to run this morning. His comment reminds me of the cheery song by Cedric Gervais & Howard Jones, "Things Can Only Get Better" — though I spend much of today's trek trying to remember Gervais's first name.
Meanwhile Venus glitters like a diamond below the crescent moon. Kristin apologizes to a rabbit that she startles in the gloom; it hunkers down by the sidewalk, ears twitching. Clouds drift in, first just thin high ripples, then thicker, painted from below by the rising sun into a rainbow of tangerine-peach hues. We discuss ill-designed online forms and their associated bureaucracy, 3D printers, achy joints, and not-caring so much about humidity, social media, and other distractions. Kristin points out the color-changing lights around the top edge of a Tysons Corner office building and the bittersweet bushes (or maybe they are firethorn? pyracantha?) by the sidewalk with their brilliant orange berries. We're thankful for the day.
- Thursday, October 01, 2015 at 05:12:59 (EDT)
---
From Chapter 7 ("Opening Our Heart in the Face of Fear") of Tara Brach's Radical Acceptance:

Widening the lens makes a full and accepting presence possible. Imagine the difference between a herd of wild stations enclosed in a small corral and those same horses galloping through wide-open plains. This is the difference between seeing life with a narrow focus and widening the lens to a more spacious view. When our field of awareness is open and last, there is plenty of room for the stallions of fear to kick up dust as they stampede through.

And in the guided meditation "Meeting Fear with an Open and Engaged Presence" at the end of that same chapter:

With each in-breath, feel your willingness to gently connect with the waves of life that are unpleasant and disturbing. Breathing out, let go and feel how the waves of fear belong to a larger world, an ocean of openness. You can surrender your fear into this vast and tender space of healing. Breathing in, you contact the immediate sensations with a kind and clear attention. Breathing out, you realize your belonging to the boundless awareness that has room for all of life's fears.

If you feel defeated or numb, focus on your physical sensations and contact them fully with the in-breath. If you feel as if the fear is "too much," emphasize breathing out—letting go into openness and safety. It can help to begin again by listening to sounds or opening your eyes. You might remember the spaciousness of the world or reflect with compassion on all those who at this moment are also feeling fear. You might bring to mind a person or spiritual figure or place in nature that conveys a sense of safety. Once you feel that you belong to a larger world, again attend to the way that fear expresses through your body and mind. With time, you will discover an artful balancing of touching fear and remembering openness.

(cf. Enso (2012-02-29), Ceaseless Society (2012-05-10), Pause and Breathe (2014-07-25), Perfect Size for Letting Go (2015-09-14), ...)
- Wednesday, September 30, 2015 at 05:27:01 (EDT)
---
~6.2 miles @ ~17.3 min/mi
"Wow, a huge Great Blue Heron - I hope it's still there when we get back!" I tell Mary as we run along the C&O Canal towpath. We rendezvous on a sultry-warm morning at Lock 7 and begin by walking a couple of miles upstream. At milepost 9 we turn back and do an 11:43 mile, walk a mile to recover, then trot another mile in 12:32. (Yay! - fist-bump, Dr M!) Big snapping turtles sun themselves on sticks floating in the stagnant water, but upon our return the heron is gone. A scary-gigantic sign by the Potomac River warns "STOP DAM AHEAD DEADLY UNDERTOW GET TO SHORE".
- Tuesday, September 29, 2015 at 05:34:52 (EDT)
---
~8.7 miles @ ~12.0 min/mi
"Don't do what I just did!" I advise the kids waiting for the crosswalk light to change, after I dash across Jones Mill Rd with a pause in the median for cars to zoom by. Today's mission: meet Mary at Lock 7 on the C&O Canal. The first few miles flow easy, but then reality - aka humidity - kicks in and pace slows. A huge peleton of cyclists cruises up Goldsboro Rd; I stop to take photos and cheer them. The 7-11 at Glen Echo has Crunchy Cheetos on sale so I buy two bags and fill my bottle with ice. GPS glitches in the tunnel under Wisconsin Av and in the store add ~5% to total distance and similarly make the pace seem faster than it really was.
- Tuesday, September 29, 2015 at 05:30:07 (EDT)
---
Mental processes can go off course in many directions. This list is from the office health center, adapted from and credited to an early edition of the book Thoughts & Feelings: The Art of Cognitive Stress Intervention by Matthew McKay, Martha Davis and Patrick Fanning:

All or Nothing Polarized Thinking: Things are black or white, fatalistic, extreme. There is no middle ground.
Overgeneralization: General conclusion based on a single incident or piece of evidence.
Mental Filter: Filter out positive aspects and focus on what doesn't work. Negative aspects are magnified.
Mind Reader: Project fears and vulnerabilities into the thoughts of others. You think you know what people are feeling and why they act the way they do.
Personalization: Owning more than your share of the responsibility for a problem. Thinking that everything people say or do is some reaction to you.
Approval Seeking: Neglect your own needs to gain approval from others.
Perfectionism: Unrealistic high standards even if outcome has little consequence.
Should Statements: Ironclad rules about how you and others should act. "Oughts", "shoulds" and "musts" leave you feeling inadequate, pressured or resentful.
Disqualifying Positive Feedback: Inability to accept compliments, appreciation.
Catastrophizing: You expect disaster. Predict negative outcomes without enough information. Ask a lot of "what if" questions.
Blaming: Hold people responsible for your pain or blame yourself for everything.
Myth of Change: Expect others will change to please you if you pressure or cajole enough.
Poor Me: Perceive yourself as a victim.
Fallacy of Fairness: You feel resentful because you think you know what is fair yet other people don't agree with you.
Labeling: Generalize one or two qualities into a negative global judgment.
Yes, they mostly come down to imbalance, self-focus, over-judging, negativity, and a few other categories of bias ... but they're not bad as a qualitative start!
(cf. Don't Panic (2010-11-17), Worksheets as Training (2013-04-02), NLP (2013-05-06), Oblique Life (2013-08-14), Emotional Intelligence (2015-04-14), Negative Thinking Patterns (2015-08-28), ...)
- Monday, September 28, 2015 at 04:41:01 (EDT)
---
- Monday, September 28, 2015 at 04:25:21 (EDT)
---
~5.9 miles @ ~19.7 min/mi
"Julie Trapp!" After 30 seconds I finally remember the name of long-time Montgomery County Road Runners Club comrade and can properly introduce her to DD Gray. We're on a Sunday morning walkabout, a loop along Sligo Creek Trail and neighborhood streets. Julie gives us a burst-mode update on Patti & Jim Rich, then resumes her run. There's a new little free library at the corner of Crosby & Dale.
- Sunday, September 27, 2015 at 05:15:19 (EDT)
---
In the final pages of Lovingkindness by Sharon Salzberg (Chapter 11, "Living Our Love"), a quote from William Butler Yeats:
We can make our minds so like still water that beings gather about us that they may see, it may be, their own images, and so live for a moment with a clearer, perhaps even with a fiercer life because of our quiet.
... from the 1902 essay "Earth, Fire and Water" in The Celtic Twilight.
(cf. Quiet in There (2011-05-31), Mind Like Water (2011-12-24), Mantra - Mind Like Water (2015-05-04), ...)
- Friday, September 25, 2015 at 04:21:48 (EDT)
---
~3.7 miles @ ~14.5 min/mi
"Nutella on matzos!" — my explanation for steady weight gain of ~1 pound/month for much of the past year. CM Manlandro and I tour her neighborhood, telling stories, walking hills, and sprinting across busy streets. I make her promise not to mistreat her minions if she gets multiple grants and has to hire students in her lab. Penguin-themed objets d'art at her home remind me of the film Fight Club, which she swears she hasn't yet seen. Total water intake this warm morning is ~80 oz, and when I get home I'm still dehydrated. The scale temporarily shows a number less than 150 lbs — alas, not for long!
- Thursday, September 24, 2015 at 06:15:09 (EDT)
---
Further suggestions from the flip side of the "Trusted Advisor" summary card, subtitled "Creating Trust Conversations":

Engage to have a point of view on an issue of interest.
Listen to what is important and real to the other.
Frame the true, root issue in terms acceptable to both.
Envision jointly an alternate reality.
Commit jointly to constructive action.
And an additional "Four Trust Principles":

Start from the customer's perspective
Focus on the medium-to-long term
Client collaboration, not competition
Be transparent
... all fine thoughts (though sadly clunky and insufficiently parallel in their expression) — and yet another reminder of how wise Dale Carnegie's book How to Win Friends and Influence People was in 1936.
(cf. Trusted Advisor (2012-12-23), Action to Raise Trust (2015-09-05), ...)
- Wednesday, September 23, 2015 at 04:21:28 (EDT)
---
---
For back issues of the ^zhurnal see Volumes v.01 (April-May 1999), v.02 (May-July 1999), v.03 (July-September 1999), v.04 (September-November 1999), v.05 (November 1999 - January 2000), v.06 (January-March 2000), v.07 (March-May 2000), v.08 (May-June 2000), v.09 (June-July 2000), v.10 (August-October 2000), v.11 (October-December 2000), v.12 (December 2000 - February 2001), v.13 (February-April 2001), v.14 (April-June 2001), 0.15 (June-August 2001), 0.16 (August-September 2001), 0.17 (September-November 2001), 0.18 (November-December 2001), 0.19 (December 2001 - February 2002), 0.20 (February-April 2002), 0.21 (April-May 2002), 0.22 (May-July 2002), 0.23 (July-September 2002), 0.24 (September-October 2002), 0.25 (October-November 2002), 0.26 (November 2002 - January 2003), 0.27 (January-February 2003), 0.28 (February-April 2003), 0.29 (April-June 2003), 0.30 (June-July 2003), 0.31 (July-September 2003), 0.32 (September-October 2003), 0.33 (October-November 2003), 0.34 (November 2003 - January 2004), 0.35 (January-February 2004), 0.36 (February-March 2004), 0.37 (March-April 2004), 0.38 (April-June 2004), 0.39 (June-July 2004), 0.40 (July-August 2004), 0.41 (August-September 2004), 0.42 (September-November 2004), 0.43 (November-December 2004), 0.44 (December 2004 - February 2005), 0.45 (February-March 2005), 0.46 (March-May 2005), 0.47 (May-June 2005), 0.48 (June-August 2005), 0.49 (August-September 2005), 0.50 (September-November 2005), 0.51 (November 2005 - January 2006), 0.52 (January-February 2006), 0.53 (February-April 2006), 0.54 (April-June 2006), 0.55 (June-July 2006), 0.56 (July-September 2006), 0.57 (September-November 2006), 0.58 (November-December 2006), 0.59 (December 2006 - February 2007), 0.60 (February-May 2007), 0.61 (April-May 2007), 0.62 (May-July 2007), 0.63 (July-September 2007), 0.64 (September-November 2007), 0.65 (November 2007 - January 2008), 0.66 (January-March 2008), 0.67 (March-April 2008), 0.68 (April-June 2008), 0.69 (July-August 2008), 0.70 (August-September 2008), 0.71 (September-October 2008), 0.72 (October-November 2008), 0.73 (November 2008 - January 2009), 0.74 (January-February 2009), 0.75 (February-April 2009), 0.76 (April-June 2009), 0.77 (June-August 2009), 0.78 (August-September 2009), 0.79 (September-November 2009), 0.80 (November-December 2009), 0.81 (December 2009 - February 2010), 0.82 (February-April 2010), 0.83 (April-May 2010), 0.84 (May-July 2010), 0.85 (July-September 2010), 0.86 (September-October 2010), 0.87 (October-December 2010), 0.88 (December 2010 - February 2011), 0.89 (February-April 2011), 0.90 (April-June 2011), 0.91 (June-August 2011), 0.92 (August-October 2011), 0.93 (October-December 2011), 0.94 (December 2011-January 2012), 0.95 (January-March 2012), 0.96 (March-April 2012), 0.97 (April-June 2012), 0.98 (June-September 2012), 0.99 (September-November 2012), 0.9901 (November-December 2012), 0.9902 (December 2012-February 2013), 0.9903 (February-March 2013), 0.9904 (March-May 2013), 0.9905 (May-July 2013), 0.9906 (July-September 2013), 0.9907 (September-October 2013), 0.9908 (October-December 2013), 0.9909 (December 2013-February 2014), 0.9910 (February-May 2014), 0.9911 (May-July 2014), 0.9912 (July-August 2014), 0.9913 (August-October 2014), 0.9914 (November 2014-January 2015), 0.9915 (January-April 2015), 0.9916 (April-July 2015), 0.9917 (July-September 2015), 0.9918 (September-November 2015), 0.9919 (November 2015-January 2016), 0.9920 (January-April 2016), 0.9921 (April-June 2016), ... Current Volume. Send comments and suggestions to z (at) his.com. Thank you! (Copyright © 1999-2015 by Mark Zimmermann.)
---